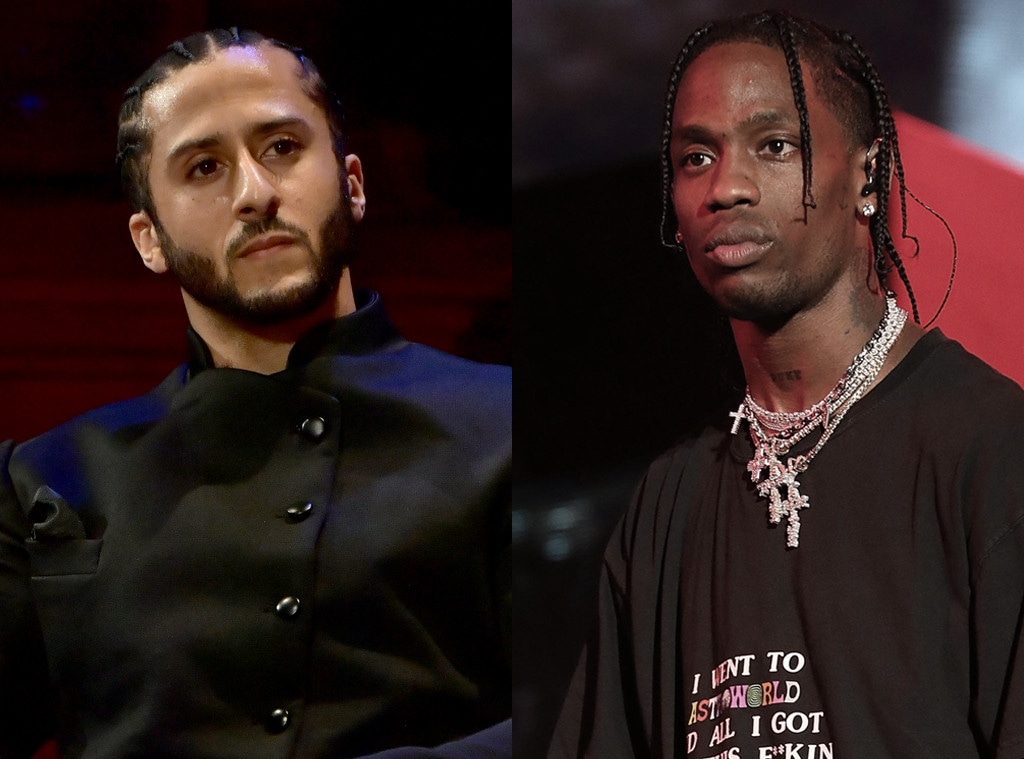 Paul Marotta/Getty Images, Taylor Hill/Getty Images for Governors Ball
Colin Kaepernick is setting the record straight on those Travis Scott rumors.
After much speculation and criticism, Maroon 5 recently confirmed that they'll headline February's Super Bowl LIII Halftime Show in Atlanta, with Travis Scott and Big Boi set to join the group on the stage. The confirmation came after many artists, including Pink and Rihanna, reportedly turned down the offer in protest of the NFL. The league has received much criticism in recent years for its treatment of players kneeling during the playing of the National Anthem, specifically Kaepernick.
Scott agreed to participate in the Super Bowl Halftime Show under the condition that the NFL would make a $500,000 donation to the non-profit organization Dream Corps.
"I back anyone who takes a stand for what they believe in. I know being an artist that it's in my power to inspire. So before confirming the Super Bowl Halftime performance, I made sure to partner with the NFL on this important donation," Scott said in a statement. "I am proud to support Dream Corps. and the work they do that will hopefully inspire and promote change."
After the announcement was made, Variety reported that Scott had consulted with Kaepernick before he confirmed his Super Bowl appearance. Sources told the outlet that the duo had at least one phone conversation prior to Scott accepting the offer.
A source close to Scott also allegedly told Variety that "while the two did not necessarily agree, they emerged from the conversation with mutual respect and understanding."
In response to the report, HOT97's Ebro Darden tweeted, "Kap did not approve this bullshit! Get the f--k outta here...."
Kaepernick went on to retweet Darden's post, as well as a tweet from his girlfriend, HOT97's Nessa, which reads, "There is NO mutual respect and there is NO understanding for anyone working against @Kaepernick7 PERIOD. #stoplying."
Nessa also replied to Darden's tweet, writing, "FACTS @EBRO!!! THEY NEED TO STOP LYING."
Though he has not released an official statement in response to the report, Kaepernick, based on his retweets, appears to be denying that he approved or consulted with Scott about the Super Bowl.