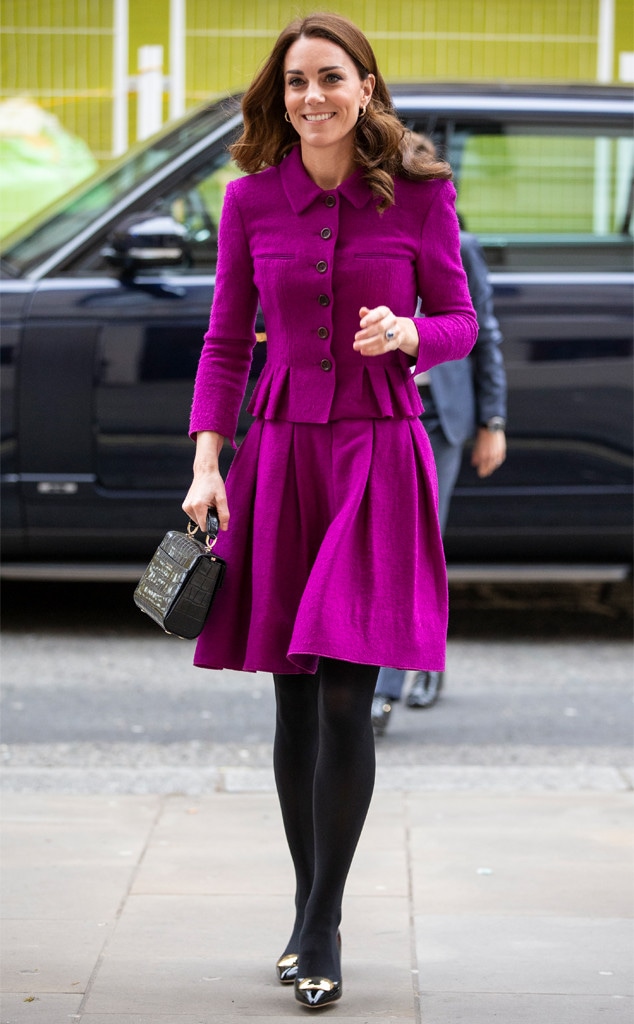 Heathcliff O'Malley - WPA Pool/Getty Images
When at the Royal Opera House, dress up. 
Duchess of Cambridge Kate Middleton did just that for her visit to the hallmark building in London on Wednesday. While she's always one to look stylish for every occasion, the mother of three stepped out in a vibrant magenta skirt suit by Oscar de la Renta. Ever the master fashion recycler, Middleton also sported the outfit in February 2017 at the Guild of Health Writers Conference. That time, however, she paired the colorful ensemble with a more typical pair of classic black pumps. Today, she opted for a new pair of Rupert Sanderson pumps adorned with a gold buckle on each toe.
To finish off the look, Middleton toted a black croc Aspinal of London buckle bag and left her brunette locks down in loose curls. As to be expected, it was chic duchess style all the way. 
Once inside the opera house, the royal was introduced to everything that goes into the costume department, from the hand-painting and staining techniques at the dye shop to how the hundreds of costumes are conserved. 
The duchess also had the opportunity to get up close to some of the ballet costumes and learn more about how historic fabrics are reproduced using digital printing and how the outfits are designed to allow movement for the dancers. 
The visit is particularly relevant to Middleton, whose great-great-grandfather Francis Martineau Lupton was a mill owner who, with his brothers, ran a textile manufacturing business. 
Mark Cuthbert/UK Press via Getty Images
According to Kensington Palace, the mother of three will be exploring her interest in textiles in the coming months through meetings with industry experts and visits like this one. 
Of course, no visit to the Royal Opera House would be complete without a performance. In addition to chatting with the principal dancers, Middleton is scheduled to watch a rehearsal. 
Just another day in the life of a duchess.