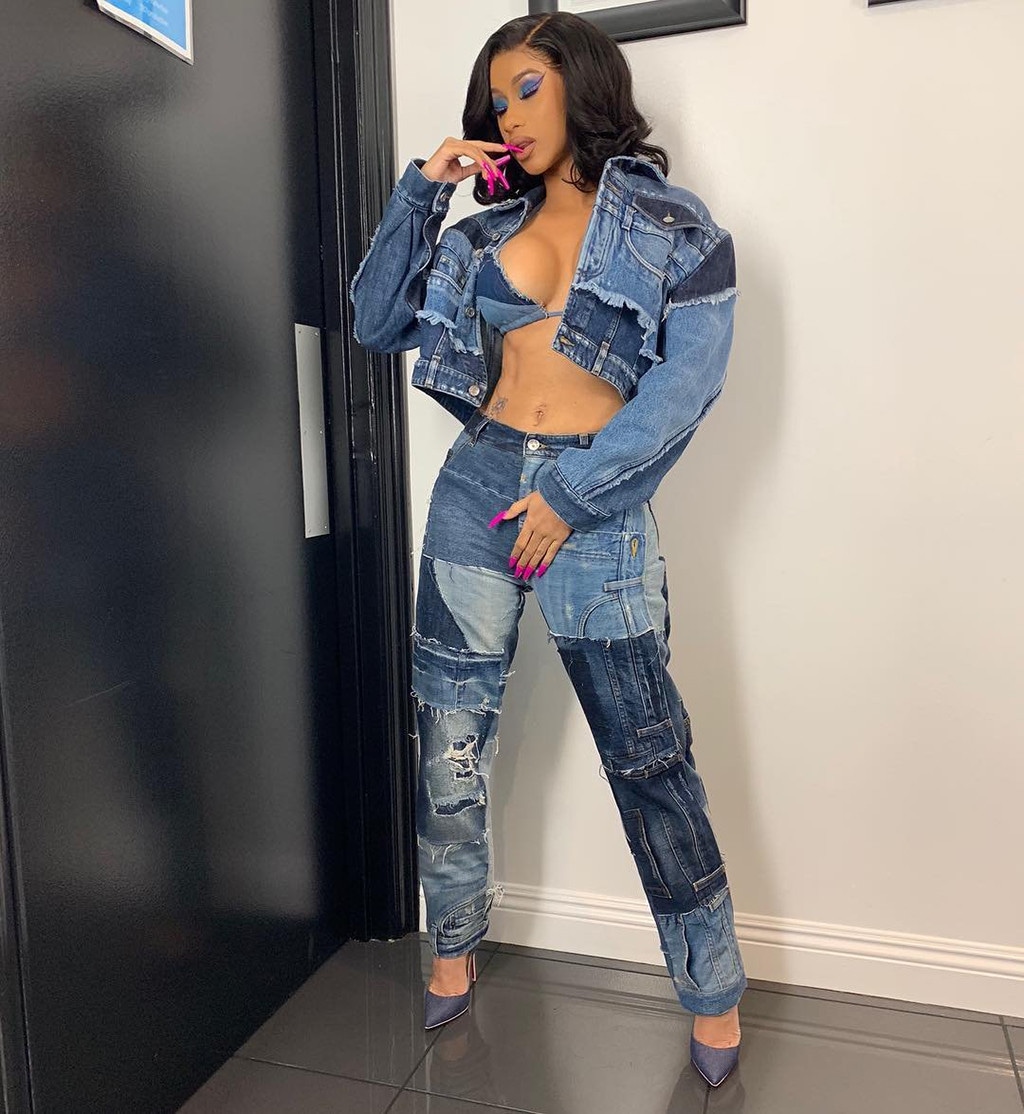 Instagram
Cardi B is a literal fashion victim.
Outfitted in a jacket, pants and shoes by Dolce & Gabbana and a distressed denim bikini by NAMILIA, the 26-year-old "Twerk" rapper lamented how uncomfortable her ensemble was.
After unbuttoning her pants during a car ride, Cardi B filmed a video for her Instagram followers, in which she ranted about what the look was doing to her body. "This how I gotta ride in the car son because these pants is too mother--king tight. S--t was giving my p---y a wedgie. I hate having p---y wedgies, bro. My p---y be screaming at me like, 'Bitch! You got me f--ked up! You want a yeast infection, bitch? You want a f--king yeast infection?'" she whined. "So, you nam' sayin'? Y'all I ride around this ho like this. P---y breathin', though. P---y breathin'!"
Diplo commented on the video, writing simply, "Wow."
Earlier this month, Cardi B complained about wedgies of a different kind when she stopped a performance to tend to her tushie. During the Bay Dreams concert in Mount Maunganui, New Zealand, she said, "...I need a little break! I'll be right back. I gotta take this wedgie out my ass."
Cardi B later addressed the attention her butt received after the show moment went viral.
"Come on! Now I have a tumor in my ass? Are you s--tting me?" she said. "My f--king skin was coming out of a tear in my pantyhose. Y'all are so weird. How many videos is there of my ass? Now y'all want to spread the one around my ass looks awkward. Bro, it's 2019. Why y'all f--king bringing your year with negativity and nonsense and bulls--t? Y'all should focus on positivity, building beauty. That's what I am into right now. I'm going back to sleep. Have a beautiful day!"