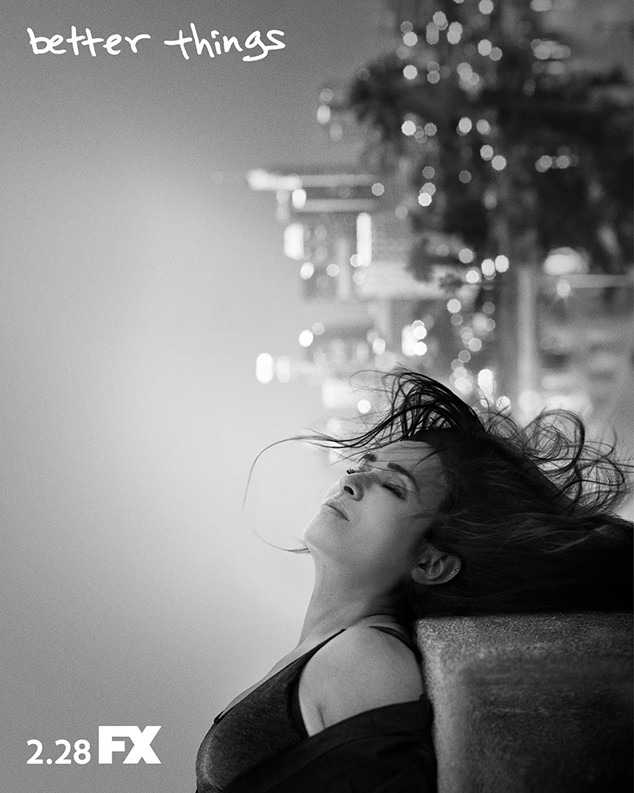 FX
More than a year after the last episode of season two aired, the third season of Pamela Adlon's Better Things is here—and we've got your first look.
It looks like Sam Fox's (Adlon) life is as messy/realistic/funny as ever, which is what viewers have come to know and love about the acclaimed series. She's working, she's mothering, she's getting mistaken for a hooker?! Get ready, E! News as your exclusive first look at the Better Things season three trailer.
"There's mean girl issues with my youngest and birth control with my oldest, and then cruelty from my middle daughter," Adlon's character says in the trailer below. "And then, there's my own mom, who, I'm pretty sure, she has a mental something disorder, and I am definitely going through menopause, yet I still get my period and I have a beard so, yeah, it's a lot, and some mornings I just—"
The series, which is loosely based on Adlon's life, won a Peabody and Critics' Choice Award, and Adlon has been nominated for two Emmys and a Golden Globe for her role.
Adlon's character is a single mom and working actress trying to make it work. The series also stars Mikey Madison as Max, Celia Imrie as Phil, Max, Hannah Alligood as Frankie and Olivia Edward as Duke. New guest stars in the upcoming third season include Sharon Stone, Matthew Broderick, Doug Jones, Glynn Turman, Judy Reyes, Cree Summer, Charlie Robinson, Janina Gavankar and Marsha Thomason. Returning players include Diedrich Bader, Greg Cromer, Rebecca Metz, Kevin Pollak and Alysia Reiner.
Adlon will once again direct every episode of the series as she did for the second season. However, she brought in a writers room for season three after FX parted ways with Louis C.K. following sexual misconduct allegations.
Better Things season three premieres Thursday, Feb. 28 at 10 p.m. on FX.