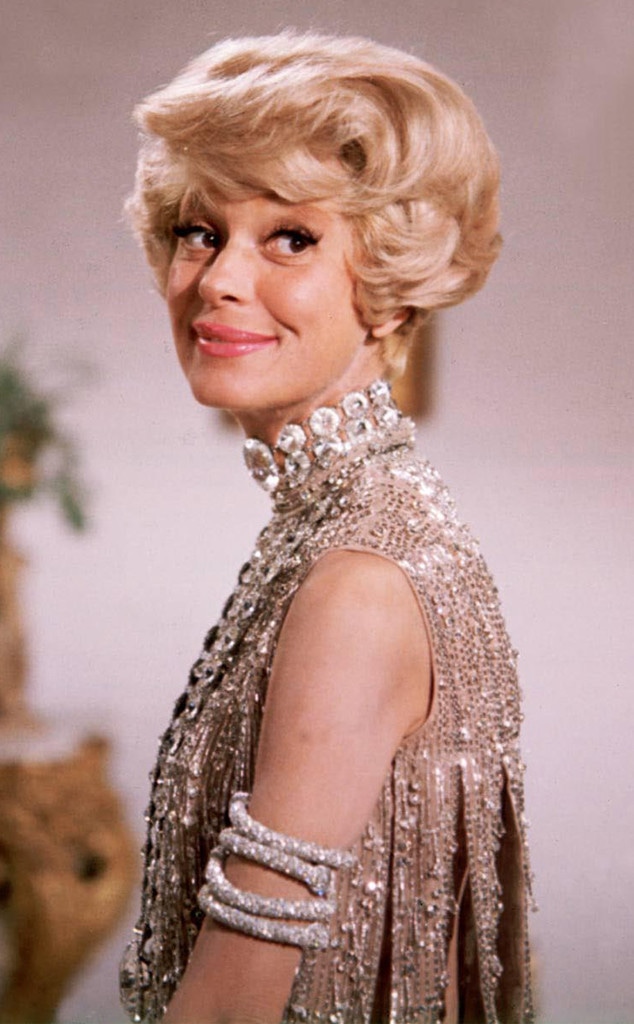 Photoshot/Getty Images
Carol Channing's longtime publicist, B. Harlan Boll, announced the comedy legend died of natural causes Tuesday morning at 12:41 a.m. PT. Channing would have turned 98 on Jan. 31.
The 97-year-old actress passed away at her home in Rancho Mirage, Calif. Channing had suffered two strokes in the past year, Boll told The New York Times in a telephone interview.
"It is with extreme heartache, that I have to announce the passing of an original industry pioneer, legend and icon: Miss Carol Channing. I admired her before I met her and have loved her since the day she stepped—or fell, rather—into my life," Boll told People in a statement. "It is so very hard to see the final curtain lower on a woman who has been a daily part of my life for more than a third of it. We supported each other, cried with each other, argued with each other, but always ended up laughing with each other. Saying goodbye is one of the hardest things I have ever had to do, but I know that when I feel those uncontrollable urges to laugh at everything and/or nothing at all, it will be because she is with me, tickling my funny bone."
Channing's acting career spanned seven decades, though she's perhaps best known for her roles on Broadway as Dolly Levi in Hello Dolly! and as Lorelei Lee in Gentlemen Prefer Blondes. The actress revived both roles many times over the years, most recently playing Dolly in 1995.
Born Jan. 31, 1921, in Seattle, Channing's big eyes and raspy voice made her a shining star. Her family relocated to San Francisco when she was an infant, and she later attended Aptos Junior High School and Lowell High School. As a child, Channing recalled how she fell in love with performing after delivering copies of The Christian Science Monitor to local theaters. "It came over me that I was looking at the stage and backstage of a cathedral, a temple, a mosque, a mother church," she recalled in her 2007 memoir, Just Lucky, I Guess. "I know I'm using adult words to describe a child's feelings, but I don't know how else to tell you this simple reaction of a child to a holy place." When she was 16, Channing enrolled in Bennington College in Vermont.
Bert Stern/Condé Nast via Getty Images
Channing eventually moved to New York City, and it wasn't long before she made her Broadway debut in the 1941 musical Let's Face It!, in which she was an understudy for Eve Arden. Channing worked steadily for years, but her breakthrough came via 1964's Hello, Dolly!.
In 1968, Channing won a Golden Globe Award for her supporting role as Muzzy Van Hossmere in Thoroughly Modern Millie. Two years later, Channing became the first featured solo artist to perform during the Super Bowl Half Time special. Eleven years later, she was inducted into the American Theatre Hall of Fame, and in 1995, she received a Lifetime Achievement Tony Award.
"My favorites roles have always been the one I'm doing at that moment," Channing admitted in an interview with Broadway World in 2014. "I'll always be grateful to [Anita Loos'] Lorelei or [Jerry Herman]'s Dolly, but actresses are fickle because we are always falling in love again, with a new character...and sometimes we return to our earlier loves, when we revisit them, as I did with Dolly. Dolly and I had an on-and-off-again relationship during several different tours."
Silver Screen Collection/Getty Images
Channing, an ovarian cancer survivor, brought her talents to the big and small screens with roles in The Addams Family, The Drew Carey Show, Family Guy, Happily Ever After, The Love Boat, The Magic School Bus, Sesame Street, Thumbelina and What's My Line?, among others.
In 2011, the actress was the subject of a documentary, titled Carol Channing: Larger Than Life.
Throughout her lifetime, Channing had four husbands: Theodore Naidish (1941-1944), Alexander Carson (1953-1956), Charles Lowe (1956-1999) and Harry Kullijian (2003-2011). The actress, who had a son with Carson, is predeceased by two spouses: Lowe and Kullijian.