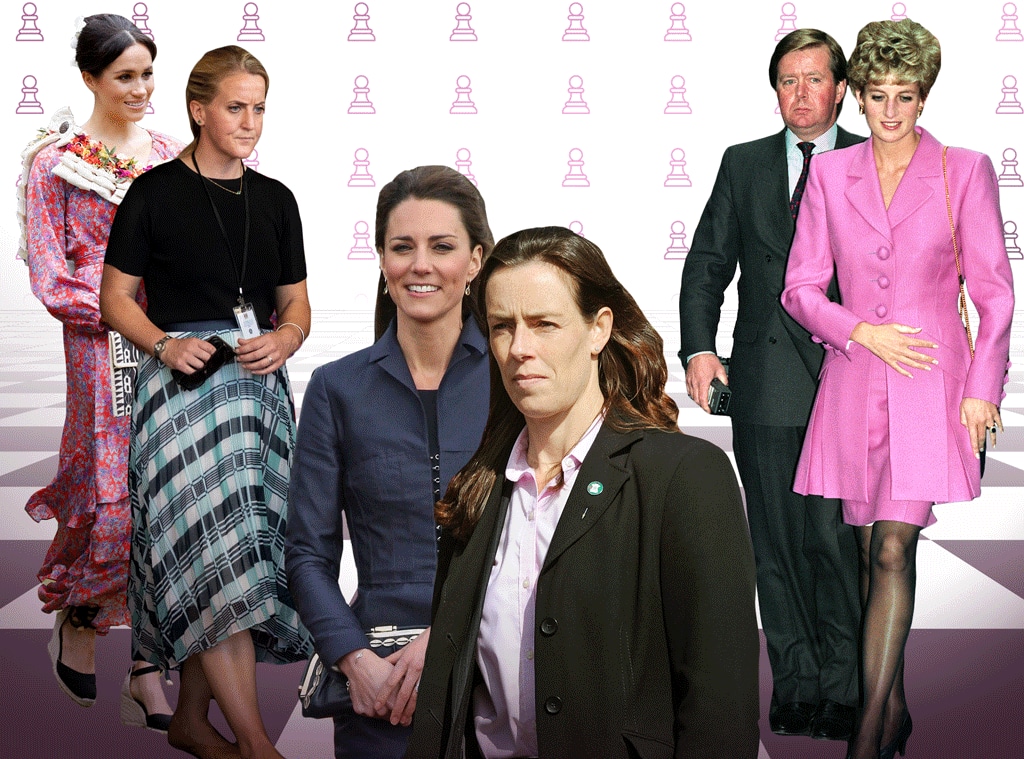 Getty Images; Melissa Herwitt/E! Illustration
Many famous people don't go to certain places—premieres, award shows, airports—without security.
Then there is the next tier of people who never leave their house without it.
As a member of Britain's royal family, Meghan Markle fits snugly into that second category, along with the presidents and prime ministers and Kim Kardashians of the world who could theoretically run into trouble wherever they go, including rooms of their own homes.
When you spend so many waking moments together, a bodyguard at some point stops being just a person doing a job and becomes like family, an extremely important fixture in the protected person's life. And often vice versa.
That's certainly how Ken Wharfe, who spent five years as Princess Diana's personal protection officer, felt when he ruefully found himself in charge of his department's security operation at her funeral on Sept. 6, 1997, four years after the Princess of Wales decided she no longer wanted a PPO.
Meghan and the PPO she's come to know since marrying Prince Harry last May—a woman who has become a familiar face in photographs but whose name has so far been withheld (no, it's not "female bodyguard")—is reportedly leaving the Metropolitan Police Department and, therefore, Meghan's protection detail.  
The unnamed cop is said to have been shown the royal ropes by Kate Middleton's personal protection officer, Sgt. Emma Probert, who's been with the Duchess of Cambridge since 2010, after working on Princesses Beatrice and Eugenie's detail.
Pool/Samir Hussein/WireImage
More will be made of the guard's exit because she isn't the first person to leave Meghan's royal world since she joined the family, following private secretary Samantha Cohen and personal assistant Melissa Touabti out the door.  But as Kate's longer-even-than-her-marriage run with her bodyguard proves, it's important to find the right fit, and as with many things, the first or second time isn't always the charm. (Though Meghan is said to be "gutted" by the departure, according to People.)
Moreover, in an effort to reduce the massive expense of protecting the royal family (the Metropolitan Police pays the bills, and most of their funding comes from central government), in 2011 Scotland Yard reworked the Royal Protection Squad Program, meaning officers switch posts more often than they might have in the past, which leaves less time to get to know each other.
Not that every member of the royal family is going to connect with everyone in their employ (or, technically, the police's employ), but the nature of the job does entail long hours and a certain je ne sais readiness-for-anything.
For instance, Meghan's PPO decided last October that a crowded marketplace in Suva, Fiji, was no place for the duchess and whisked her away after six minutes instead of a planned 20. (A royal aide later attributed the change in plans to a "crowd management issue.")
"You find you live their life one step ahead of them," retired protection officer Colin Tebbutt, who had guarded Princesses Anne, Margaret, Michael of Kent, Alexandra and Diana and in turn coached other members of the royal detail, told The Diana Chronicles author Tina Brown.
Of course, not all royal security is created equally.
Scotland Yard's Royalty and Diplomatic Protection Group may provide most royal protection but, in addition to the police, the British Army guards the queen. Queen Elizabeth II's official bodyguard is the Household Cavalry—which comprises the two most senior regiments in the army, the Life Guards and the Blues and Royals, the latter of which both Harry and Prince William joined when they began their respective military service.
"I don't think William liked living in a ditch quite as much a Harry," a source familiar with both brothers told Prince William: The Man Who Will Be King author Penny Junor.
Andrew Winning-WPA Pool/Getty Images
The queen got used to constant male companionship quite early thanks to her escorts from the Household Division's Grenadier Guards. When as a teenage princess she would practice her hosting duties by throwing luncheons and teas, the officers would often attend. (In fact, since becoming queen she has served as their colonel-in-chief, as her father George VI, uncle Edward VIII and grandfather George V did before her.)
In 1944, Police Inspector Alexander Usher—appointed to royal duty at 35 after 16 years on the force—was promoted to the princess' detail and spent the next six years accompanying her on public and private engagements at home and abroad. Perhaps his most important assignment was unobtrusively watching over Elizabeth when she married Prince Philip in 1948 and then went on her honeymoon.
In turn, Usher was a guest at the christenings of Prince Charles and Princess Anne, and had tea with the family afterward. He also took Charles to the zoo and regularly watched over both children in the park. Usher left the royal detail in 1951, when a doctor recommended he stop traveling by airplane.
Elizabeth gave him a silver cigarette case signed by her and Philip (Charles sweetly gave him a bunch of carnations), and in 1953 he was awarded the Royal Victorian Medal for services connected with the royal family.
But while those entrusted to protect the queen and her sprawling family are ostensibly the best and the brightest, the royals have also been lucky that no preventable disaster has befallen them due to one of numerous security breaches over the years.
In 1974, Princess Anne and her husband Mark Phillips were attacked by Ian Ball, a gun-wielding would-be kidnapper, who shot the chauffeur, a policeman, a journalist and Anne's bodyguard, James Beaton. Ultimately Anne was able to distract the assailant enough to lock herself up in the car and he took off running (he was tackled by a swift-footed constable). Anne visited Beaton in the hospital and he was later honored with the George Cross, the highest civilian honor for bravery.
A 31-year-old intruder named Michael Fagan made it all the way into the queen's bedroom at Buckingham Palace on July 9, 1982, having scaled a 14-foot wall outside and climbed through an open window. He had previously broken in on June 7 and guzzled half a bottle of wine, so he was familiar with the landscape.
Max Mumby/Indigo/Getty Images
Prince Philip had left for an event at 6 a.m. and the queen awoke to a noise at 7:15, only to see Fagan sitting at the foot of her bed. "Get out of here at once!" she ordered him, according to Sally Bedell Smith's Elizabeth the Queen: The Life of a Modern Monarch, but apparently the troubled man just wanted to talk. Which he did, and the queen craftily got him to leave when he asked for a cigarette and she told him to check a nearby pantry. Security took it from there. (Fagan ended up being hospitalized for five months and was acquitted of stealing wine.)
Britain's Home Secretary William Whitelaw offered to resign, but he kept his post until 1983, when he became Leader of the House of Lords.
In 2010, Chief Superintendent Ian Boyes, the queen's chief bodyguard for 10 years, accidentally fired his gun while cleaning it at Holyroodhouse, the monarch's Edinburgh residence. It was an accident and the queen was not in residence, but he was suspended from firearms duty pending an investigation.
"He was only suspended from the firearms part of his duty and he retook the firearms test and is now back on duty," a palace spokeswoman said afterward. "That's just standard procedure. It was an accident. There's no issue with it really."
In 1992, Chief Superintendent Des Stout, who was head of operations for the protection squad at Buckingham Palace and also guarded Diana, accidentally shot himself in the leg during a training session (luckily it was a plastic bullet). In 2000, Police Constable Michael Slade accidentally fired two shots with his Glock (real bullets) on the royal train—while the queen and Philip were riding on it, asleep.
"A police officer accidentally discharged a firearm on the royal train," Scotland Yard said in a statement. "There were no injuries and, as is routine, the officer has been taken off firearms duties for the time being. He has not been suspended."
But still, all the queen's men have signed up to defend the monarch with their lives.
When the queen's beloved Windsor Castle caught fire in 1992, it was police and Household Cavalry officers (as well as a number of local volunteers) who raced in to save as much of the residence's priceless artwork, furniture and other valuables as possible.
Not so incidentally, Duchess Camilla's first husband, infamous ladies' man Andrew Parker Bowles, was a Household Cavalry officer—and it was one of his fellow officers who first told the queen in 1979 that her eldest son, Prince Charles, was carrying on with his ex-girlfriend, by then a married woman. (Elizabeth II chose not to confront Charles at the time.)
The royal family has had no choice but to trust a bevy of military officers, security personnel and aides who are sworn to protect the crown—but at the end of the day they're human, some more honorable and some more flawed than others.
For instance, presumably it's just the changing times that have resulted in Kate and Meghan having female PPOs, and PPOs usually wear plain clothes and are supposed to be able to slip into any scenario unnoticed in order to really be able to observe the conditions their charges will be entering and what transpires once they are there.
But a few decades beforehand, there was trouble.
Princess Diana was rumored to have had affair with one of her bodyguards, a married father of two named Barry Mannakee, in 1985 (and then she had an admitted romance with Capt. James Hewitt of the Life Guards, but he was her riding instructor, not her PPO). Diana wasn't alone, though—Princess Anne was rumored to be doing the same with her PPO, Sgt. Peter Cross, in 1986. (He wasn't long for royal duty, either.)
The best PPO would "often spot things that could wreck their lives if they take a particular direction," Colin Tebbutt told Brown. "But you should never cross the line."
The bodyguards also are expected not to get too carried away by their access to all the bells and whistles of royal life.
Wharfe told Tina Brown that he would tell his fellow PPOs "not to go home and tell their partners as they were opening a tin of beans in the kitchen they had just had caviar at the Ritz."
Mannakee took over Diana's detail from Chief Inspector Graham Smith, who was assigned to the Princess of Wales when she was still Lady Diana and, among other things, had to deal with her getting into her car for unexpected drives in the middle of the night after arguments with Charles. But Diana cared for Smith a lot and is said to have visited him often before he died of cancer in 1993.
Anyway, Diana seemed to be spending an inordinate amount of time in close, private quarters with Mannakee—but Wharfe, Tebbutt and Diana's housekeeper Wendy Berry all told Tina Brown that they didn't think they ever actually had an affair. (Brown thought otherwise. Also, Hewitt, in his 1999 memoir Love and War, claimed Diana told him that she did have an affair with Mannakee.)
"When her father died I sat on her bed for four hours with her crying in my arms," Wharfe said. "But that's not having an affair. It's a much easier role looking after the queen. You know exactly where the boundaries are."
In 1986, Mannakee was reassigned to Scotland Yard's Diplomatic Protection Squad. On May 22, 1987, he was killed in a motorcycle accident. Prince Charles was the one who had to deliver the news to Diana. They were on their way to the Cannes Film Festival.
"That was the biggest blow of my life," Diana told her voice coach Peter Settelen, whose tapes of their sessions were controversially used in the 2017 documentary Diana: In Her Own Words.
"I just sat there all day going through this huge high-profile visit to Cannes, thousands of press, just devastated," she also recalled. "Because, you know, I wasn't supposed to mind as much as I did, if you know what I mean."
Diana and Charles separated in 1992. Wanting to reclaim her life as much as was impossible while living with the Prince of Wales, she decided she no longer wanted a PPO.
In his 2002 book, Diana—A Closely Guarded Secret, written with Robert Jobson, Wharfe remembered the years he spent guarding Diana, from 1988 until 1993, as "the most traumatic period of her life." But still, for most of it she was "a joy to work with."
"The Diana I knew was full of fun, almost always in search of laughter, not wallowing in self-pity and tears as she is now so often portrayed," he wrote. "There were, of course, dark clouds in her life, but they would soon pass to allow her nature to shine brightly once again."
As the senior member of her security team, Wharfe—or "Wharfie" as Diana affectionately called him—was in charge of handling both her public and "sensitive" private engagements. "I was not only her police officer but also a trusted aide and confidante," he wrote. He maintains that because he worked for Scotland Yard and not the royal family, he was able to talk much more freely with Diana than if he was one of the countless aides employed by the palace.
Not surprisingly, Wharfe didn't mince words when it came to Trevor Rees-Jones, the bodyguard who was protecting Diana the night she died and the sole survivor of the horrific car crash that killed the princess, her boyfriend Dodi Fayed and the driver, Henri Paul, who wasn't technically a chauffeur but deputy head of security at the Ritz in Paris.
"Rees-Jones was a former soldier who had not received the training necessary to protect a member of the royal family," Wharfe wrote in his book. "And I know perfectly well that if any Scotland Yard Protection Officer had been in Paris with her, then Diana would never have got into a car controlled by a drunk driver and she would be alive today.
"Not only experience but common sense show this to be so."
Wharfe believed that dismissing her round-the-clock police protection "inadvertently set off the chain of events that led to her death."
Just because she dispensed with a police bodyguard, however, doesn't mean the princess didn't travel without security—and of course full teams watched out for her when she was with her children. And they inevitably always had their hands full.
In 1997, five weeks before her death, Diana wrote a thank you note to bodyguard Graham Cook for taking such good care of her and her boys on a trip to Saint Tropez that summer.
"We realize that our presence, along with that of the media, made your job enormously difficult, and for that we apologize!" read the letter, which was put up for auction last year. "However, we all had a magical ten days—which would not have been possible without your invaluable contribution and for that, we all send our warmest possible thanks."
William and Harry have had PPOs since they were babies, an ever-present set of eyes not to be confused with their doting nannies and assorted nursery teams. Often the PPOs would serve as playmates for the boys, too, guns safely stowed away in their jackets.
ODD ANDERSEN/AFP/Getty Images
Robert Jobson wrote in his 2018 book Charles at Seventy—Thoughts, Hopes & Dreams that, according to a former royal protection officer, the brothers were a bit naughty, enjoying such exploits as peeing in their father's garden.
"Good luck, you're going to need it," the officer told his replacement. "If these kids were brought up on a council estate somewhere in south London they'd have been taken into care by now."
And when they got older and went off to school, so went the PPOs. One of William's schoolmates at Eton was rumored to have been in search of a new educational institution after training a laser pointer at the prince one day as a goof. Another time, William was messing about on the putting green with some friends, one of whom took a high swing and clocked the royal in the head. According to Junor, his PPO insisted they call an ambulance to take him to a proper hospital rather than send for a doctor. (It turned out he had a depressed skull fracture and underwent an operation to relieve pressure on his brain.)
Over the years, despite the princes' occasional rambunctious attempts to shake their details, some of their PPOs became like older brothers to them, and were among the tight inner circle whose number-one priority was protecting the boys (physically and emotionally) in the wake of their mother's death in 1997.
The year before William left for university, members of his team—dressed in plain clothes to supposedly blend in like college students—showed up at St. Andrew's to inspect the residence hall where both they and the prince (and, fatefully, Kate Middleton) would be spending the next term.   
But while they wanted to be aware of his movements at all times, they eventually concluded that William could sometimes get from A to B without an armed escort. One guard would just be at point A to let point B know that Will was on the way, and then B would tell A the prince had arrived. If you invited William to a party, then his guards would do a sweep first, but otherwise the consensus was that the prince was a pretty regular young chap and his PPOs stayed out of the way.
Harry bonded with his PPOs, too, particularly Sgt. Bill Renshaw, who retired last year—having been with the prince through thick and thin, public events and private Las Vegas bacchanals.
Ikon Pictures/Niraj Tanna/REX/Shutterstock
"Some of the rhinos I saw are under such threat that they have more bodyguards than I do!" William quipped at the Illegal Wildlife Trade Conference in Battersea in October, referring to the security at the wildlife preserves he had just visited in Africa.
When William and Kate got serious, starting in 2008 they were accompanied just about everywhere by Chief Inspector John Hourihan, who was previously PPO for the queen's son Prince Edward and his wife Sophie, Countess of Wessex. He managed two teams of four bodyguards for the young couple—and sparked engagement rumors, because Diana was assigned her own security not long before Charles proposed. (Will-and-Kate watchers had two years to wait.)
Hourihan left the police for a private security position in 2013 after five years with the couple, who were reportedly "surprised and upset" by his decision.
Max Mumby/Indigo/Getty Images
Kate received her own 24/7 protection detail in 2010 after the engagement announcement. In addition to Sgt. Emma Probert, also joining Kate's detail was Inspector Karen Llewellyn, a veteran of the Metro Police, who once explained to the police magazine The Job, "When a principal is out and about, as a PPO, you are always thinking about the next stage. Is your principal moving on? When? Where is the car? Are there paparazzi around? What is the the threat, what is the risk? So it is never boring. You are always doing recces [reconnaissance], thinking tactically and planning."
Probert, meanwhile, lost her first husband in a skiing accident in 2009, but ended up finding love again with a fellow royal protection officer, Colin Childs, a member of the team protecting the queen. When Emma told Kate in 2012 that she was expecting, the royal reportedly said, "You beat me to it."
Asked once about her own romantic story, Probert once told reporters, "I know people are interested because of who I work for, but my private life has nothing to do with my job. It's totally irrelevant and I don't talk about my private life."