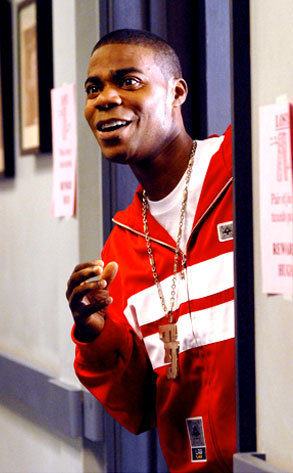 Nicole Rivelli/NBC
Something fishy in Tracy Morgan's pad sparked a four-alarm fire.
The 30 Rock star blames a defective fish tank for igniting a minor blaze in Morgan's Upper West Side residence Tuesday.
"A fire broke out in my Manhattan apartment this morning, apparently starting with a lamp attached to my fish tank," says Morgan, who was not home at the time of the fire.
"The sprinklers promptly activated and the NYFD came by to make sure it was contained. Fortunately, the fire did not spread and no one in the building was injured—even the fish are OK. My thanks to the New York Fire Department for their quick action."
Some 25 units, comprising 78 firefighters, arrived on the scene around 8:30 a.m. Damage was said to be minimal, mainly smoke damage to the walls of his 16th floor pad at Trump Place. Adjacent apartments and units below Morgan's sustained some water damage, presumably from the hoses, not the aquarium.
(Originally published Feb. 18, 2009 at 12:17 p.m. PT.)