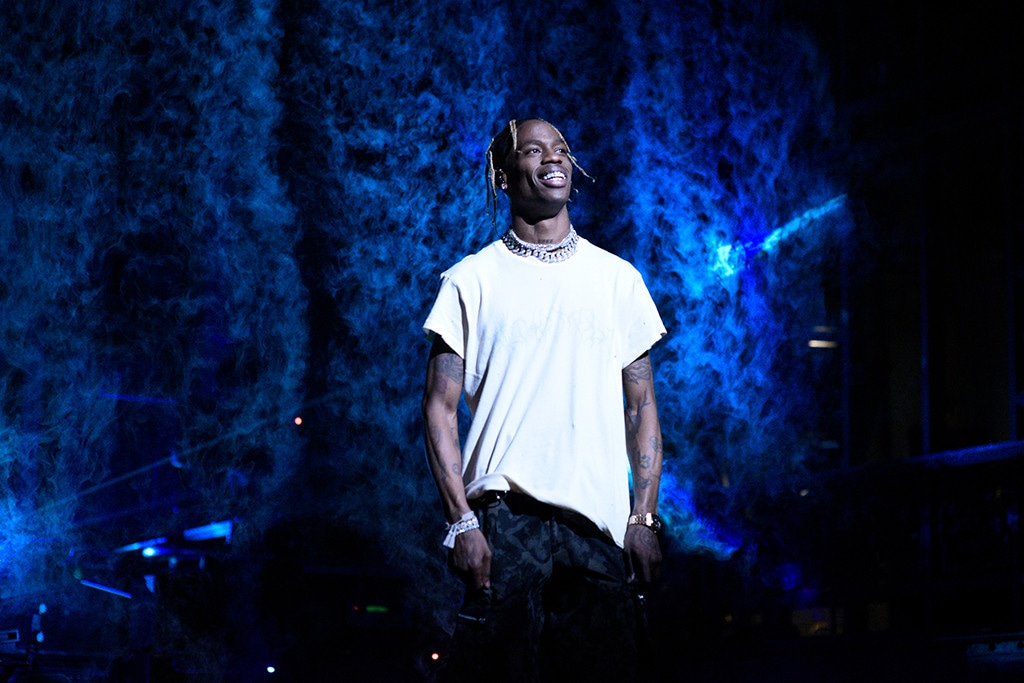 Will Heath/NBC
It's no secret that Maroon 5 had a hard time finding other acts to join them during next month's Super Bowl LIII Halftime Show in Atlanta. Pink, Rihanna and more reportedly passed on the gig in protest of the NFL fining players for kneeling during the National Anthem, which quarterback Colin Kaepernick started doing while still a member of the San Francisco 49ers.
Yesterday, Maroon 5 finally confirmed it will headline the show and will be joined by rappers Big Boi and Travis Scott. The latter musician, a six-time Grammy nominee, agreed to take the stage under one condition: The NFL would make a $500,000 donation to his charity of choice. "I back anyone who takes a stand for what they believe in. I know being an artist that it's in my power to inspire. So before confirming the Super Bowl Halftime performance, I made sure to partner with the NFL on this important donation," the rapper said in a statement. "I am proud to support Dream Corps. and the work they do that will hopefully inspire and promote change."
Dream Corps., founded by CNN's Van Jones in 2014, has a broad mission "to inspire action, serve justice and improve people's lives." Jones applauded Scott's decision Sunday, telling his Twitter followers, "This is great news! Welcome, @trvsXX. Glad to have you with us, brother!"
Needless to say, Dream Corps. is thrilled. "We are thankful for Travis Scott stepping forward and joining us to fight for the families who are struggling to survive and communities who have been left behind. We are living in very troubling times. We are faced with a broken justice system and growing opioid crisis; communities are burned down from fires and wiped out by floods and hurricanes; we have an education and workforce system that is failing us and most Americans without $500 in their savings or a safety net, and we have a government that is shutdown—the longest in history," Vien Truong, Dream Corps. CEO, said in a statement. "The Dream Corps is closing prison doors and opening doors of opportunity. Even in these turbulent times, our programs have had significant victories—including safeguarding clean air and clean water protections for families; training and placing diverse candidates into tech jobs; and passing the most significant criminal justice reform we have seen in a generation."
Comedienne Amy Schumer, one of the more vocal critics who repeatedly asked Maroon 5 to step down, has not commented on either rappers' involvement in the upcoming Halftime Show.
Adam Levine, who fronts Maroon 5, has not commented on the NFL's donation to Dream Corps. In November, he told Variety he was "still formulating a lot of things" surrounding the show. His band, which has sold over 53 million albums and 48 million singles, is taking a tiny break from its worldwide Red Pill Blues Tour, which will resume Feb. 19 in Brisbane, Australia.
Super Bowl LIII will air Feb. 3 on CBS.
February will be a big month for Scott, who is nominated for three Grammy awards.