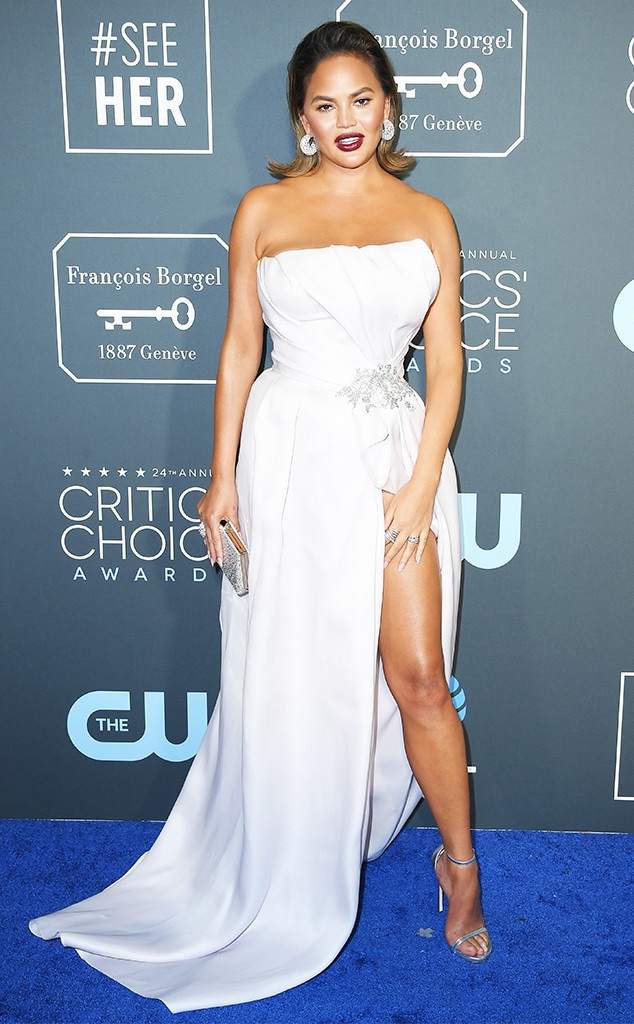 Steve Granitz/WireImage
Chrissy Teigen knows how to rally.
The Lip Sync Battle host and her husband John Legend celebrated his 40th birthday on Saturday night at a star-studded James Bond-themed party. The couple hosted a huge number of guests at their home, including Kim Kardashian, Kanye West, Kourtney Kardashian, Jesse Tyler Ferguson and Miguel. Birthday party attendees spent their time playing casino games and dancing their hearts out. Teigen herself looked jaw-dropping in a strapless and shiny gold dress. Their 2-year-old daughter Luna looked adorable in a sparkly dress and Miles looked dapper in a baby tuxedo.
A source at the festivities told E! News that everyone was loving the party. "The dance floor was packed with people all night. At one point, Chrissy got behind the DJ booth and thanked everyone for coming. Then they all sang Happy Birthday to John and he loved it. Everyone seemed to have amazing night," the insider said. 
While they undoubtedly had an epic time, the Sports Illustrated model had a bit of a rough time getting out of bed this morning and preparing for the 2019 Critics' Choice Awards. In a series of Instagram videos, Teigen recorded herself while still in bed lamenting the fact that she needed to get dressed for the show.
"Oh my God," the 33-year-old said as she sat in bed with takeout containers strewn across the sheets. "This is my bed and I have to get ready for Critics Choice." Then she questioned which awards show it was. "Wait, is it People's Choice?" she asked. "I seriously don't know."
Nope! The 2018 People's Choice Awards were held on Nov. 11, but at the same location at the Barker Hangar in Santa Monica. Their names may be similar, but Teigen would be really late if she showed up for the PCAs.
Well, she and Legend eventually dressed to the nines and made their way en route to the show. Teigen posted another video from the car looking gorgeous in a strapless white dress and dark lipstick. "This was a huge mistake," she whispered to the camera. The "All of Me" singer just laughed as he sat next to her watching the New Orleans Saints vs. Philadelphia Eagles NFL playoff game on his laptop.
The happy couple eventually arrived at the Critics Choice Awards, but no word if she managed to sneak in any Advil in her purse.
Stay up-to-date on the awards show by checking out the full list of winners here.