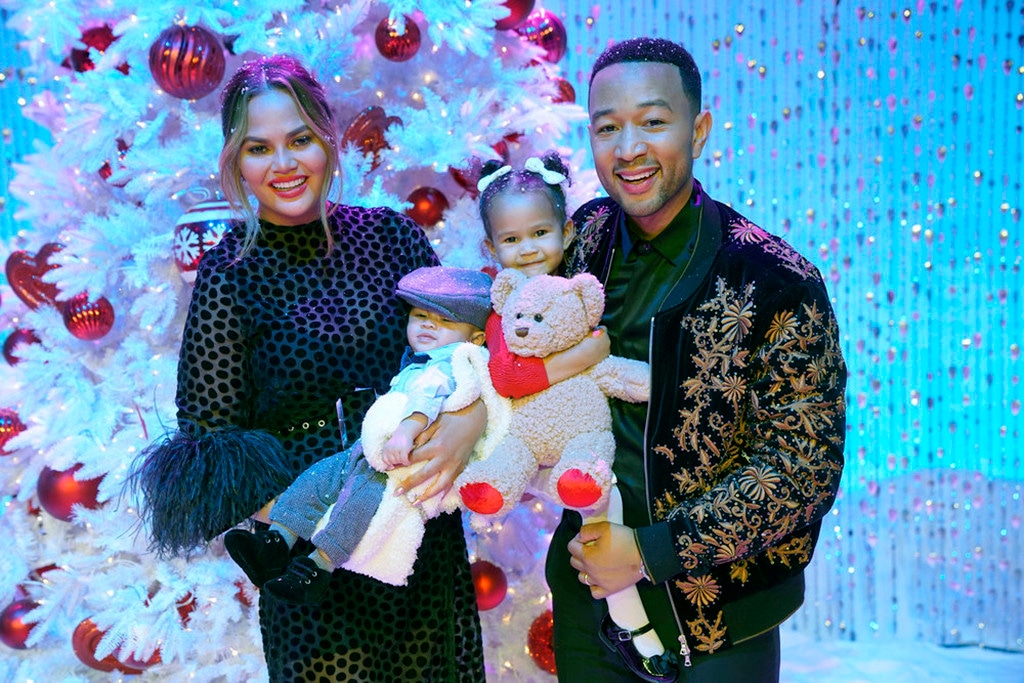 NBC
Chrissy Teigen turned to a trusted source of advice when she needed it most on Saturday: Twitter.
The Cravings author needed to get her son, Miles, all dapper for his dad John Legend's 40th birthday party on Saturday. As anyone who has ever gotten ready for an outing would know, there's always the dilemma of what to wear. Hence why Teigen turned to the social media platform.
She posted two photos of Miles dressed up in a tuxedo, one white one black. It's too cute!
"okay guys. throwing john's 40th birthday party tonight but need your help dressing mini-john. Which one!" she asked of her nearly 11 million followers.
In both outfits, Miles donned black baby tuxedo pants and shiny shoes. He also had on a white button-up shirt with a black bow tie.
The black tux jacket was, well, black. The white jacket, however, had black trim on it. To top it off, Miles is totally Legend's doppleganger, except he's 40 years younger.
The artist is slated to sing alongside Kelly Clarkson, Smokey Robinson, Celine Dion and others at the Aretha Franklin  tribute concert on Sunday. The belated birthday boy posted a photo of himself holding up a giant cake that he received at the tribute's rehearsal.
Legend turned the big 4-0 on Dec. 28. In typical fashion, the Sports Illustrated Swimsuit model composed a lovely and funny tribute to her doting husband. "Happy 40th birthday to the most incredible man. The best father, hardest worker, best lover, best friend I could ever imagine," she wrote. "Every day I am grateful for how much you love us and how much you both say it and show it. You are one of a kind. I am grateful to your family for creating and raising such a pure, sweet, brilliant man."
Then, she added her own Teigen kick. "The world has been blessed by your 40 years on this planet. I love you. I showed you that this morning BOOYAHHHH," she quipped.
Just days before baby Miles (and undoubtedly his sister Luna, too) looked absolutely adorable in his tux, the family had an envy-inducing tropical vacation. They went paddle-boarding, sat on the beach and relaxed in the sun away from any cold weather.
Legend recently appeared in the much talked-about Lifetime docu-series Surviving R. Kelly because he spoke out against the rapper. "R. Kelly has brought so much pain to so many people," he said in the show. "#TimesUp for R. Kelly."
He then spoke out about how it didn't feel "risky" to do so. He tweeted on Jan. 3, "To everyone telling me how courageous I am for appearing in the doc, it didn't feel risky at all. I believe these women and don't give a f--k about protecting a serial child rapist. Easy decision."