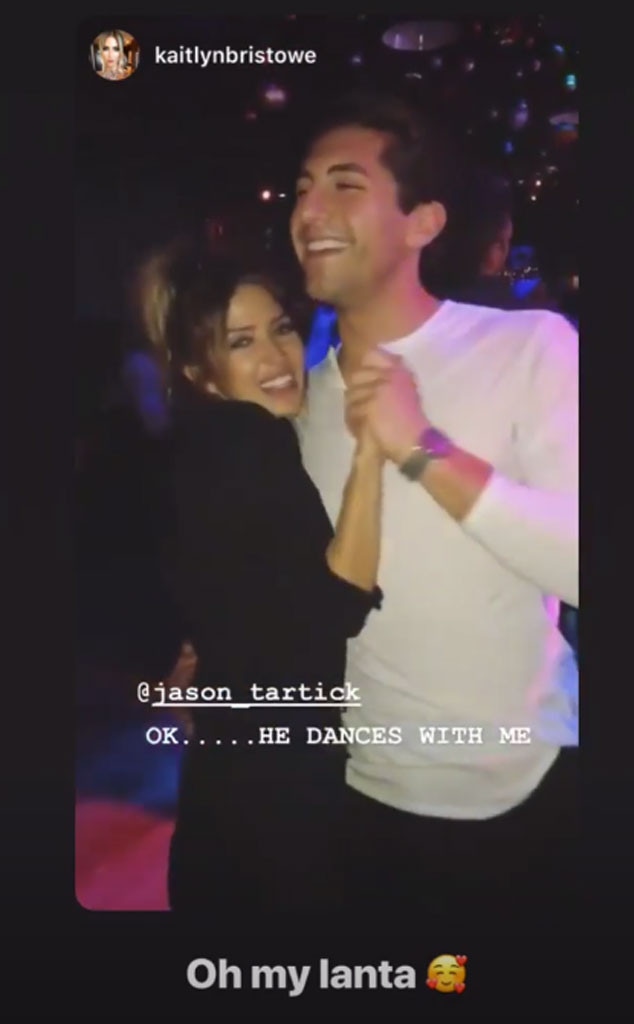 Instagram
What happens in Bachelor Nation stays in Bachelor Nation.
Bachelor and Bachelorette fans can breathe a sigh of relief because Jason Tartick and Kaitlyn Bristowe officially went on their date. Tartick asked out the former Bachelorette leading lady on her podcast Off The Vine With Kaitlyn Bristowe the other day and much to our glee, she accepted.
Well, it sort of went that way. "Jason, are you finally going to ask me on a date," she asked during the episode.
He replied, "I mean if we're both going to be in the same city at the same time I see no reason why we shouldn't go to dinner or grab drinks."
And that's what they did.
Both Tartick and Bristowe happened to be in Denver this weekend, so the two of them met up and had a date night filled with dancing and drinks.
From the looks of it, they hung out at Howl at the Moon, which is a party-filled bar that has live music and piano. Both Tartick and Bristowe shared videos on their Instagram Story from their date night, and it was something that could have rivaled one on the show (no private concert, unfortunately).
At one point, Carly Rae Jepsen's singalong hit "Call Me Maybe" played in the background and Tartick captioned a video singing "Call me maybe [Kaitlyn]."
Another video showed them slow dancing and laughing together. "Ok...he dances with me," she captioned it. 
The podcast host also shared videos of fellow bar attendees dancing enthusiastically in a conga line. Apparently the New Yorker checks off two big boxes in Bristowe's book. As she described in another caption, "He likes dancing and wine."
What a night!
From the looks of it, these two had the absolute time of their life while out and about in Denver.
A source told E! News on Tuesday, "Jason has a crush on Kaitlyn. They met for the first time on her podcast." There's no word yet on if there'll be a second date, but if there is, their dancing date set the bar pretty high. For now, they'll go on cheering current Bachelor frontman Colton Underwood.