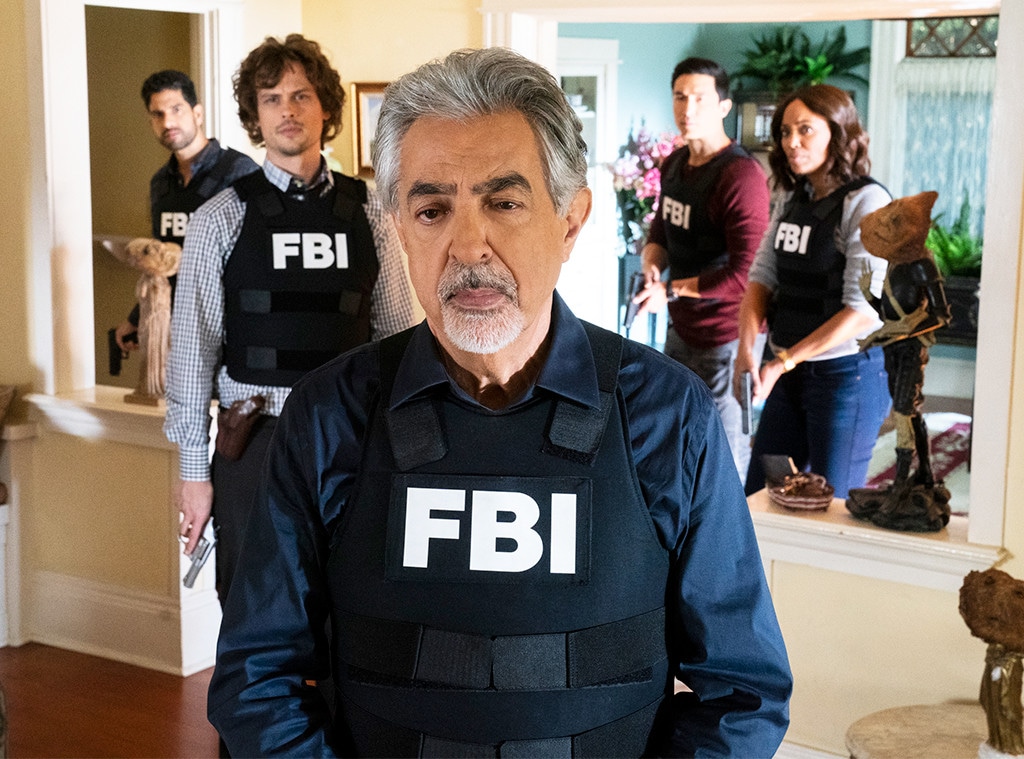 Cliff Lipson/CBS
Criminal Minds fans are dealing with a lot this week after learning that the long-running drama will be ending after Season 15 next year.
Yes, we are aware that means there are still two seasons of awesomeness to look forward to from our favorite BAU agents, but it is a little bittersweet knowing that there is an end date looming over all of the characters and the series in general.
After 14 years of watching the badass team consisting of Dr. Spencer Reid (Matthew Gray Gubler), Penelope Garcia (Kirsten Vangsness), Jennifer Jareau AKA J.J. (A.J. Cook), David Rossi (Joe Mantegna) and more take down serial killers week after week we're not sure we're ready to bid farewell to these TV characters.
The good news is that there will be 10 episodes coming for Season 15, which E! News learned earlier this week and a total of 15 episodes for the current season.
There have already been 300 plus episodes of the crime drama so we have been a little spoiled. In the end however we will be sad to see some of our favorite agents and BAU employees leave forever.
The real question is which of Criminal Mind's iconic characters will you miss most when the series does finally come to an end next year?
The show's current cast includes Mantegna, Paget Brewster (as Emily Prentiss), Gubler, Cook, Aisha Tyler (as Dr. Tara Lewis), Vangsness, Adam Rodriguez (as Luke Alvez) and Daniel Henney (as Matt Simmons). All of these actors have won us over, whether they are an OG cast member or a newer addition and they all will be missed.
Think about it, can you imagine your weekly viewing schedule without Garcia's funky and fun ensembles that she wears while typing on her keyboard and saving the day with a pen that is also funky?
What about not seeing Dr. Reid solving some mysterious clue to locate a serial killer while at the same time pointing out some fun fact about science or math that we can't help but love to learn every week?
Diehard fans will most likely miss the adorable and yet totally feisty J.J., who has really transformed throughout the series starting out in office and eventually going into the field. Plus, who could forget Rossi? His novels are so freaking cool and he commands the room no matter where he is.
When Prentiss returned after "dying" fans were in total shock, but her surprise survival is something we definitely needed to make this series even more amazing.
Newer additions like Dr. Tara Lewis, Luke Alvez and Matt Simmons are breaths of fresh air and together make this team complete.
Oh, and we know that Derek Morgan (Shemar Moore) is no longer on the show, but let's be honest with the end getting close there is a good chance he could return—fingers crossed—to help out his baby girl once again.
When the show ends so does the possibility that Derek could rejoin the team and show off his rock-hard abs once again and we are freaking out over this idea.
Luckily, we have more than a year to process the fact that Criminal Minds is ending, but if you had to choose right now, which character on the series will you miss the most come 2020?
Cast your vote below and make sure to catch an all-new episode of Criminal Minds Wednesday at 10 p.m. on CBS.
Criminal Minds Character Poll