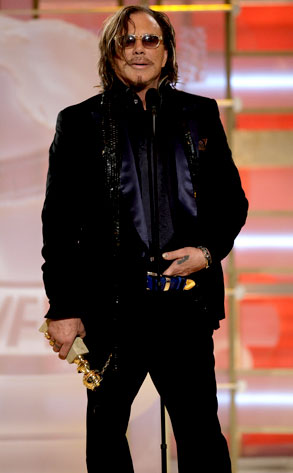 NBC Photo: Paul Drinkwater
Add one more to Mickey Rourke's pack of heavenly canine companions.
The Oscar nominee's Chihuahua, Loki, one of the dogs memorably thanked by Rourke in his Golden Globe acceptance speech, has died, Rourke's rep confirmed Tuesday to E! News.
Loki passed away Monday night at the ripe old age of 18. The pup was prominently photographed walking the red carpet with his master, who called Loki the "love of [his] life," at the Venice Film Festival in September.
"I'd like to thank all my dogs, the ones who are here and the ones who aren't here anymore," The Wrestler star said when accepting his Globe for Best Actor last month.
"Sometimes, when a man is alone, that's all you got is your dog. And they've meant the world to me."
Rourke expanded on this sentiment in a recent sit-down with Barbara Walters for her annual post-Oscars interview special.
"I sort of self-destructed and everything came out about 14 years ago or so...the wife had left, the career was over, the money was not an ounce," he said. "The dogs were there when no one else was there."
He remembers, at one of his lowest points, being asleep for some reason in a closet and then looking at his dog Lowjack. "And he made a sound, like a little almost human sound. I don't have kids, the dogs became everything to me. The dog was looking at me going, 'Who's going to take care of me?' "
In a far better place now, Rourke has taken home multiple film critics' honors, a Golden Globe and a BAFTA for his comeback-fueling turn in Darren Aronofsky's The Wrestler, and he has a real shot at adding both an Independent Spirit Award and an Oscar to his cache this weekend.