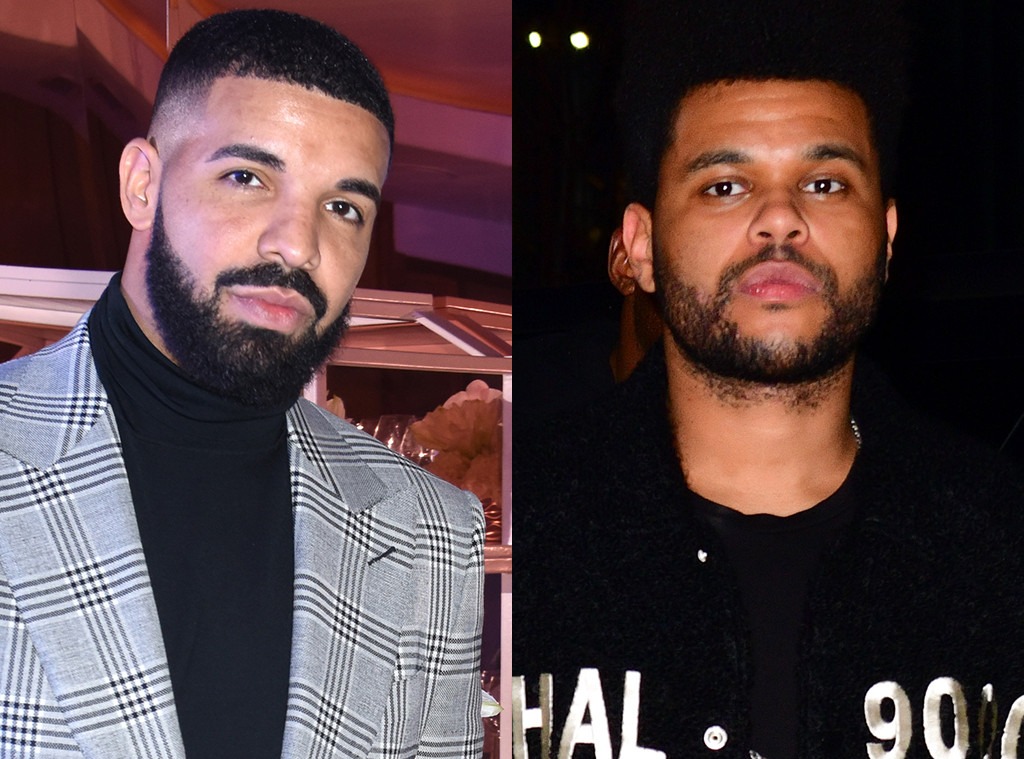 Vivien Killilea/Getty Images for The h.wood Group, James Devaney/GC Images)
Cue an eyebrow raise. 
On the heels of The Weeknd's newly released track with DJ Gesaffelstein, "Lost in the Fire," fans are pointing at another musical star: Drake. 
Listeners took note of the Grammy winner's sultry lyrics, paying special attention to a line that goes, "And I just want a baby with the right one
(I just want a baby with the right) 'Cause I could never be the one to hide one (I could never be the one to hide)."
Fans inferred the comment was a reference to Drake, who secretly welcomed a son in October 2017, but did not confirm his existence until he released his fifth studio album, Scorpion, in June 2018 after Pusha T accused him of "hiding" the child on his diss track, "The Story of Adidon."
"I wasn't hidin' my kid from the world," Drake retorted on "Emotionless." "I was hidin' the world from my kid."
"OMG!!! The Weeknd just assured we wont be getting another Take Care album or another collab song with Drake," one fan tweeted. 
"Still laughing about the drake line," another fan tweeted. "Drops tea #Lostinthefire."
The two, who have collaborated on each other's music in the past, were said to have alleged beef back in 2017 around the same time rumors sparked that Bella Hadid and Drake were seeing each other. At the time, The Weeknd was dating Selena Gomez. There were also claims that Drake threw the supermodel a 21st birthday party. 
While mama Yolanda Hadid played coy about the soirée, she did confirm to Andy Cohen at the time, "They're friends."
Then, on his track "Finesse," Drake gave the impression he was singing about Hadid with lines like "I want my baby to have your eyes, I'm going against my own advice / Should I do New York? I can't decide / Fashion Week is more your thing than mine."
However, the supermodel denied it, tweeting, "Not me!!! that's disrespectful. WHY CANT PPL BE FRIENDS W/o all the insinuation."
As fans well know, Hadid and The Weeknd have been exclusively back together since the summer. As for The Weeknd's new song, we feel some new drama coming.