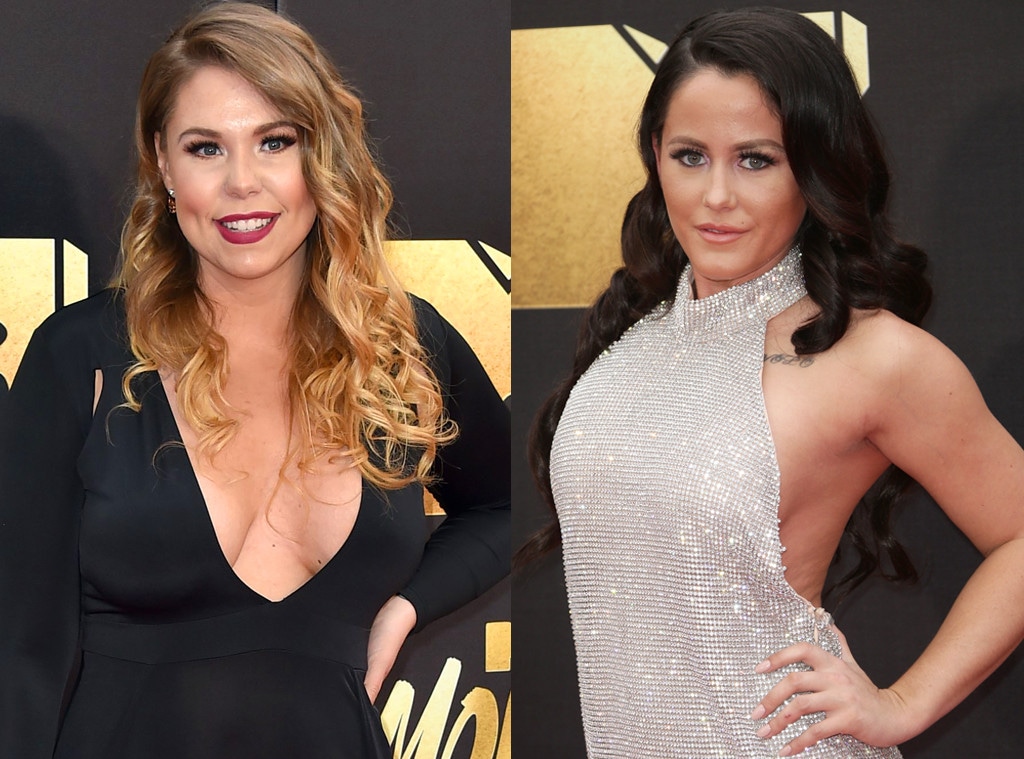 Jim Smeal/Jordan Strauss/Invision/AP/REX/Shutterstock
Instead of fighting back, perhaps it's best to kill them with kindness.
As Teen Mom fans know, Jenelle Evans and Kailyn Lowry haven't seen eye-to-eye on and off screen for a long, long time.
Their feud only got uglier earlier this month when the pair found themselves in a social media war.
"I will not be attending any type of reunion on the same day or weekend as Jenelle & David," Kailyn shared on Twitter.
Jenelle would later post, "Then you got this dumb c--t tweeting about me again to make herself relevant…all you have to worry about is my babygirl." Fast-forward to this week when Jenelle took another shot at her co-star.
"Why did she have to reply to that publicly and talk about us again?" she told Us Weekly. 'I don't like the person she is….You can never really trust her."
So is Kailyn about to fight back? Not exactly.
Watch:
"Teen Mom" Kailyn Lowry Shares Baby Lo's Latest Milestones
After spotting Jenelle light her Pothead Hair Care products on fire, the Teen Mom 2 star didn't appear to be surprised in the slightest.  
"I knew this was going to happen. I called it. I told the producers this was going to happen and I said I don't care what she does with the products. I'm going to send her a PR box of Pothead anyway," Kailyn shared on her Coffee Convos podcast with Lindsie Chrisley. "I didn't know she was going to post a video of her lighting them on fire. I just knew David would either use them as target practice or Jenelle would have lit them on fire."
Ultimately, the Pride Over Pity author is thankful for all the attention her new business got as a result of Jenelle's anger. In fact, she's willing to send more products if her co-star ever needs it.
"I want to say thank you because I did almost sell out of my products that day with sales. So thank you so much Jenelle," Kailyn shared. "I do appreciate you and if you want more just let me know or you can go to potheadhair.com." Zing!
A new season of Teen Mom 2 kicks off Monday at 9 p.m. on MTV.