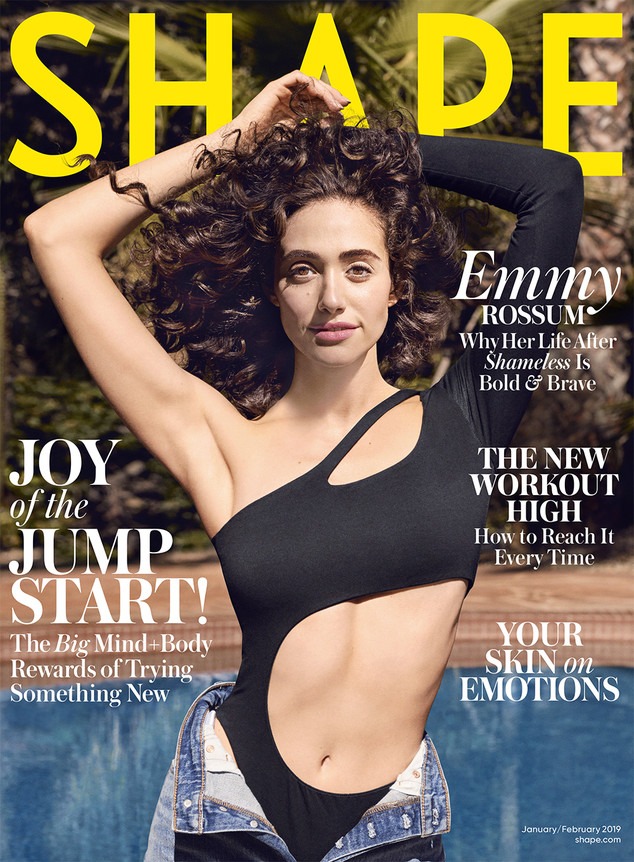 Shape/David Slijper
Emmy Rossum is opening up, both about her wellness philosophy and the decision she made to leave Shameless. Her Shameless announcement rocked millions of fans.
In the new issue of Shape, Rossum opened up about why she's saying goodbye to Fiona Gallagher and the Showtime series she's called home for nine seasons.
"I made 110 episodes playing the character of Fiona, and it's been an incredible journey," she told Shape. "I've learned a lot about myself as a person and as an actor. I want to leave the show while I still love it, and I know the door is open to come back if that feels right. I'm also extremely proud of what I was able to accomplish off-screen, with my negotiation for equal pay and the effect that had on other women in the industry and in general."
In 2016, Rossum lobbied to be paid as much as her costar William H. Macy. Rossum said she's looking at her exit as a new beginning.
"The way I look at it is that the end of one thing is the beginning of something else," she said. "I couldn't be more thrilled to spend time writing, directing, and seeing what other characters I want to play. It's both scary and wonderful."
She's currently slated to direct an episode of Amazon's upcoming anthology series Modern Love.
Rossum announced her decision to leave the series to the public in August 2018. She posted an emotional letter to her fans on social media, explaining how much she loves the cast and crew—a true family to her.
"I know you will continue on without me, for now. There is much more Gallagher story to be told. I will always be rooting for my family. Try not to think of me as gone, just think of me as moving down the block," she wrote. "With love, always."
There's no official word whether Shameless will return for a season 10, but it's expected. Cameron Monaghan, another longtime cast member, exited the show ahead of Rossum.
"Emmy Rossum will forever be part of the Shameless family. She has been integral to the show's success, from her wonderful portrayal of Fiona to her leadership role on set, as well as directing multiple episodes of the series. We are hard at work now creating a season nine finale for Shameless which we hope will provide a Gallagher-worthy sendoff for Fiona that honors the great work Emmy has done. It is always bittersweet when an ensemble member decides to move out of the proverbial house, but our door will always remain open for Fiona to return home for a visit, or to move back in. I look forward to continuing the stories of this wildly unpredictable family and all of us on Shameless will miss Emmy and her wonderful Fiona," Shameless executive producer John Wells said in a statement.
Shameless returns with new episodes Sunday, Jan. 20 on Showtime.