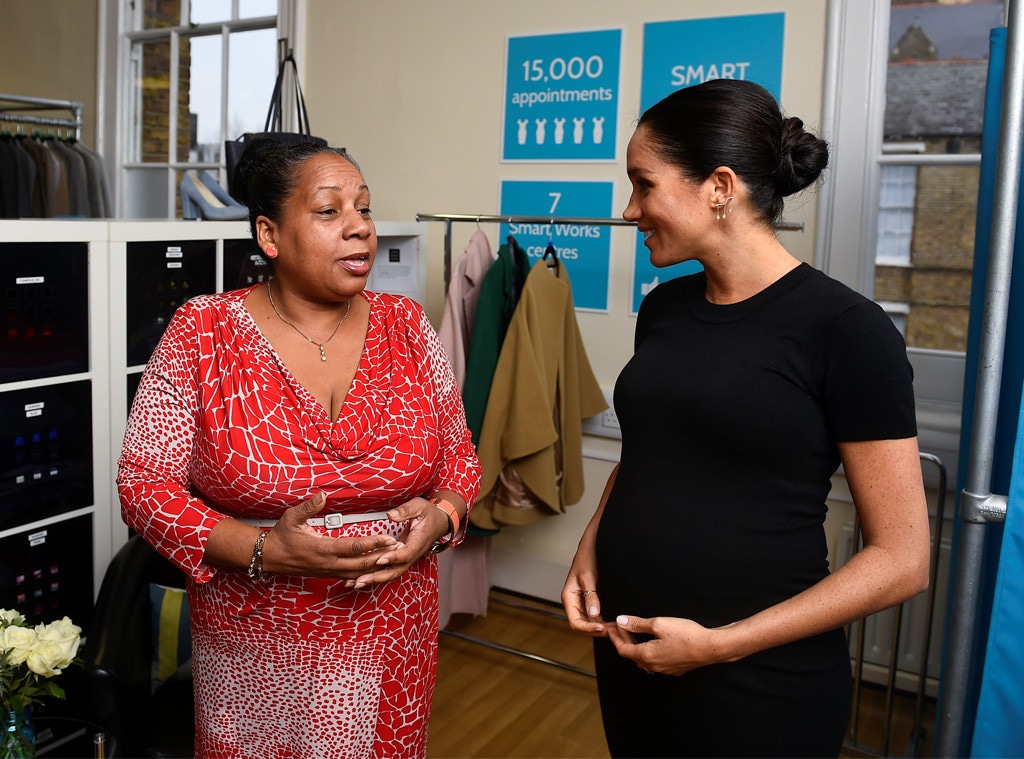 Clodagh Kilcoyne - WPA Pool/Getty Images
The Duchess of Sussex is off to work. 
On the heels of her newly announced first royal patronages, Meghan Markle wasted no time attending to her patron duties when she paid a visit to Smart Works in London, a charity focused on helping long-term unemployed women regain skills, succeed at job interviews and return to work. It is one of four patronages now under the American star's belt, in addition to The National Theater, The Association of Commonwealth Universities, which is the world's first and oldest international university network, and Mayhew, a grassroots charity aimed at improving animals' and peoples' lives to improve communities.
Two of the patronages, The National Theater and the Association of Commonwealth Universities, were passed on to the duchess by Queen Elizabeth II, who held the role at each for decades. The patronages reflect issues and causes Markle has long been associated with, including the arts, gender equality and female empowerment, animal welfare and education.  
While the expectant royal has been conducting private visits and meetings with the organizations, Thursday marked her first public engagement with one of the four. 
"You guys know I've been quietly coming by... close to a year," she told a group. "It's nice to be able to now do it publicly and really talk about the work that you do."
With the public having last seen her on Christmas Day, it was a welcome sight when she stepped out of the car, her growing baby bump very visible at this point, donning a black stretch maternity midi dress by Hatch ($218) layered under an Oscar de la Renta sand coat ($2,990) with a prominent collar. For a touch of pizzazz to the unfussy look, she sported a pair of  Gianvito Rossi cow print plexi pumps.
Clodagh Kilcoyne - WPA Pool/Getty Images
Once inside, the fashionista took a hands-on approach as she helped women style an outfit, down to the accessories.At Smart Works, each woman gets a styling session before their first interview and go home with a full outfit to keep. Once they get the job, the organization provides five more articles of clothing to mix and match on the job. 
The duchess recognized how special donations to this charity are. "It's not just about donating your clothes and seeing where they land, but really being part of each other's success stories as women," she said. "It's not just hand-me-downs, it's saying 'Ok, this is the blazer that I wore that helped me land that interview and I want this to be the piece that helps this woman have that part of her story'..so to know as a woman coming in, I would imagine, that you have so many women believing in you on all the next phases, is the piece that makes it so special."
To top it off, Markle was clearly having tons of fun with the styling portion, laughing and cradling her baby bump as she pulled options for the ladies to try on. 
Clodagh Kilcoyne - WPA Pool/Getty Images
Needless to say, this patronage seems like it's the perfect fit for Duchess Meghan.