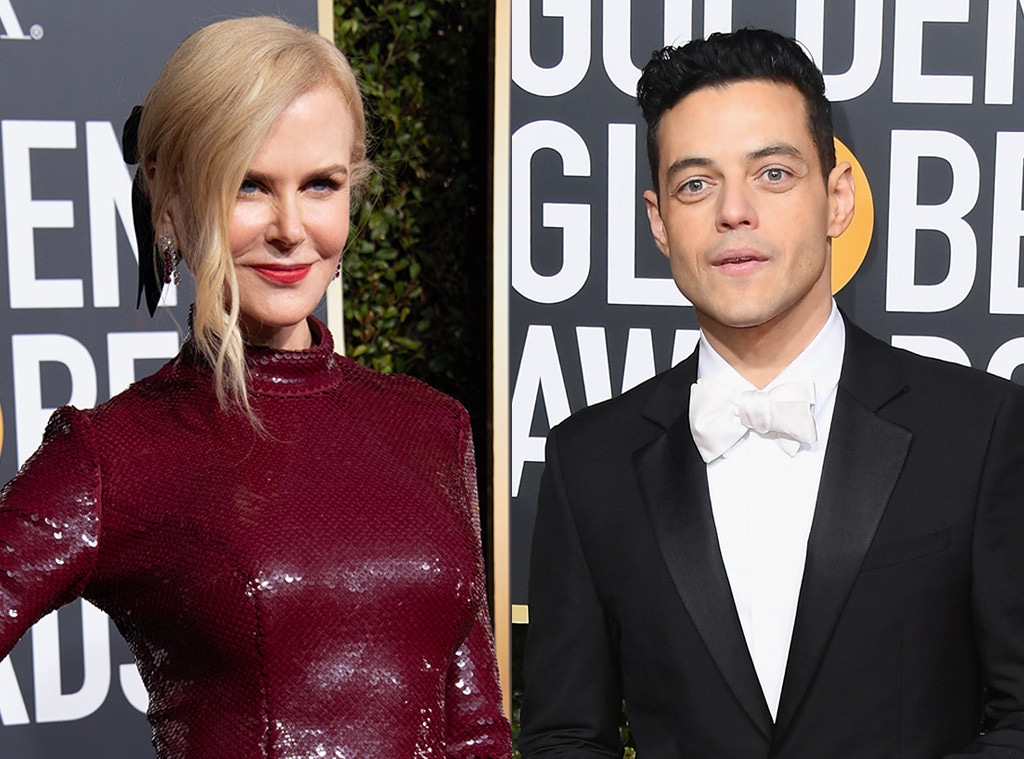 HFPA/Getty Images
Remember that time Nicole Kidman accidentally snubbed Rami Malek at the 2019 Golden Globes? Well, the Bohemian Rhapsody star just saw the viral moment for the first time.
Jimmy Kimmel played footage of the awkward encounter on Tuesday's episode of Jimmy Kimmel Live!. Needless to say, Malek found it just as cringeworthy. 
"I had not seen that," the Freddie Mercury character said.
Despite Kidman's unintentional cold shoulder, Malek said he's actually known her for years. So when she announced Bohemian Rhapsody won Best Motion Picture (Drama), he thought a quick onstage greeting wouldn't be a problem. 
"But in a moment like that, it was very awkward," he said. "I feel like this is probably haunting me on the internet right now."
Still, Malek said he received some love from Kidman's husband, Keith Urban, who he described as a "massive Queen fan." In fact, he said several "big names" came up to Brian May and Roger Taylor at the award show to "fan out." However, he wasn't sure the rock stars enjoyed the big night as much as his fellow actors.
"It wasn't necessarily their scene," Malek said. "I think they wanted to enjoy it. It was an exceptional night for everybody. They're used to being rock stars and doing rock star things and that was a very Hollywood industry night, which I had a blast at. They had a great time but I think, at first, it took some getting used to."
It was definitely a great night for Malek, though. Not only did Bohemian Rhapsody take home the big prize, but Malek also won Best Performance by an Actor in a Motion Picture (Drama) for his portrayal of Mercury.
Watch:
Rami Malek's Not So Overnight Success
In fact, Malek has been living more of a rock star lifestyle ever since he took on the role, getting to hang out with Paul McCartney, Ringo Starr, Roger Daltrey and, of course, Queen.
"You've been hanging around with guys in Queen as if you were actually in Queen," Kimmel joked. "You know you weren't in Queen, right? You're too young to have been in Queen."
Watch the video to see Malek's interview.