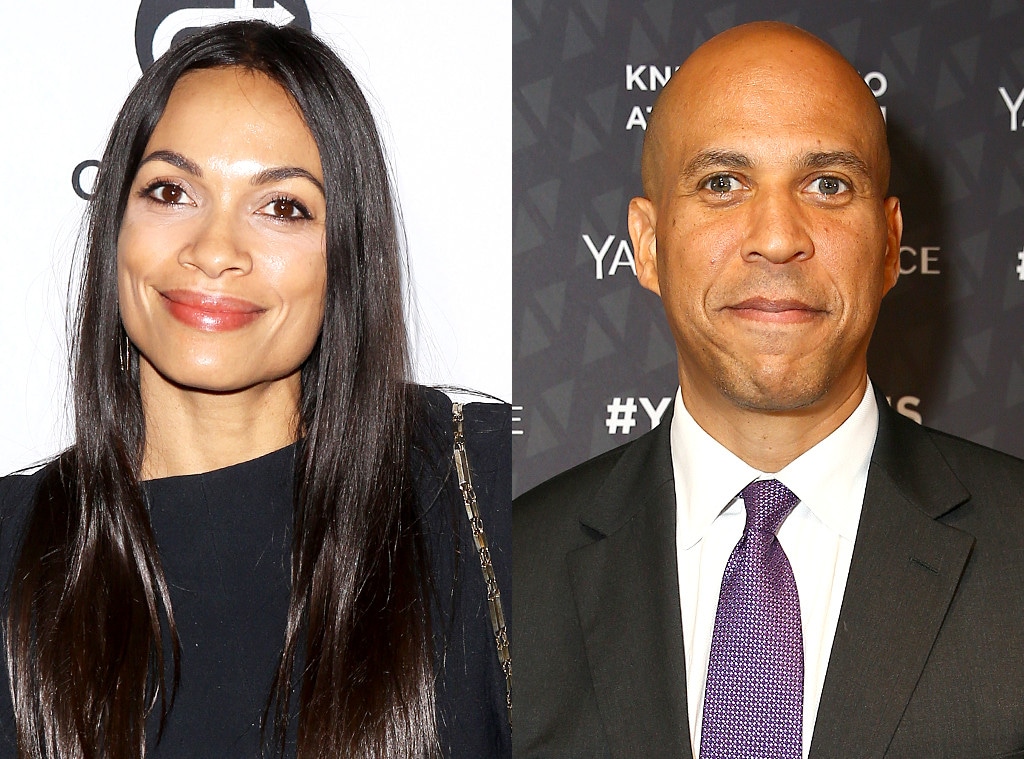 Michael Tran/FilmMagic,Tasos Katopodis/Getty Images for Yahoo Finance
Washington, meet Hollywood.
Rosario Dawson and Senator Cory Booker have been sparking dating rumors as of late, especially after the two of them attended the Broadway hit Dear Evan Hansen together. A source confirmed to E! News that the Daredevil actress and New Jersey lawmaker "appeared to be a couple." In fact, they brought some family members along to the musical as well. The source said Dawson's daughter and Booker's niece were there, too.
After the show, the 39-year-old got onstage and gave a little performance of her own as she sang an impromptu tune that said "I love you" in it. They also took photos with cast members, including lead actors Taylor Trensch and Lisa Brescia.
Diamond Essence White, an understudy in the show who also got to spend a few moments with the senator, tweeted about her experience.
"I know I'm being a nerd right now but Senator Cory Booker and Rosario Dawson saw the show tonight while I was on," she wrote on Saturday night. "I had to leave the room because I got too star struck and started crying."
According to Page Six, the Dear Evan Hansen outing was the second date night in a short period of time. The publication reported that they were seen at the movies together in New York City on Thursday night.
Neither Booker nor Dawson has commented on their relationship status or posted about it on social media. She perhaps hinted at it in a screen shot posted to her Instagram Story. "Hope somebody comes into your life & makes you so f--king happy & doesn't disappoint & makes you realize everything happens for a reason," it read.
The Luke Cage actress previously dated comedian Eric Andre, but they split up in November 2017. Booker has never been married, although he did have a brief flirting session with Mindy Kaling on Twitter in March 2017.
Bruce Glikas/Bruce Glikas/WireImage
Dawson is an avid follower of politics and was one of the most vocal famous faces to support Vermont Sen. Bernie Sanders in his 2016 presidential run. She even got arrested in April 2016 during the Democracy Spring protest in D.C. Dawson shared multiple photos and videos from the gathering on social media and seemed not to mind her arrest.
She described the experience on the YouTube show The Young Turks. "I think there was maybe a desire to not particularly maybe have me arrested because they didn't want that to be put out there. So we got up when they walked away and we sat down and we were arrested," she said. "I wanted, for me, personally, to be in solidarity with the other folks who put themselves on the line and also just to bring attention to this."
Just yesterday, she was one of the many celebrities to celebrate Tennessee Gov. Bill Haslam granting 30-year-old Cyntonia Brown  celemency after she spent 15 years in prison. 
Booker also praised the decision on Twitter. "For too long our justice system failed a young Cyntoia Brown. Handing a life sentence to a young victim of child sex trafficking – that's not justice," he wrote. "Granting clemency for Cyntoia was the right decision. The sexual abuse to prison pipeline must end."
The former Newark governor is considered to be one of President Donald Trump's loudest critics in the Senate and many believe that he is mulling a presidential run in 2020.
Cue the Dawson for FLOTUS comments.