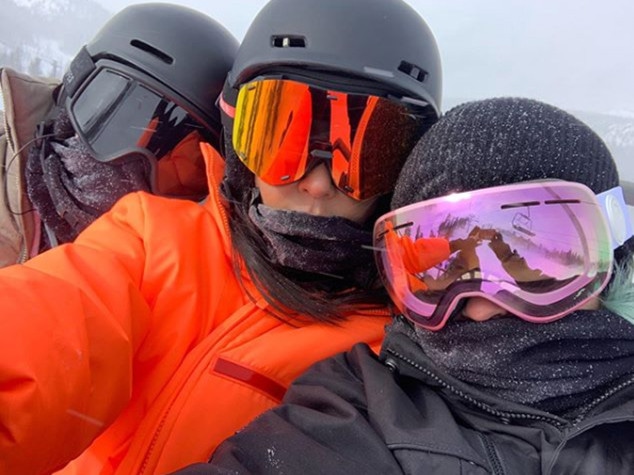 Instagram
Kourtney Kardashian is taking over the hill!
Instead of basking in the sun near her Southern California house, the Keeping Up With the Kardashians star headed to the snowy mountains for one of her first 2019 getaways.
As seen on social media, Kourtney was able to enjoy a brief vacation with Kendall Jenner and Kylie Jenner. And yes, Luka Sabbat just so happened to find his way on the invite list.
"Kourtney invited Luka to come on the trip with them because he is friends with the whole group of girls and she thought it would be fun. He's been hanging around a lot and Kourtney is always excited to see him," a source shared with E! News. "Luka meshes really well with the group and all of the sisters love having him around."
At one point in the trip, Luka was spotted wearing a Kardashian hat as he rode down the slopes. But before you start looking into the relationship, we're told it's not seriously romantic by any means.
"There is still a lot of chemistry between Kourtney and Luka and they never fell out of touch, but nothing serious is going on," our source shared. "Kourtney is not dating anyone and is truly having fun."
Romance rumors aside, we're told the entire group stayed in a house together just outside of town. And after a big storm came into the area, Kourtney and her friends were able to race down the mountains at the same time.
"Kourtney, Kendall and Kylie all snowboarded together. Everyone was having a lot of fun and enjoying the snow," an eyewitness shared with us. "They couldn't believe how much there was. It was cold and they all bundled up together and didn't stay out too long."
"Kourtney seemed to be enjoying herself and was always smiling," our eyewitness added. "She is very friendly with Luka but they were always with a group."
And in true Kardashian fashion, it wouldn't be a trip without some selfies and posts on social media to document the fun. Praise the ski emoji, dolls!
Ultimately, all good things must come to an end. Kylie shared on social media that she was only away from Stormi Webster for 24 hours suggesting this was a short trip.
Fortunately, she was able to experience Stormi's first visit to Nobu and the opening of more Christmas presents. Oh yes, Kylie and Travis Scott's baby girl is still receiving gifts for the holidays.
Just remember, Stormi. Your first birthday is just a couple weeks away and mama is already preparing.