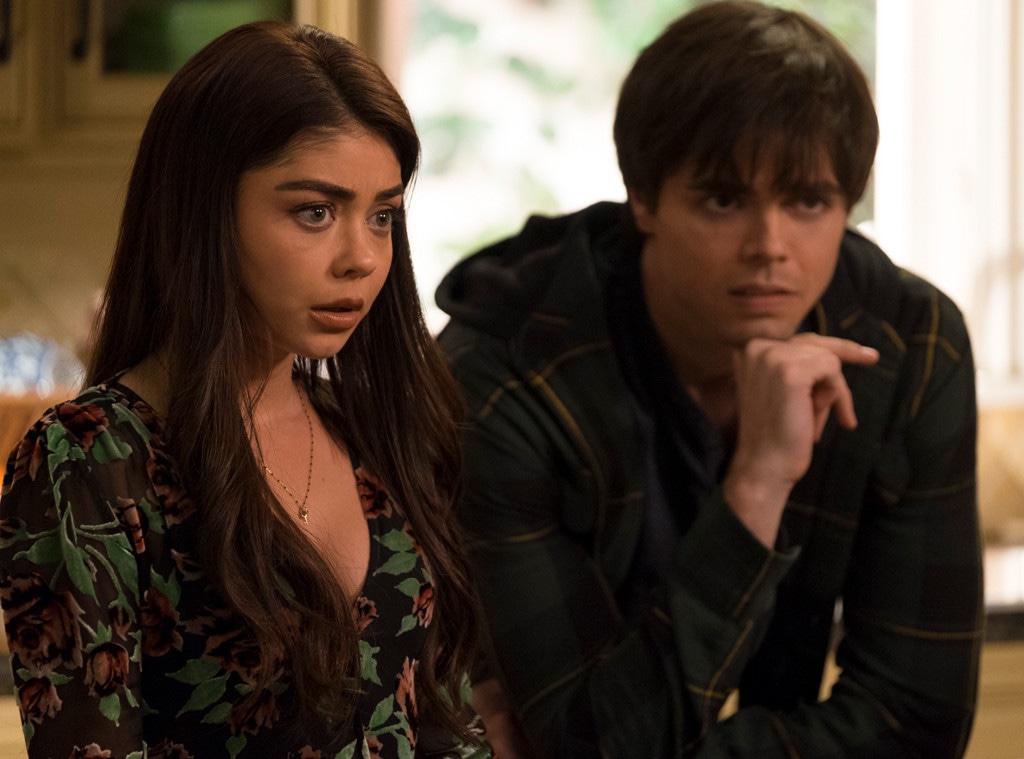 ABC
If you thought the Modern Family death was a surprise and then were shocked by the pregnancy twist, well, wait until you hear the latest: Haley Dunphy isn't pregnant with just one baby. Nope, it's twins for Sarah Hyland's character on the long-running ABC sitcom.
In a sneak peek of the Wednesday, Jan. 9 episode posted by People, Haley and Dylan (Reid Ewing) visit the doctor with Claire (Julie Bowen) in tow and learn the big news.
The news, understandably, shocks Haley. She wasn't expecting to get pregnant in the first place and riddles off all of her fears, including having a stroller too wide to let her shop in boutiques. But that's when Mama Dunphy springs into action. She's there to reassure Hayley that everything will be OK.
Claire acknowledges she hasn't been there for Hayley and apologizes. "As you're about to find out, being a mom is very complicated. Luckily there are these instincts that kick in, especially when your kid's in trouble. So, if you're overwhelmed, I'm right over your shoulder on the wings of a hummingbird," she says in the clip.
It's still to be determined whether this will be the last season of Modern Family, although it's looking like the series will continue for at least one more year for season 11.
Executive producer and co-creator Chris Lloyd told E! News they wanted to tackle real-life events in season 10. "We actually went into the planning of the season with the idea that if we got excited about certain changes in the characters' lives, we should do them, whether it was the final season or not," Lloyd said. "Because it was just going to be good for the show, and we kind of planned that it could go either way. It would make for a very lively last season, but if we end up doing another season—and I think it's looking a little bit more likely that will happen—we'll just throw all these changes into people's lives, which is only good in terms of new stuff for us to explore."
In the Wednesday, Jan. 9 episode of Modern Family, titled "A Moving Day," Claire and Phil (Ty Burrell) aren't convinced that Haley and Dylan can live on their own as they move out before Haley gives birth. Meanwhile, Pameron (Dana Powell) gets out of prison and confronts Mitchell (Jesse Tyler Ferguson).
Modern Family airs Wednesdays, 9 p.m. on ABC.