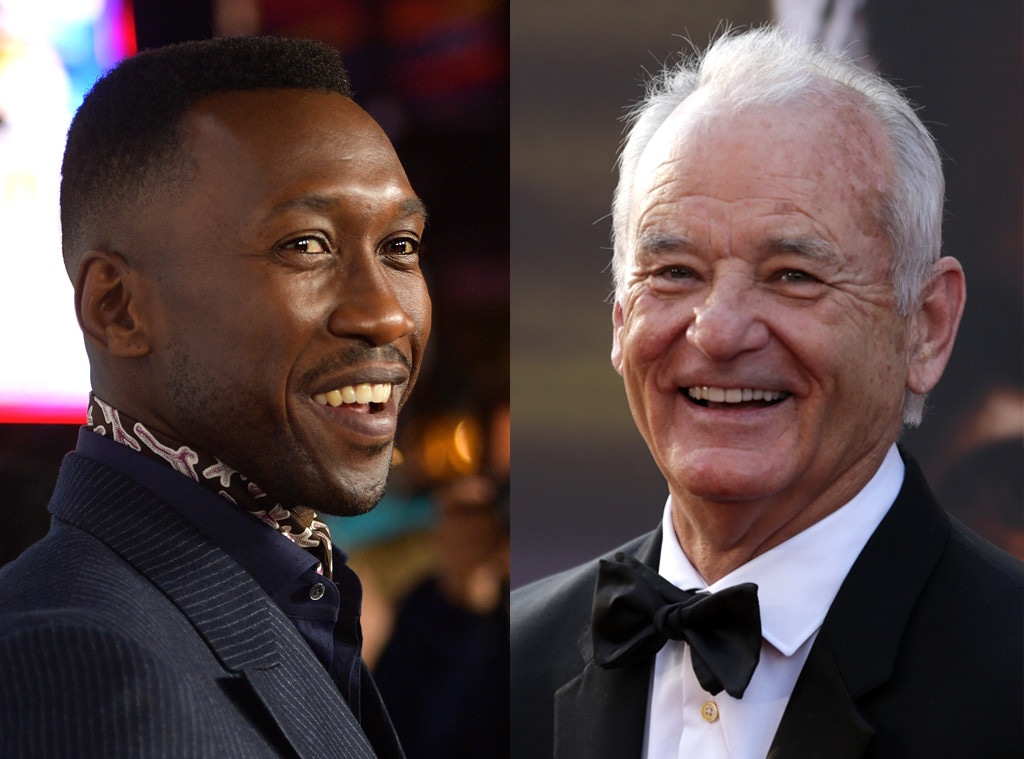 Rich Fury/Getty Images/Matt Winkelmeyer/Getty Images for AFI
Bill Murray helped the Green Book cast celebrate their win at the 2019 Golden Globes with a vodka toast.
The 68-year-old actor was at the award show on Sunday to present Best Motion Picture — Musical or Comedy, which went to Green Book. After their win, Murray decided to toast his glass on the heads of the Green Book cast.
Mahershala Ali, who stars in Green Book and won a Golden Globe for his performance in the movie, recalled the backstage moment while on The Ellen DeGeneres Show on Tuesday.
"Bill was toasting us, and, you know, I don't drink, but Bill toasted his glass on Viggo's [Mortensen] head and then Linda [Cardellini], and then toasts on my head," Ali told Ellen DeGeneres. "Vodka just spills all over my face and is running down, into my eyes and burning."
"And in my mouth," a laughing Ali continued. "And I'm doing the whole interview with an eye closed afterwards."
"Vodka in the eye, it felt like hot acid just rolling down my face," Ali recalled. "But, hey, it's Bill Murray."
While backstage after his Golden Globes wins, Ali dished to E! News' Jason Kennedy about Green Book and its impact.
"This was special to me because this was the most present that I've ever been in a project," Ali shared. "And so, the responsibility of that and having to keep up with [co-star Viggo Mortensen] and not let the film down in any capacity, not let down Dr. Shirley, try to dig and find the deeper truths all the time."
"So, it was special because, one, the story was important to me, the character's important to me and I was working every day, all day, and that was new," Ali told Kennedy. "But, I love being an actor, I love getting to wrestle with these characters' intentions. I feel like, life is complicated, and we have the opportunity to play complicated people and shed some light on people's journeys and experiences. And so, it's just all special to me, and I'm honored to be here."
Watch the video above to see Ali talk to DeGeneres about the Golden Globes and his backstage moment with Murray!