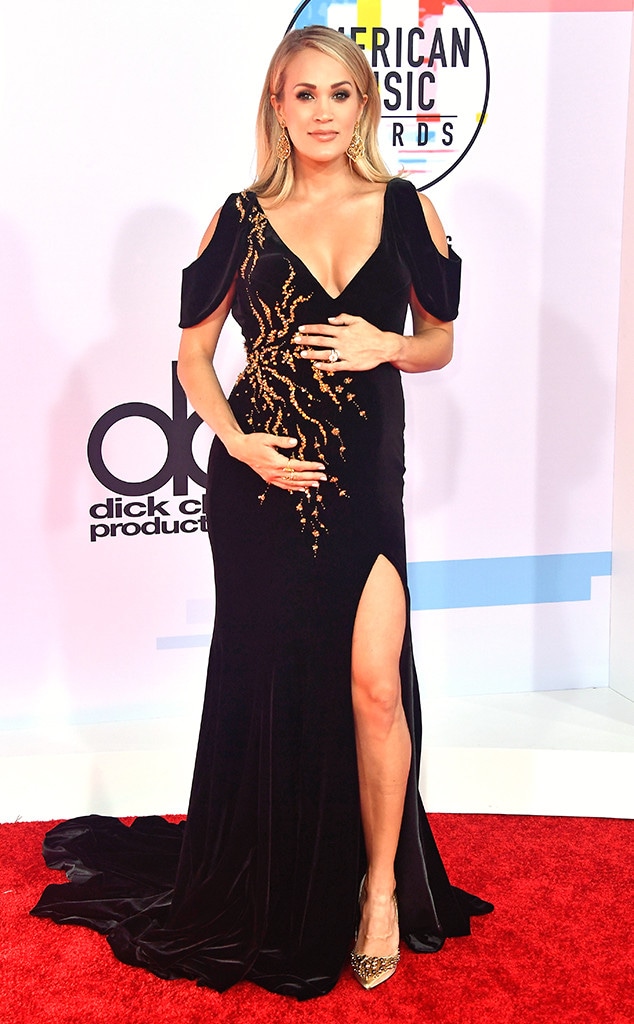 Frazer Harrison/Getty Images
For many people, the turning of a calendar year represents a fresh start, a clean break, a reason for hope. And few were as excited to embrace 2019 as Carrie Underwood. Anything to put some space between her and 2017, really. 
At first blush, her decision to label it as "a very soul-searching year for me," in an interview for September's Redbook evoked the obvious. That fall. The one that saw her tripping on a stone step on the walkway outside her Franklin, Tenn. estate and breaking her tumble with her face. 
The incident was certainly bad. Metal plate in her wrist bad. Some 40 to 50 stitches holding together her face bad. Spending nights worrying that her famous visage may never appear the same way bad. Definitely bad enough that one could imagine it inspiring an album called Cry Pretty and a song like "Low" in which she sings "Oh, I've hit rock bottom, I'm in it deep."
And yet in her chat with Redbook, Underwood insinuated the "random freak accident" as she's called it wasn't her toughest test of the previous 12 months. "There were some personal things that happened," she shared somewhat evasively. "Life is full of ups and downs, and I might have had a few more downs than ups last year." 
And the emotional dips proved far more grueling than the literal one. In a 12-month stretch starting at the top of the year, the American Idol champ suffered a series of three gut-wrenching miscarriages that left her questioning a previously unshakeable faith. 
While she knew she had much to be thankful for—a thriving career that had produced some 150 trophies, an eight-year marriage to NHL center Mike Fisher, 38, and their delightful son Isaiah Michael Fisher, who celebrated his fourth birthday in February with a serenade from Mom and a Muppets-themed cake—she couldn't help but feel just a wee bit cheated that something she wanted so badly kept getting ripped away.
"I had always been afraid to be angry," she explained on CBS Sunday Morning in September. "Because we are so blessed. And my son, Isaiah, is the sweetest thing. And he's the best thing in the world. And I'm like, 'If we can never have any other kids, that's okay, because he's amazing.' And I have this amazing life. Like, really, what can I complain about? I can't. I have an incredible husband, incredible friends, an incredible job, an incredible kid. Can I be mad? No...and I got mad."
Fortunately this is one of those all's well that ends well stories and today Underwood will celebrate her 36th birthday with Fisher and both of their boys by her side. Five months after the 7-time Grammy winner excitedly revealed she and Fisher were "adding a little fish to our pond," their second son arrived, making their tiny school of guppies feel complete. "Jacob Bryan Fisher entered the world in the wee hours of the morning on Monday," Underwood shared with her 8.2 million Instagram followers Jan. 23, "his mom, dad and big brother couldn't be happier for God to trust them with taking care of this little miracle!"
He was a blessing she admittedly thought might come to fruition about a year-and-a-half earlier. "I'd kind of planned that 2017 was, you know, going to be the year that I work on new music, and I have a baby," she noted on CBS Sunday Morning. And for a brief moment it seemed as if all would go swimmingly. "We got pregnant early 2017," she shared, but it "didn't work out."  
The loss was tough, but the native of tiny Checotah, Okla. had been through worse. Shrugging off the interviewer's condolences with a wry, "It happens," Underwood continued, "That was the thing, in the beginning it was like, 'Okay, God, we know this is, just wasn't Your timing. And that is all right. We will bounce back and figure our way through it.'"
But bouncing back the first time is infinitely easier than the second, which took place just months later in the spring of 2017. The third time (in early 2018) was harder still. "At that point," she shared, "it was just kind of like, 'Okay, like, what's the deal?'"
Because at that time it kind of felt like Underwood was getting hit with more than her share of bad news. Her terrifying accident had taken place just months earlier in November, only four days after she and Brad Paisley co-hosted the CMA Awards for the tenth straight year, when she was simply taking pups Ace and Penny "out to do their business," as she told Hoda Kotb on the Today show. 
Rick Diamond/Getty Images
It was a clumsy shuffling of her feet, the kind that generally ends with a bruised knee, a skinned hand, but when Underwood went to catch herself with her right hand—holding tight to her dogs' leashes with the other—she missed the edge of her stone stair. "There's one lone step," she lamented on SiriusXM's The Storme Warren Show last April, "I said if I had fallen anywhere else, I would have been absolutely fine."
Instead she was left with a broken wrist, a chipped tooth and enough facial damage to necessitate surgery. But the scariest part, far more terrifying than waking up and learning they'd had to give her at least 40 stitches around and inside of her mouth, was the unknown: Surveying the damage the country star simply couldn't be sure she'd ever look the same again.  
Or, sound the same, an equally terrifying prospect for someone who's built her brand as one of the country-pop genre's most bankable stars on the back of her impressive vocal aerobics. "Like, I literally hold out notes until I start seeing stars," she said to Vulture of her signature sound. "I will pass out some day on stage." 
Left to stew in her thoughts during her self-induced sequestration ("I was lucky that when it happened, everything was kind of shutting down in the music world and we had the holidays and stuff like that," she explained on The Bobby Bones Show podcast) she envisioned the worst, at one point worrying that her own son would be frightened by her appearance. "I was at a point where I didn't know how things were going to end up," she admitted in her interview with Bones. "I didn't know what was going to go on. I didn't know what it was going to heal like." 
Fearing it would be this shocking change, she decided to come clean to fans, "Because I was like, 'Man, somebody's gonna catch me at the Kroger. I'm gonna be buying groceries and somebody's gonna post something on Instagram, and people are gonna be like, 'What's going on?'" 
And just about the time she was penning a letter to fans about "why I might look a little different," her husband was coming forward with an admission of his own. 
He shared that maybe he'd been just a little hasty in his decision to exit the Nashville Predators when the team had a legitimate shot at winning a Stanley Cup. So in what NHL.com called a "virtually unprecedented move," he announced his plans to un-retire from the sport just five months after he'd initially hung up his skates. 
The timing of it all (shouldn't he be at home tending to his injured wife?) and Underwood's virtual disappearance from the public eye (it would be April before she felt confident enough to show her full face in public) sparked up the ol' rumor mill and soon tabloids were churning out covers predicting an end to the duo's eight-year marriage. 
What they failed to account for was that, of course, Fisher had made his decision with his wife's full-throated approval.  
"I would say I was the main factor in that," she told Bones, stressing how eager she was to see her husband win the highest prize in a sport he'd committed his entire life to. Besides, his role as nurse had become superfluous. Despite a bum right wrist that made pretty much everything difficult, Underwood pushed herself to carry on as normal. "I'm probably not a very good patient," she admitted to Warren, "because I'm like, 'I can do it. I'm not completely broken. I can do this.'" 
So the pair, a thing since the singer's bassist Mark Childers introduced them at a 2008 meet and greet, were fine, nothing to worry about here—a point Fisher drove home after a psalm he posted on social media inspired his followers to pray for their union. When a well wisher instructed him to "hold tight" to his bride, the athlete brushed off the advice replying simply, "We've never been better. Thanks." 
And it's true that the pair's union remained on solid ground. Their commitment had long been unshakeable thanks to what they labeled their shared faith and family values. "When you have the spark with somebody and you have the connection, that's wonderful," Underwood shared on Behind the Music, "but when you agree on the core things in life, your beliefs and your faith, that does connect you to somebody even deeper." 
But there was still one more tragedy lurking in 2018 because, once again, in the year's early months Underwood suffered a miscarriage. To deal with her grief and confusion, the musician poured her hurt out in verse. "It wasn't a conscious thing. It wasn't like, 'I'm gonna write about this, because this just happened,'" she explained to Vulture. "It would be completely inevitable. I'd have a terrible day at the doctor's office and then come into a writing session and be like, 'I'm sorry guys. I might suck today. I just got some bad news.'…Things aren't literal, but I look at a song like 'Low,' and that was my year." 
While the song wasn't exactly biographical, telling the story of someone pining over lost love, the raw emotions were completely authentic and pouring them out into a studio, even as she obsessed over whether or not her m's and b's and p's sounded the same, was deeply therapeutic. "I was lucky enough to be around people that I felt really comfortable with," she told the outlet. "I thought, 'What am I gonna do? Go home and wallow in this all day long? No, I want to keep working. I want to keep pushing forward. This is still something that has to be done.' And I kinda needed that at the time, just to have something to stay focused on that wasn't my personal life."
Because even as she rounded into the summer, that area of her life remained turbulent. Pregnant again for the fourth time in less than 18 months, she felt convinced she was on the brink of yet another miscarriage. 
And with Fisher away for the evening, "I texted him, and I was like, 'I don't really want to be alone, so I'm just gonna go snuggle with Isaiah,'" she shared on CBS Sunday Morning. "And I don't know how I didn't wake him up, but I was just sobbing. And I was like, 'Why on Earth do I keep getting pregnant if I can't have a kid? Like, what is this? Shut the door. Like, do something. Either shut the door or let me have a kid.'"
For the first time, she noted, she felt she was issuing a direct plea to God and her answer came just two days later when she had another checkup: "I went to the doctor to, like, confirm, another miscarriage. And they told me everything was great! And I was like, 'You heard me.'" 
Since then, her life, both personally and professionally, has remained on the upswing. On the heels of performances at April's ACM Awards and June's CMT Awards, her sixth disc, Cry Pretty debuted at the top of the Billboard 200 album chart in September, making it the best selling country album since Luke Bryan's 2015 effort Kill the Lights. 
That same week she received a star on the Hollywood Walk of Fame, thanking Fisher for thinking "I'm so much better than I am, in everything," and Isaiah for being "the best thing we ever did." And in November, following appearances at 2018 American Music Awards and the CMT Artist of the Year event, she made her triumphant return as co-host at the CMA Awards, revealing the gender of her second child as pal Brad Paisley goaded her from the stage. 
The schedule was hectic, she admitted, but nothing she couldn't handle. "I just have a strange job," she told E! News on the CMT Artist of the Year red carpet. "I feel like I'm a working mom, pregnant, I got my stuff to do, you know, it's just an interesting job I have, but I'm just like every other pregnant lady trying to go to work.
At the end of the day, that's how Underwood sees herself, like every other woman, excitedly expanding her brood.
Though most moms don't have a 55-date nationwide tour inked onto their schedule less than four months after giving birth, with The Cry Pretty Tour kicking off in North Carolina May 1, Underwood remains relatable in other ways, sharing how she'd begun wearing Fisher's clothes now that hers no longer fit and relying on her boys to help her tie her shoes. And then there was her official foray into soccer mom territory, the singer taking to Instagram to reveal that "Isaiah scored two goals for his team...and one for the other team." A net positive is how she sees it, adding, "Hey, a goal's a goal!" 
Because if there's anyone that's learned that sometimes you have to take the good with an unfortunate dollop of bad, it's Underwood. And in the end, she knows she's coming out ahead. As she shared in her Instagram announcement, "Our hearts are full, our eyes are tired and our lives are forever changed. Life is good…"