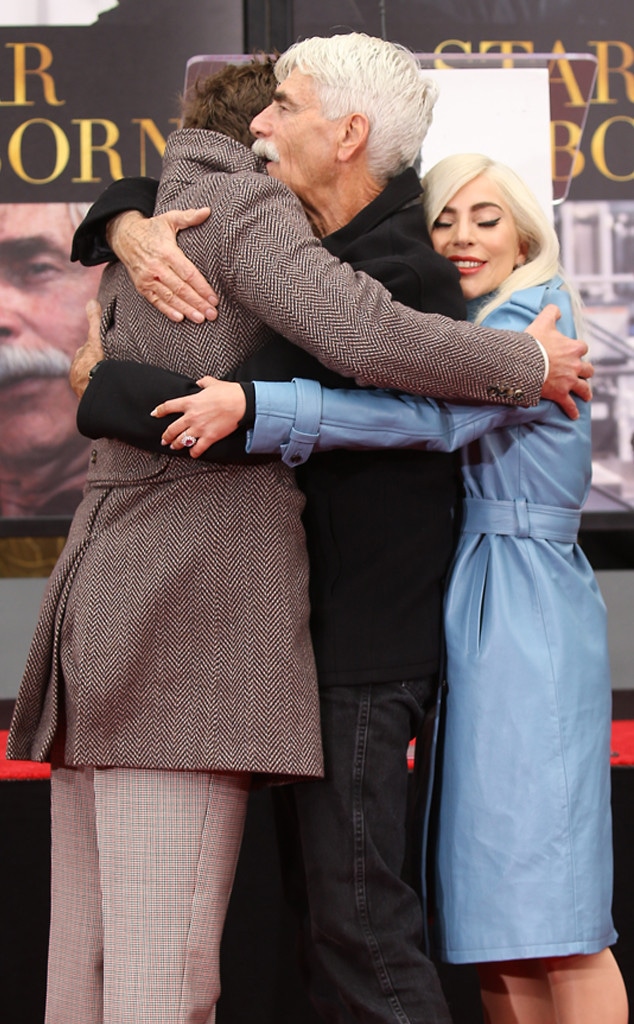 Michael Tran/FilmMagic
Lady Gaga: Golden Globe winner, chart-topping singer, mother of Little Monsters and...third wheel?
The A Star Is Born actress stood alongside her co-stars Bradley Cooper and Sam Elliott at Elliott's Hand and Foot Imprint Ceremony in front of the TCL Chinese Theater in Hollywood. Although neither the film nor its stars won the major awards at the 2019 Golden Globes (except they did win Best Song for "Shallow"), their support for each other and pride in the film was extremely present on Monday.
The trio posed for pictures together where they laughed, smiled and hugged. Cue the rest of the world humming "I'll Always Remember Us This Way."
At one point, Elliott and Cooper embraced. The "Paparazzi" singer tried getting in on the action and reached her own arms around Elliott's. The Hangover star seemed to get the memo after a second because Cooper finally put his arm around Gaga. The three of them had a group hug to end all group hugs. Even in an awkward embrace, they looked like a happy family.
Gaga posted photos from the ceremony on her Instagram Story and captioned one of him making his official hand print, "We love you Sam!!"
The singer told Ryan Seacrest on the red carpet before the Globes that she had an awakening and "discovery" of sorts while filming the movie. "I discovered something in working on this film—it's something called alchemy. It's like that you essentially are creating a character but you're really becoming the character," she explained. "I think I've created characters for years so that I could be an actress because I always wanted to be one and I couldn't make it so I went for it as a musician but for this, it was a totally different thing. I had to go to a very specific place."
The movie's leads have done nothing but support each other since the get-go.
Both Gaga and Cooper have spoken at length about their connection and continue to gush about each other.
"I felt comfortable with Bradley—not just because he's a hunk like Sam—but because Bradley is such a kind and loving and real person," she tearfully said in November at the American Cinematheque Award Presentation. "I'm so grateful to you, not just for making me a better actress, but I've been able to call on you as a friend, and cry and be myself and have you never ever judge me and still respect me as a professional."
She said something similar in September. Gaga told E! News' Zuri Hall, "We had just an instant connection. I could just see it in his eyes. And when I heard him sing for the first time, I stopped dead in my tracks, playing the piano, and I looked over to him and I said, 'Bradley, you can sing!' Oh my gosh! It was wonderful."
Casting the movie was a "gamble" for Cooper. He had never met Gaga before they sang together for the first time (it went so well they went from singing to dining on a plate of spaghetti and meatballs) and the same went for Elliott.
The 44-year-old told Variety he didn't know what to expect when he approached Elliott about the film. "We had never met and so I felt like I was taking a gamble," he explained. As they say, the higher the risk the higher the reward, and boy was the risk worth it.
Elliott told the publication he felt honored to be able to add his prints to the famed theater. He joins the likes of Meryl Streep, Mel Brooks, Melissa McCarthy and Christopher Nolan. "That's about as good as it gets, in terms of recognition," he said.
Congratulations on the honor, Mr. Elliott!