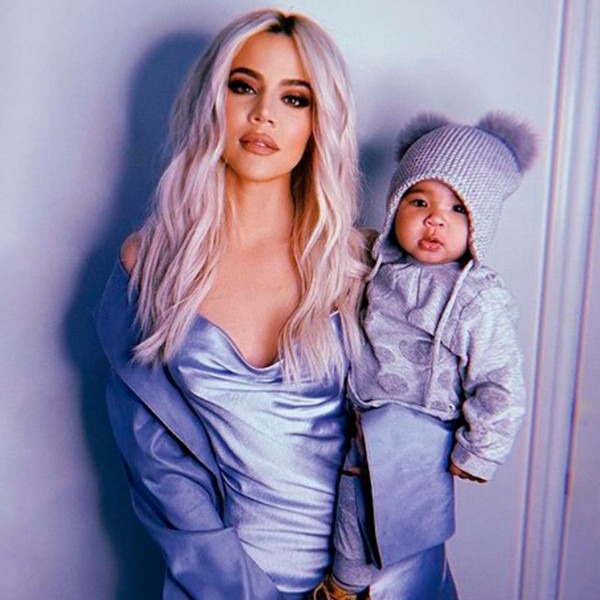 Instagram
Baby it's so cute outside!
If you're sick of the freezing temperatures, wet roads and oversized heated blankets, we have just the photo that could make it all worth it.
On Monday afternoon, Khloe Kardashian kicked off a brand-new week by posting a fresh pic with True Thompson.
Let's just say their matching outfits will have you appreciating the winter season all over again.
"Mommy and Baby True," Khloe wrote on Instagram as she posed with her baby in a metallic lilac dress. As for True, she looked nice and cozy in her MOLO dena sweatshirt and sona sweatpants.
"Just give me one cheek," Kourtney Kardashian wrote in the comments section after admiring the latest mommy-daughter shot.
Ever since welcoming her first child with Tristan Thompson, Khloe hasn't been able to hide the joy that comes with motherhood.
Watch:
Kylie Jenner & Khloe Kardashian Explore Nature With Their Daughters
Most recently, a fan took to Twitter and asked the Keeping Up With the Kardashians star if is she is going to have another baby soon. Her answer may surprise you.
"Goodness I don't know! I love her so much and I'm so complete because of her!" Khloe wrote. "I could only imagine another one would make me feel even more complete but I just don't know. I guess only time will tell and whatever God wants for me."
For now, she's simply enjoying life with her little girl who continues to reach new milestones each and every week.
"True, you are and forever will be my greatest blessing—my greatest gift!!" she wrote on Instagram when looking back on 2018. "There is nothing I wouldn't endure a million times over to be blessed with an angel like you!!!"
Khloe added, "Thank you for showing me what it feels like to be complete. To be at peace in my soul. I never knew my heart could be so full. I will love you until the end of time! You were worth the wait my sweet baby True!"