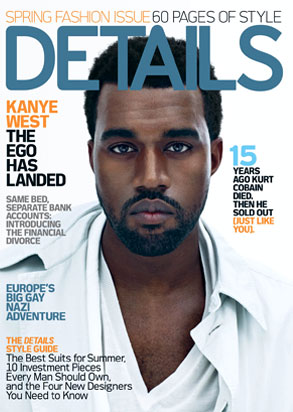 men.style.com
Kanye West is on another magazine cover (this time with a sure-to-be-appreciated gray-free beard) and as usual the rapper turned auto-tune singer turned fashion designer is full of Kanye-isms. To name a few:
"Put this in the magazine: There's nothing more to be said about music. I'm the f--king end-all, be-all of music."
"Oh my God, I'm one of the greatest rappers in the world. I'll get on a track and completely ee-nihilate that track, I'll eat it and rip it in half. I wouldn't have to think of it."
"I have, like, nuclear power, like a superhero, like Cyclops when he puts his glasses on."
What other new tales of grandeur might Kanye have added to his repertoire? Just that a sexual addiction at a young age has somehow fueled his drive for greatness...
"People ask me a lot about my drive," he says. "I think it comes from, like, having a sexual addiction at a really young age. Look at the drive that people have to get sex—to dress like this and get a haircut and be in the club in the freezing cold at 3 a.m., the places they go to pick up a girl. If you can focus the energy into something valuable, put that into work ethic..."
That actually sounds more like normal behavior than a full-blown sexual addiction, but if Kanye says he was a sex addict then he was probably the greatest addict to have ever been addicted to sex in the history of sexual studies.
He also notes that he was a highly advanced computer programmer of sexual addiction and produced his first Super Mario Bros.: The Penis Remix in the seventh grade:
"My game was very sexual. The main character was, like, a giant penis. It was like Mario Brothers, but the ghosts were, like, vaginas. Mind you, I'm 12 years old, and this is stuff 30-year-olds are programming. You'd have to draw in and program every little step—it literally took me all night to do a step, 'cause the penis, y'know, had little feet and eyes."
Cute, right? However, it should be noted that Kanye is over music and penis games as he's now turning his great sexual addiction nuclear energy exclusively to fashion. He plans on moving to Paris and being mentored by his fashion idol Marc Jacobs. In fact, Yeezy is so into M.J., he intentionally left the designer's number on the table for his Details interviewer to see. After all, what's the point in being subtle now?