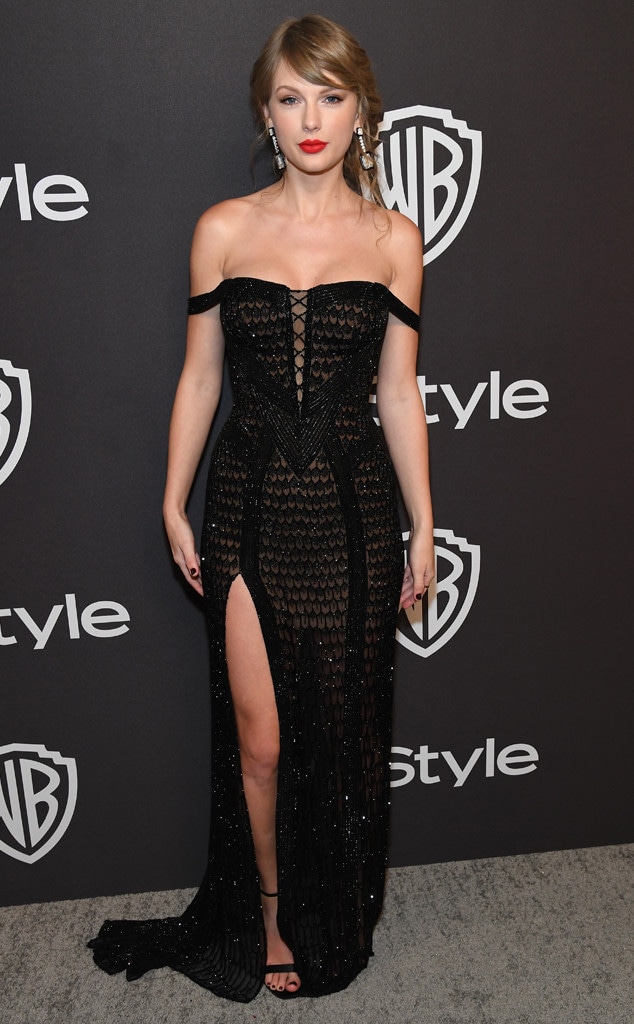 Kevin Mazur/Getty Images for InStyle
From the time Taylor Swift dropped her first verse about the high school boys who "thought they would be cool and break my heart," as she put it in the liner notes of her 2006 debut album, her relationship status has been of heightened interest to her legion of followers. 
When the Reading, Penn. native wasn't being judged for spending her twenties testing out romances with the likes of Harry Styles, Jake Gyllenhaal, Tom Hiddleston and Calvin Harris, she was being judged for the times she wasn't dating anyone at all—neither option seeming to be to critics' liking.  
And then there was the breathless coverage of the relationships themselves. Whether she was strolling through Brooklyn, maple lattes in hand, with Gyllenhaal or traversing New York City's famed Central Park with Styles there was a need to know where they stood and whether it was perceived that she was moving too fast or not checking off the appropriate milestones in a timely fashion, there was really no winning. 
By 2014, the 10-time Grammy winner had enough. "I feel like watching my dating life has become a bit of a national pastime, and I'm just not comfortable providing that kind of entertainment anymore," she told Rolling Stone. 
"I don't like giving comedians the opportunity to make jokes about me at awards shows. I don't like it when headlines read 'Careful, Bro, She'll Write a Song About you,' because it trivializes my work. And most of all, I don't like how all these factors add up to build the pressure so high in a new relationship that it gets snuffed out before it even has a chance to start."
She even went as far to declare a moratorium on dating, confident that if she were to continue on her current path her personal life would remain forever inextricably linked to her career. 
Until suddenly it just wasn't. Upon meeting Joe Alwyn in late 2016 the 29-year-old finally saw a way to bust out of the dating rut that had previously left her unable to suss out a potential partner without, as she once described it, "20 men with cameras" tagging along. In the early months, Swift and the London-based actor, 27, went into "lockdown" mode, a source told E! News, an approach that involved a series of private jets, UK customs officials willing to check her passport on the tarmac, blacked-out sedans and dates spent in private locales where, says the source, "they could really get to know each other without the pressure of being in a public relationship and people making judgment calls." 
Even after The Sun revealed "Taylor's Secret Brit Love" in May of 2017, the couple maintained their cloak and dagger routine, rarely stepping out in public together and certainly never showing their faces. 
And while their methods seemed, at times, extreme, they were certainly effective. "Being low-key and staying out of the spotlight has really helped their relationship," an insider told E! News. "It's made things more special and sacred." 
But now, as they round towards a second anniversary, the pair have settled into a happy medium, their decision made evident by their choice to make the post-Golden Globes party circuit together Sunday night. No longer relying on burly bodyguards or oversized hoodies to shield what is obvious, they're also not tackling step-and-repeats side-by-side or offering up laudatory soundbites about their relationship. They're just, dare we say, going about their lives like any regular couple, albeit one that gets invited to all of the hippest parties on one of Hollywood's biggest nights.
"I think we have been successfully very private and that has now sunk in for people," Alwyn told British Vogue in September, "but I really prefer to talk about work."
Gachie / NPEx / Splash News
So that's a hard pass on, for instance, sharing how they met—unless Swift's Reputation single "Gorgeous" about drinking whiskey on ice at a bar on Sunset and Vine is meant to be taken as gospel. And save for complimenting her decision to take her political beliefs public ("I think it's great, I think it's important," Alwyn told a reporter at the 2018 BFI London Film Festival) he's not getting into the nitty-gritty about just why he fell for the international pop star. 
"I think there's a very clear line as to what somebody should share, or feel like they have to share, and what they don't want to and shouldn't have to," he noted in Esquire's Winter 2019 issue. 
Still, with their relationship long since outed, they see no reason not to share in each other's biggest moments. Some five months after he turned up in New York City to watch Swift close out Z100's iHeartRadio Jingle Ball concert, Alwyn was on hand to see her kick off her Reputation Stadium Tour in May, the singer subtly acknowledging his presence by pointing toward the direction of his VIP seat before launching into "Gorgeous." 
And instead of getting her squad back together for the standard Fourth of July bash at her oceanside spread in Rhode Island, Swift enjoyed a different type of Independence Day this summer, perhaps a celebration of her freedom from the expectations of her past. 
During a getaway to Turks & Caicos she and the actor (once lauded as the next big thing by The Hollywood Reporter) visited the hotel's gym, made daily pilgrimages to the beach and enjoyed snorkeling, pretty much everything you'd expect from a young pair vacationing in a tropical locale. Though, unlike your average twentysomethings, they stopped short of documenting their love fest on Instagram.
In fact, other than unintentional matching posts of an Arizona cactus ahead of Swift's tour opening, the sole social media acknowledgement of their coupling was a Nov. 22 post from Swift encouraging fans to see her man and his co-star Nicholas Hoult in the "absolutely phenomenal" The Favourite. The period drama's female leads, including Swift's good pal Emma Stone, weren't included in the mentions, though that's presumably due to their Instagram-free status. 
Swift is certainly familiar enough with director Yorgos Lanthimos' latest work to give it a rave review. She was spotted slipping out the back door of Alice Tully Hall at Lincoln Center following the film's New York Film Festival premiere in September and chatting up Stone at the afterparty for November's L.A. showing, Alwyn lingering close by. (She also snuck into the London premiere for Alwyn's other British period drama Mary Queen of Scots weeks later.)  
And while she didn't go as far to wait it out at Alwyn's side to see if The Favourite would capture the Golden Globe for Best Motion Picture—Musical or Comedy, she did shoot him the slyest glance of support from the stage, with Us Weekly noting she "gave a sassy cute little smile" in his direction after presenting trophies for Best Original Score and Best Original Song. Post-show, the duo reunited to make the rounds together, notching brief appearances at the Netflix and CAA fetes and catching up with his castmates at the Fox shindig. 
Giving each other shout-outs in acceptance speeches and the pages of Vogue it's not. But the fact that they're even willing to be seen in public together represents a clear departure from their earlier days when they'd opt for dinner at home to avoid the possibility that a photographer might be able to capture them in one frame. Whether hitting up an NYC eatery near her Tribeca penthouse or toasting over a dinner of steak and spinach in London, they've adopted a pretty standard dating routine. 
They're just not talking about it, okay? 
"Someone's private life is by definition private," Alwyn explained to British Vogue of his stance. "No one is obliged to share their personal life." And after a decade of having every detail of hers thoroughly dissected, Swift is enjoying this new approach to romance. "She's much happier without her personal life out in the open," a source shared with Us Weekly. "She credits Joe for that and realizes how much better off she is." 
While 2018 was undoubtedly a year of victories for Swift, her sixth album helping her amass more hardware and break new records as she reveled in a union that was solid, serious and, for the first time, not up for public consumption, she knows that the best is still yet to come. 
"Guys, I always look at albums as chapters in my life. And I'm so—to the fans, I'm so happy that you like this one," she said accepting honors for Favorite Pop/Rock Album at the 2018 American Music Awards. "But I have to be really honest with you about something. I'm even more excited about the next chapter." 
Sure, she was purportedly talking about a forthcoming seventh disc, but we'd imagine she was also saluting the new Taylor, the one that rose up smarter, harder and just in the nick of time to claim everything she's ever wanted.