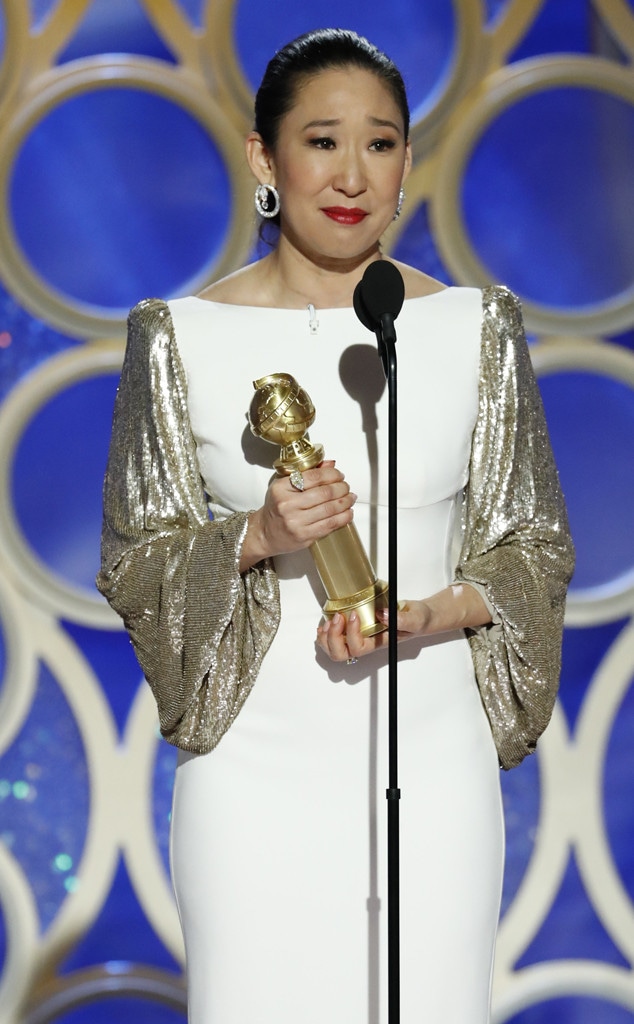 Paul Drinkwater/NBCUniversal
Nobody was happier for Sandra Oh's Golden Globe win for Killing Eve than her parents—they were in the audience and her dad gave her a standing ovation—but Oh's Grey's Anatomy family came close and let it be known on social media.
The cast and crew of Grey's took to Twitter to celebrate Oh, her win and her job hosting the 2019 ceremony alongside Andy Samberg. The duo was first paired at the 2018 Emmys and were drafted to host the Golden Globes after their chemistry clicked.
Grey's Anatomy creator Shonda Rhimes was all about Oh on Twitter. Right after Oh's win, Rhimes simply tweeted the below. Rhimes, a master wordsmith, doesn't need words to share how proud she is of Oh.
Later, Rhimes found the words to praise Oh, who played Dr. Cristina Yang on Grey's Anatomy for 10 seasons.
Oh's former costars chimed in too. Kate Walsh called her a "legend."
Kevin McKidd also made good use of exclamation points in his tweet.
As did Camilla Luddington.
Ellen Pompeo has yet to chime in (she hasn't tweeted in a few weeks, but you can rest assured she's proud of her person).
Grey's Anatomy airs Thursdays, 8 p.m. on ABC. Oh will return to TV in Killing Eve on Sunday, April 7 at 8 p.m. on BBC America.
"We're are bursting with excitement to see Sandra Oh receive this incredible recognition from the Hollywood Foreign Press," Sarah Barnett, president of entertainment networks for AMC Networks, said in a statement. "Killing Eve has captivated both fans and critics, and Sandra has shown once again that she is one of the most accomplished actors of her generation, someone audiences will wholeheartedly follow wherever she goes. It's not too long now before everyone gets to see the next extraordinary season unfold when Killing Eve returns to BBC America on April 7th."