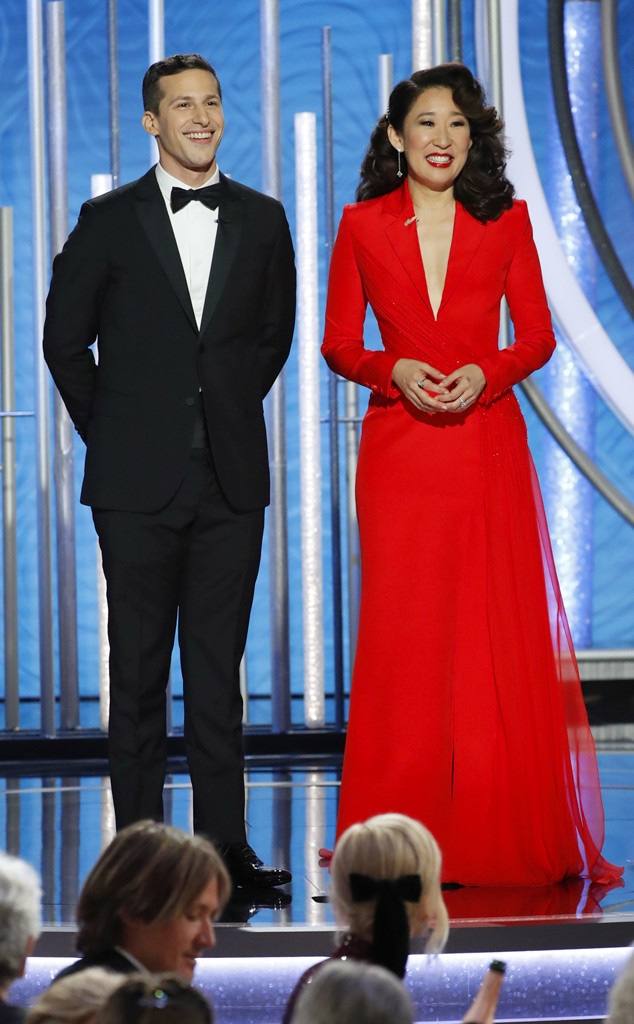 Paul Drinkwater/NBC
They seemed like a random pairing, but Andy Samberg and Sandra Oh proved they were also a perfect pairing when they hosted the 2019 Golden Globes on Sunday. 
The Brooklyn Nine-Nine and Killing Eve stars were a delight, putting on the kindest yet most accurate roast Hollywood's had in a while and even getting a chance to celebrate themselves a bit, as Oh took home her own award in the midst of her hosting duties. 
They were such fun that all we can do now is watch it all again, while hoping the two are about to star in their very own series of action/comedy/romance/drama/thriller films, and also a TV series, and a variety show or six. This is a duo we demand more of! Now! 
But since all we've got is this night so far, let's run down their best moments from the 2019 Golden Globes. 
The Roast 
One of our personal favorite Andy Samberg bits of all time was when he took the stage at the Comedy Central Roast of James Franco back in 2013 and turned things around a bit, like when he roasted Jonah Hill by calling him a "passive aggressive sweetheart." Samberg turned most of the jabs back on himself, and we were delighted to see Andy Slamsberg and Sandra Oh Snap recreating the bit in their opening monologue. Samberg praised Spike Lee for "doing the right thing," Oh got Bradley Cooper with a scorching "You're hot." Then she declared it was weird for Gina Rodriguez to be present, since last time she checked, Gina resided in heaven. Michael B. Jordan? More like Michael B. Buff AF. 
And Amy Adams? She needs to save some for the rest of us, that "mega-talented piece of dog crap," and Samberg wants Jeff Bridges to be his dad. 
99 People in a Room
The truest roasting of the roast came when Oh and Samberg poked fun at Lady Gaga's favorite speech about how there can be 99 people in a room and only one has to believe in her, and that one is Bradley Cooper. They just came up with that off the cuff, out of nowhere, you know. 
First Man...Then Eventually, Maybe Woman?
We know, we know, at this point we're just picking apart the monologue as separate moments, but we've already rewatched Sandra Oh's impression of a cave man casting a movie more times than we'd like to admit.
"First man, if no man available, then pair of man, then team of man, then eventually, maybe woman?" 
And then that giggle at the end...man. 
Sandra Oh's Call Outs
Oh made quite a few jokes about her own race, but the best was when she joked that Crazy Rich Asians was the first movie with Asian leads since Ghost in the Shell (starring Scarlett Johansson) and Aloha (starring Emma Stone). Emma called out from the audience "I'm sorry!" during the bit, and it was beautiful. 
The Use of Sandra Oh's Parents
Joon-Soo Oh and Young-Nam Oh deserve a special shoutout for their support of their daughter, both whenever she asked the camera to cut to them (like after her impression of "Asian moms everywhere") and when she won best actress in a TV drama and her dad gave a standing ovation. 
Sandra Oh's Emotional Moment
Oh took over the end of the monologue to explain why she said yes to hosting the show even though it scared her. 
"If I could take this moment here in all honesty, I said yes to the fear of being on this stage tonight because I wanted to be here to look out into this audience and witness this moment of change," she said. "And I'm not fooling myself. I'm not fooling myself. Next year could be different. It probably will be. But right now, this moment is real. Trust me, it is real. Because I see you. All of these faces of change, and now, so will everyone else." 
Shots! Shots! Shots!
Since the Golden Globes already has food, Andy and Sandra didn't order pizza. Instead, they ordered flu shots for everybody! A team of licensed professional nurses from the Rite-Aid in Echo Park (according to Oh) all filed in with syringes at the ready while the hosts danced to LMFAO's classic "Shots" 
Inspiring Moments Of Golden Globes Past 
Who could possibly blame Andy and Sandra for wanting to relive these most inspiring moments of past Golden Globes? We feel very inspired. 
Paul Drinkwater/NBCUniversal
Sandra Oh Winning a Golden Globe! 
Killing Eve!! She won!! Her sleeves match her trophy!! 
Sandra Oh Holding Her Golden Globe 
"I have no idea what's happening," she said, clutching her award and suppressing a grin. 
This Is...A Twist 
Oh, you thought Sandra Oh was going to tell you to grab the tissues ahead of the This Is Us cast taking the stage because of crying? Nope! 
Sandra Oh In General
Listen, we love Andy Samberg (a lot, OK), and he did a fantastic job tonight...but that was Sandra's show, and rightly so. Perhaps next time she'll have the courage to do it all by herself. 
This has been a Sandra Oh fan post and we will not apologize, and we will give these hosts five stars.