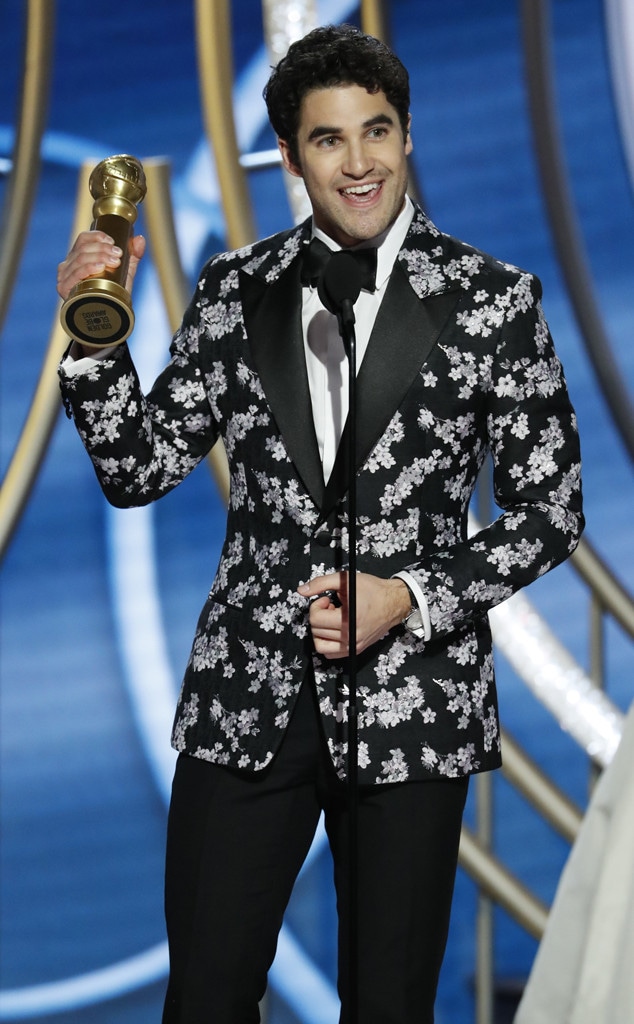 Paul Drinkwater/NBCUniversal
Mistakes and mispronunciations are a part of life, even at the 2019 Golden Globes.
Amber Heard and Taron Egerton presented the award for Best Actor-Limited Series or Motion Picture Made for TV and the Aquaman star made a bit of a flub while presenting Darren Criss with the accolade.
The two presenters said his name at the same time, but Heard said "Daniel" while Egerton said "Darren." The American Crime Story: Assassination of Gianni Versace star didn't mention the mistake when he accepted the award, but it didn't go unnoticed by some fellow viewers.
In his acceptance speech, the Glee star said he felt like he "made varsity this year." He truly did because he won an award at the 2018 Emmys for the same role.
Criss thanked his mom in a sweet moment during his speech. "This has been a marvelous year for representation in Hollywood, and I'm enormously proud to be a teeny-tiny part of that as the son of a firecracker Filipino woman," he beamed. "So mom I know you are watching this. You are hugely responsible for most of the good things in my I love you dearly. I dedicate there to you."
Criss was surprised on the red carpet earlier in the night when he received a special video from his close friend and former co-star Lea Michele.
Watch:
Darren Criss Gets a Surprise From Lea Michele at 2019 Globes
"I'm so proud of you. All the work you did to get to this day even though you just saw me about an hour or so ago, I just wanted to send you all of my love and let you know that I'm so proud of you," Michele said in a video recording. "I hope that you have the most amazing night tonight."
He sure did!
Heard's gaffe wasn't the only noticeable one during the evening. The Good Place star Jameela Jamil's name was misspelled during the live red carpet show. She plays Tahani Al-Jamil on the show, and her name was spelled out as Kamilah Al-Jamil on the screen.
While Tahani herself would have completely abhorred the mistake, Jamil found lots of humor in it. "This is legit the funniest thing I've ever seen," she tweeted. "Tahani would DIE!"