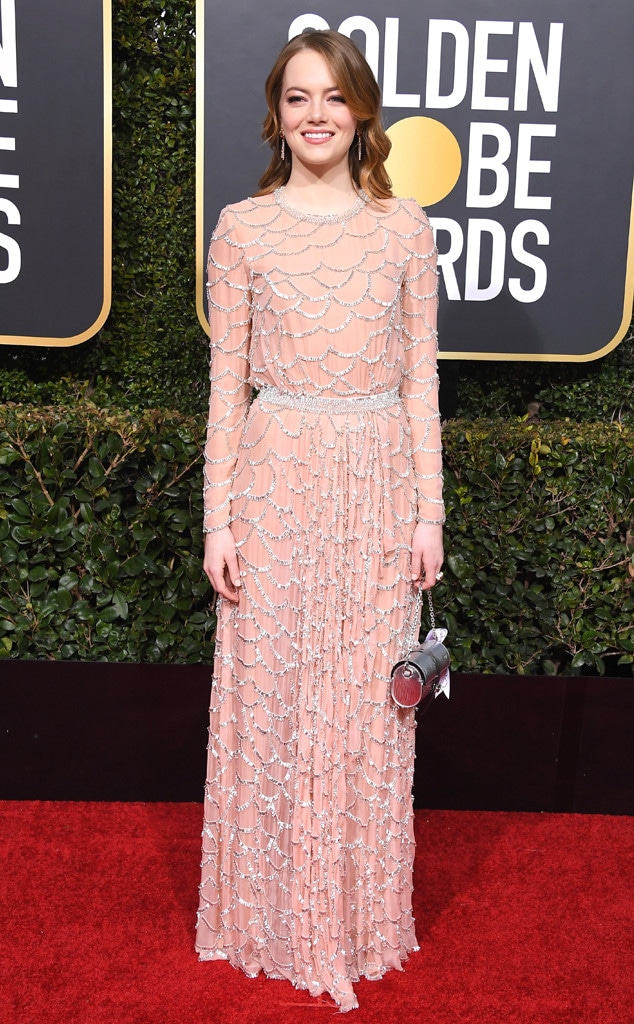 Steve Granitz/WireImage
Emma Stone is sorry, okay?
The Favourite star was subtly called out by Sandra Oh and Andy Samberg during their opening monologue at the 2019 Golden Globes. The hosts were taking turns roasting, praising and making fun of some actors, including Michael B. Jordan, Lady Gaga and Jeff Bridges.
In a bit of a sentimental moment, the Killing Eve star spoke about the massive influence and importance of the hit film Crazy Rich Asians, which is the first feature film to have an all-Asian cast in over 20 years. She said in comedic fashion, "Crazy Rich Asians is nominated tonight for Best Picture-Musical or Comedy. It's the first studio film with an Asian-American lead since Ghost in the Shell and Aloha."
Right after the clapping ceased, Stone yelled out, "I'm sorry!"
She played the lead actress in the film Aloha, which co-starred Bradley Cooper, Alec Baldwin, Rachel McAdams and John Krasinski.
Stone played Allison Ng in the film, who is apparently of Hawaiian and Chinese descent. She received some backlash due to the film and went on to talk about the "rampant" whitewashing in Hollywood.
The same issue happened with Ghost in the Shell, which was a remake of a Japanese anime film. Scarlett Johansson played Major and faced major criticism about her accepting the role and the decision to cast her.
Twitter unsurprisingly went crazy after the 30-year-old's apology. "Emma Stone shouting 'I'm sorry' is 2019," one user wrote. Another person said Stone's apology should "be my ringtone."
One of the most enthusiastic reactions read, "I PERSONALLY ACCEPT EMMA STONE'S OFF CAMERA SCREAMED APOLOGY." 
But all's fair in love and Golden Globes shout outs, because Oh held her hands to her heart after Stone apologized.
Stone is nominated for Best Performance by an Actress in a Supporting Role in any Motion Picture for The Favourite, so if she wins, maybe Oh will get another apology? Hindsight is, after all, 20-20.