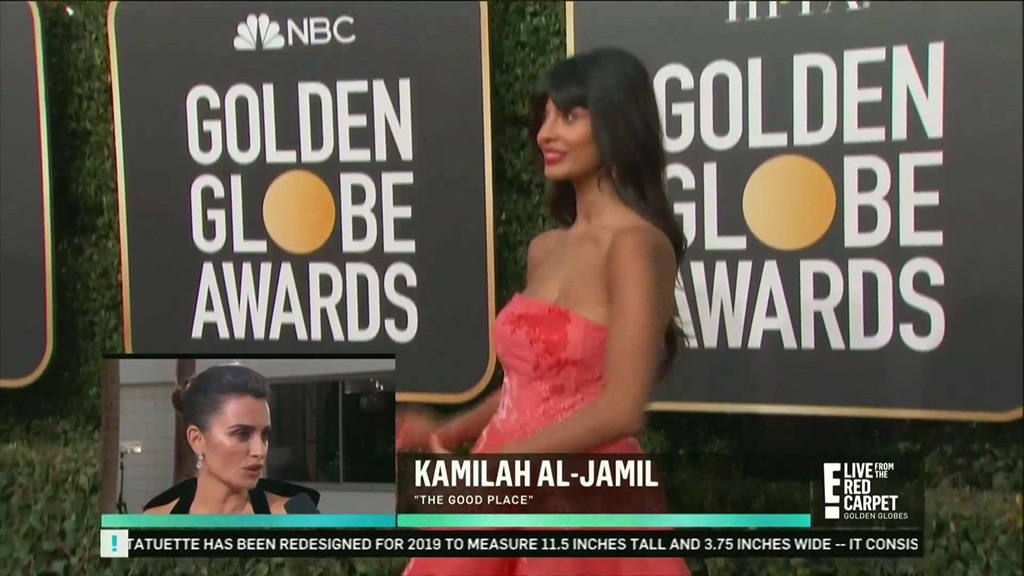 E!
Tahani would not approve, but Jameela Jamil does.
Jamil, who plays Tahani on The Good Place, hit the red carpet at the Golden Globes tonight, ready to celebrate the show's nomination for Best TV Comedy, but she was not expecting a little Good Place joke to be played on her.  
Fans of the NBC comedy will know that one of Tahani Al-Jamil's biggest insecurities is her spotlight-stealing sister, Kamilah Al-Jamil, who is better, richer, more talented, and gets more attention than Tahani ever has. So of course, Tahani would probably have been devastated to see that when Jameela walked the red carpet, the E! chyron labeled her as none other than Kamilah Al-Jamil. 
Jamil didn't see the footage for a few hours (since she was busy being glamorous inside the award show), but when she finally did, it appears she could not have been less bothered by the "joyous mistake."
"This is legit the funnies thing I have ever seen," she tweeted. "Tahani would DIE!" 
Good to know E! won't be heading to the Bad Place afterall, as many on Twitter wondered after the footage aired. 
Jamil went on to have a fabulous night at the award show with her jeans on under her dress, as she revealed on Twitter.