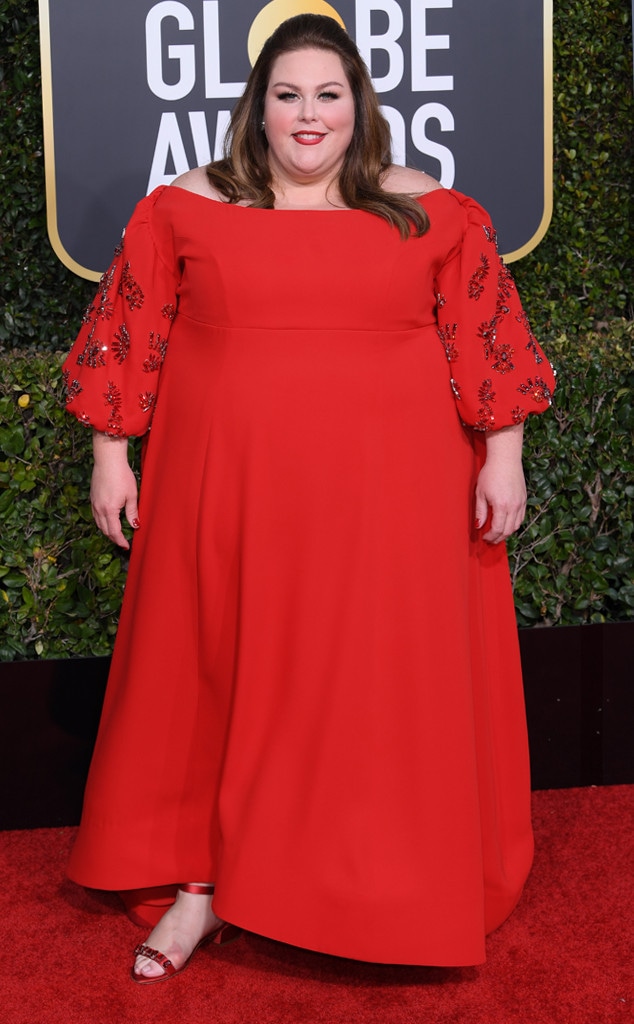 David Fisher/REX/Shutterstock
UPDATE: After becoming aware that the press was picking up her hot mic moment, Chrissy Metz tweeted about the Alison Brie moment, hoping to clear things up. "It's terribly unfortunate anyone would think much less run a story that was completely fabricated," she wrote. "I adore Alison and would never say a bad word about her, or anyone! I sure hope she knows my heart."
As for Brie, Vanity Fair writer and reporter Nicole Sperling tweeted that the actress had not heard Metz's comment and seemed confused by it. "But why?," she asked. "I know her. I saw her on the carpet and I told her how beautiful she looked." She later posted a photo of herself with Metz from the 2018 SAG Awards on her Instagram Story, writing, "Nothing but love for @chrissymetz!! Rumors can't keep us down."
She also shared a photo to her story of herself with Metz and the caption: "Nothing but love for @chrissymetz! Rumors can't keep us down."
And Chrissy's team released another statement about the controversial moment. "Chrissy has nothing but admiration and respect for Alison and, frankly, every fellow actor who must wade through this much-too-common attempt to create a feud among colleagues," the actress' team shared. "This 'story' is a complete fabrication and deserves no further momentum. "
_______
Hot mic, Chrissy!
In what might be 2019's first new celebrity feud—or more likely just a poorly-timed joke accidentally caught on camera—Chrissy Metz was caught calling Alison Brie a "bitch" during the tail-end of her interview on the 2019 Golden Globes Facebook Live pre-show on the red carpet outside the Beverly Hilton Hotel on Sunday, Jan. 6. 
After speaking with co-hosts AJ Gibson and Missi Pyle about the third season of This Is Us, returning with its winter premiere on Tuesday, Jan. 15, the actress was asked to help them throw to the GLOW star at the other end of the carpet.
"Do you know a girl named Alison Brie?" Gibson asked Metz, to which she replied, with what could be described as a pointed tone to her voice, "Do I?"
"Well, I hear she's at the other end of the carpet," he responded, prompting some awkward silence.
"Oh," Metz said.
Under an aerial shot of the red carpet, Pyle breaks the silence, saying, "Let's go see Alison Brie."
Clearly thinking her mic was turned off by that point, Metz keeps going. "I'm like, 'Do?'" she continues, seemingly attempting to explain the tone in her voice while responding the first time. "'She's such a bitch.'"
And at that point, co-host Yvette Nicole Brown begins her interview with her former Community co-star Brie at the other end of the carpet and the livestream moves on, no one appearing to have heard what Metz said.
Dimitrios Kambouris/Getty Images for Turner
So, is there beef or was this just some weird joke? Considering the actresses were photographed together with grins from ear-to-ear at last year's Screen Actors Guild award, we're going to guess the latter. You can see the moment for yourself here (at 25:26) and judge for yourself.
Brie is nominated for Best Performance by an Actress in a Television Series—Musical or Comedy her work in the Netflix comedy, while Metz and her hit NBC show were shockingly shut out from the festivities this year.
Did Chrissy Metz Call Alison Brie Out?