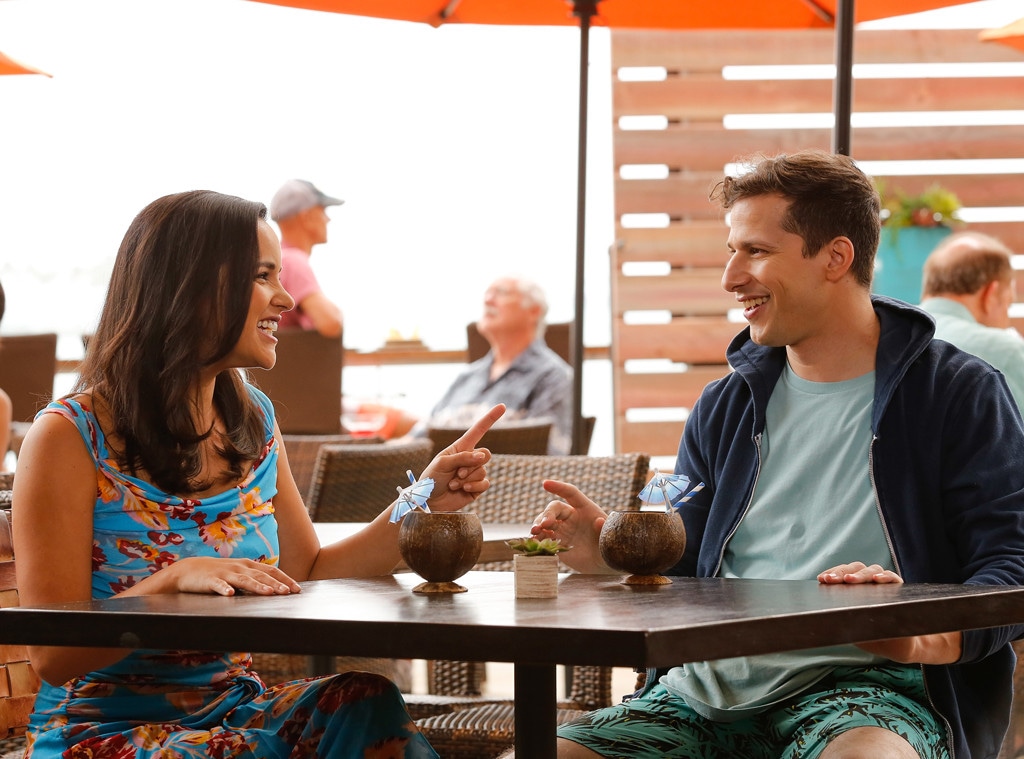 NBC
S--t's getting real on Brooklyn Nine-Nine this season. 
Not too much has changed in the show's move from Fox to NBC, except for one pretty fun and filthy thing. 
"Bleeps and blurs," Andy Samberg revealed during a press day for the show. "We're allowed to bleep now." 
Show creator Dan Goor explained. 
"You won't believe this, but Fox had a no bleeping policy and a no pixellation policy, and NBC has bleeps, and it's fun," he said. 
"We've got a couple of bleeps already going, and I gotta tell you...it feels real good," said Samberg when we asked if the show had taken full advantage of the new rules. 
It sounds like every single cast member gets to join in on the fun (and there's a pretty good one in the premiere), but there's one particular bleep this season that essentially shut the show down for a sec. 
"I had one where I'm ashamed. I'm actually very ashamed," Terry Crews revealed. 
"We couldn't believe it, because Terry Crews does not talk like that," said Joe Lo Truglio, adding that the moment had to be followed up with a group huddle.
"God, it was so jarring. Everyone from behind, they were like, we actually...everybody had to regroup...for five minutes," Crews continued. "I was like, oh my god! I was like, yo yo yo, everybody OK? Everybody all right? We had to check with everybody to make sure, but it was hilarious."
Melissa Fumero could barely contain herself while describing the moment. 
"We can have fun with these curse words, 'cause sometimes we can just like, add to 'em, and I think they had told him to just ad-lib, make it a little longer, and Terry just went...I was...it literally shocked me and I didn't know what to say," she said. "He was so dirty, but it was so satisfying to hear Terry say it." 
"I wasn't in the scene. I was just in our waiting room, you know? And I heard it and went, my god, did he just say that?" Joel McKinnon Miller said. "I didn't have to have headphones on, it was through the whole precinct."
The new rules also allow for blurred nudity, which particularly worried Blocker and Miller. 
"[It] scared me a lot when I heard that, because they've had me do so much stuff without my shirt on," Blocker, who plays Hitchcock, said. "I'm thinkin', what else they gonna have me take off?" 
"Every week I prayed that we're not in a bathhouse or something, a steam room," added Miller. 
Unfortunately (fortunately?), neither could tease whether they actually have any nude scenes coming up.
"Can't talk abut it," said Blocker. "Have to kill you if we told you." 
Consider us f--king psyched for this new season, premiering on NBC for the first time on Thursday, January 10 at 9 p.m. 
E! and NBC are both part of the NBC Universal family.