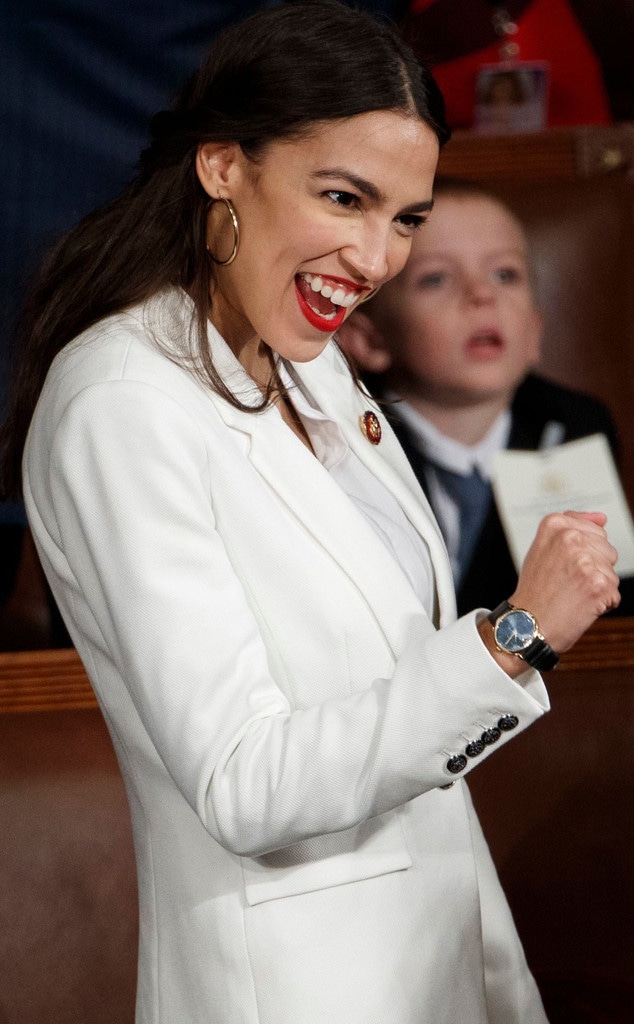 SHAWN THEW/EPA-EFE/REX/Shutterstock
How come Rep. Alexandria Ocasio-Cortez gets to dance? If she dances, we'll all dance...It'll be anarchy!
A day before the 29-year-old Democratic congresswoman took office, an online troll recently posted on Twitter an almost nine-year-old video of her dancing with friends on a rooftop. Whaaaat? The horror!
The person tweeted, "Here is America's favorite commie know-it-all acting like the clueless nitwit she is...High School video of 'Sandy' Ocasio-Cortez."
The clip, which naturally went viral, is part of a longer video that was filmed at Boston University while she was a student. It shows the liberal politician, the youngest woman ever elected to Congress, and her peers imitating dance scenes from popular '80s films, such as The Breakfast Club. It was actually a meme, inspired by a 2009 fan-made YouTube video that mashes up scenes from Brat Pack movies.
But their attempt to embarrass and shame Ocasio-Cortez backfired and the troll later deleted their account following much mockery online.
"Now she's totally done for," tweeted Washington Post political columnist Karen Tumulty. "Newly unearthed video reveals that when @AOC was in college, she was ... adorable."
"Anyone who thinks video of Alexandria Ocasio-Cortez dancing as a teen will derail her political career will be devastated by video of [President Donald] Trump speaking as an adult," tweeted comedian and writer Joseph Scrimshaw.
Ocasio-Cortez herself tweeted on Friday a video of her dancing to Edwin Starr's 1970 hit "War (What Is It Good for)."
"I hear the GOP thinks women dancing are scandalous," she wrote. "Wait till they find out Congresswomen dance too! Have a great weekend everyone :)"
She also told The Hill, "It is not normal for elected officials to have a reputation for dancing well and I'm happy to be one. It is unsurprising to me that Republicans would think having fun should be disqualifying or illegal."
Boston University first shared the video in 2010. A year later, Ocasio-Cortez graduated from the college, where she had majored in economics and international relations.
...and a minor in giving no...