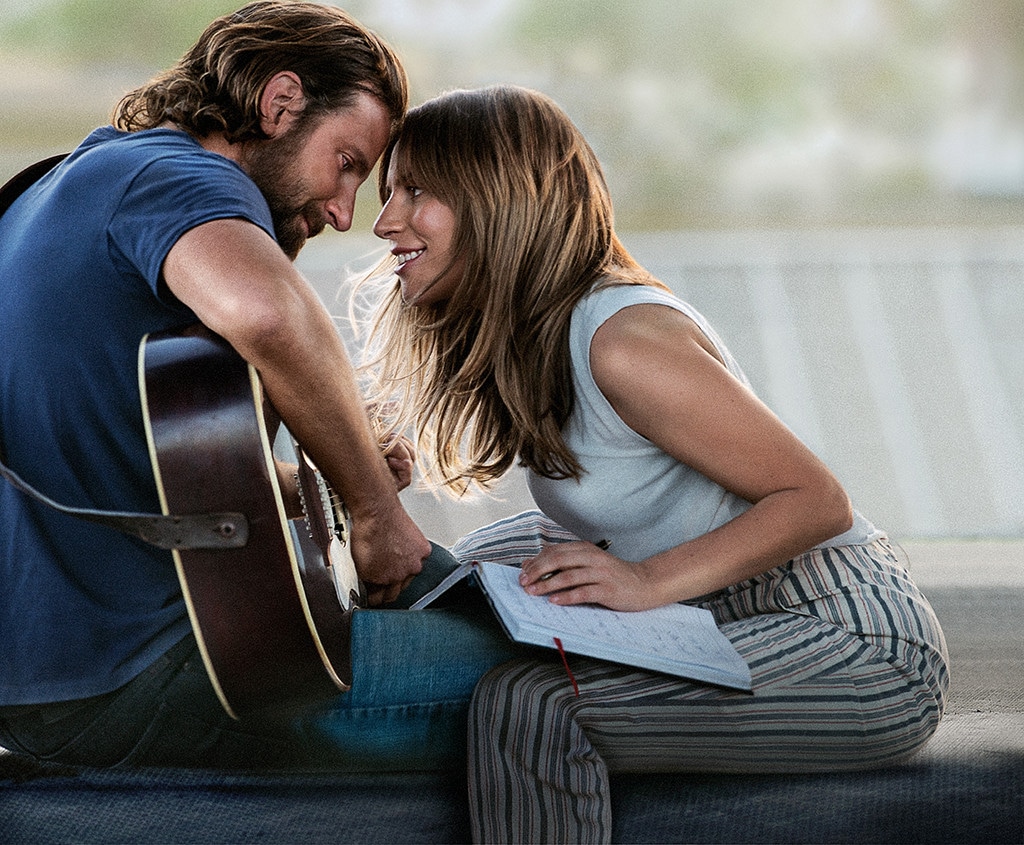 Neal Preston/Warner Bros.
Lady Gaga won a Golden Globe for American Horror Story: Hotel, but she played a seductive, murderous vampire.
Even when the first trailer for the fourth version of A Star Is Born came out, and you saw the Grammy winner belting out some very Gaga-esque notes when first faced with an audience of thousands, it was hard to say whether her very distinct presence would distract from the film's premise, about an amazingly talented but unknown artist finding her wings.
"It's all instinctual," Bradley Cooper told E! News' Giuliana Rancic at the film's Hollywood premiere, asked how the first-time director knew Lady Gaga could pull it off. "I knew it when I met her. Clearly I knew that she had one of the best voices of our time, and then when I met her I felt like she was so soulful and deep and open, and warm and caring, and I thought, 'God, if I could just capture what I'm seeing right now talking to her, we're going to be OK.'
"And on top of that, she wound up being this incredible actress. So I just got very lucky."
Long story short, the 2018 version of A Star Is Born exceeded all expectations and Lady Gaga's performance is one of the best things about it. It would have been a hard-to-watch film if her character, Ally, hadn't been believable, and you're with her every step of the way. So how did Cooper know?
"I really didn't know who she was," he told W last summer.
And that may have been key to Stefani Joanne Angelina Germanotta being offered the role in the first place.
The Oscar-nominated actor worked on this movie for four years, and he didn't even fancy himself directing it until Clint Eastwood, who had been planning to make it for years before that, finally dropped it. In fact, Eastwood wanted Cooper to be in his proposed version almost six years ago (opposite Beyoncé as the rising star).
"I was too young," Cooper told Entertainment Weekly last summer about his first brush with the role of the seasoned artist with a substance abuse problem whose light starts to diminish as another begins to burn bright. "I always thought I didn't have enough experience to play this guy. But that was when I first became aware of the project and first met Clint actually. He was thinking about doing it and we were talking about it. I was 38 at the time—I'm 43 now, and I just knew...I just thought, 'I don't know if I could buy me like that.'
"And then life happens and we wound up doing American Sniper together which aged me. And then a year of doing The Elephant Man aged me. And I thought, 'You know what? I think I'm ready.'"
If you're not thinking of Jackson Maine asking Ally, "You ready?" right now, you have not seen this movie.
So after his run in The Elephant Man on Broadway ended in 2015, Cooper got to work.
"I wanted to tell a love story," Cooper told Vogue, "and to me there's no better way than through music. With music, it's impossible to hide. Every fiber of your body becomes alive when you sing."
But in addition to lowering his voice an octave, learning to sing and practicing guitar and piano to the point where he looks as if he's been playing for decades, Cooper had to find his leading lady. The simmering singular talent who's primed to explode but just needs that big break.
"I was at a cancer benefit with my mother," Cooper told W. The party was at tech billionaire Sean Parker's Los Angeles home. "I really did not know Lady Gaga's music. They had a surprise musical guest, and Stefani came out with her hair slicked back, and she sang 'La Vie en Rose.' I was blown away, like in that old Maxell cassette commercial where the guy's hair is blown back."
"I called her agent the next day," he continued, "and said, 'Can I go to her house and meet her right away?' I drove to Malibu, and we sat on her porch, and the next thing I know, I'm eating spaghetti and meatballs, and I said, 'Can we sing a song together?' "
"The second that I saw him," Gaga told Vogue last summer, "I was like, 'Have I known you my whole life?' It was an instant connection, instant understanding of one another."
Cooper agreed, "She came down the stairs and we went out to her patio and I saw her eyes, and honestly, it clicked and I went, 'Wow.'"
And already, Gaga was reading his mind.
VINCENZO PINTO/AFP/Getty Images
"She said, 'Are you hungry?' and I said, 'I'm starving,' and we went into her kitchen for spaghetti and meatballs," Cooper recalled.
"Before I knew it, I was making him lunch and we were talking," Gaga remembered. "And then he said, 'I want to see if we can sing this song together.'"
"She was kind of laughing at me that I would be suggesting this," Cooper added, "but I said, 'The truth is, it's only going to work if we can sing together.'"
Talking to W, the four-time Oscar nominee reiterated, "Remember, we had just met. I asked her if she knew the song 'The Midnight Special,' because I had memorized it, and she said no. But we downloaded the sheet music, and I sat next to her at her piano."
When Cooper started to sing, Gaga looked at him with astonishment and asked, "Has anyone ever heard you sing before?" or something to that effect.
"When I heard how soulful his voice was, I knew the movie would work," said Gaga, who wanted to be an actress even before she wanted to be a singer.
"And she said, 'We should film this,'" Cooper told Vogue. "So I turned on my phone and we did the song. It was crazy. It kind of just worked. And that video is one of the things I showed to Warner Bros. to get the movie green-lit."
He has also shown the video of them singing to various reporters, the only way to even begin to convey the capital-M Moment they were having.
Rick Kern/Getty Images for Ford Motor Company
"I was so happy at that moment," Cooper said to W. "I'm from an Italian background, and so is she. We were immediately comfortable with each other. We made a kind of deal: I believed in her as an actress, and she believed in me as a musician. I wanted there to be a meta aspect to the film, and Stefani gave me that.
"Also, no actress can do musically what I needed Stefani to do in 42 days of shooting: I needed plutonium. And the plutonium in A Star Is Born is Stefani's voice."
Lady Gaga insists she wasn't daunted by the opportunity of starring in the movie—but in reality, if all were to go wrong, she wouldn't be Cher in Moonstruck or Jennifer Hudson in Dream Girls. She'd be Mariah Carey in Glitter.
But while both Cooper and Gaga were ready to dive right into the deep end, it wasn't only up to them, of course.
Warner Bros., the studio also behind the 1954 and 1976 iterations of A Star Is Born, had to be convinced, so the pair had to do several screen tests together. Luckily, the chemistry they felt playing piano at Gaga's house translated.
Filming kicked off at Coachella in 2017, where Gaga was headlining after replacing a pregnant Beyoncé. (Coincidentally, it was Beyoncé's first pregnancy, in 2011, that is rumored to have delayed Eastwood's vision from going forward.) They shot various concert scenes for the film in between sets—which, while it's a new experience for Ally in the movie, was actually a major first for Cooper in real life.
"At first, I was terrified," he admitted to W. "You forget everything when you're onstage in front of 30,000 people. I almost couldn't breathe. But then I looked at Stefani and relaxed: Her belief in me as a musician gave me courage."
Warner Bros. had extended an invitation online, to "Little Monsters" in particular, to sign up to be in the audience.
"Help cheer and applaud their performances on camera... the scenes for these days will portray a Country Western music concert," the notice read, per Billboard. "All you Monsters that can attend should get decked out in your most comfortable denim & boots, throw on a Stetson (leave those pink Joanne hats at home) and come out to show your support!"
The weekend after Coachella ended they shot at Stagecoach, which takes place at the same venue, the Empire Polo Club in Indio, Calif. They also shot at Glastonbury in England that June and at Saturday Night Live. 
"The truth is, we made this movie for a very small budget [a reported $38 million] considering what it was, and her doing that allowed us to have the week in between Coachella," Cooper told EW last summer. "[The grounds] were still up, so we had the run of the entire place, all the stages, for five days. It was the first stuff we shot. That was amazing because that was the first time I sang on stage with her. I couldn't believe how easy it was."
"Stagecoach was shot in eight minutes between Jamey Johnson and Willie Nelson, and Glastonbury was f--king insane," he said. "That was in front of 80,000 people. Kris Kristofferson was kind enough to give us four minutes of his set. I sang, played the guitar solo, and then I said, 'Ladies and gentlemen, Kris Kristofferson.'"
That is a lot of worlds colliding right there.
It was Lady Gaga who insisted, in fact, that all the singing be done live during filming.
In a talk with Robert De Niro during the Tribeca Film Festival, Cooper recalled Gaga telling him, "'I'm gonna rely on you to get a performance that's honest out of me,' because she'd never done a film before, 'and I'm gonna make sure you that turn into a musician, because we're going to sing everything live.' And I thought, wait, what? She said, 'No, the only way this is going to work—I can't stand when I watch movies when they have music and you can tell when it's pre-recorded and people are lip-syncing. And she's right. So that was terrifying, but I really relied on her."
At the Toronto International Film Festival, Gaga recalled a moment during filming where Cooper critiqued what he was hearing in the sound booth, saying, "'This is not Jackson's sound.' I thought, 'O.K., now we have a musician on our hands.'"
They were in it together for the long haul. "Everything had to be raised to her level," Cooper told Vogue.
Meanwhile, before the relentlessly tragic trajectory of the classic Hollywood tale takes hold, you can't help but see a lot of the movie's behind-the-scenes origin story reflected on the screen.
"I would often say to Lady Gaga, 'This is a movie about what would have happened if you didn't make it until you were 31 instead of 21," Cooper told Vogue. "We talked a lot about where she started on the Lower East Side, and she told me about this drag bar where she used to hang, and I thought, Oh, this is just ripe for the story."
Not only did the meet-cute in the drag bar and Gaga singing the hell out of "La Vie en Rose" make it into the movie, but the scene in which Jackson encourages Ally to share the song she's been writing (which turns out to be the seeds of the earworm that is "Shallow") at least seems partly inspired by the moment Lady Gaga, after hearing Cooper sing "Midnight Special" at her piano, asked him, "Has anyone ever heard you sing before?"
While Lady Gaga was herself once an aspiring star who could see some of herself in Ally, Gaga was also nurturing the blossoming auteur and musician within Cooper, as he set out to play a guy who'd seen it all and, eventually, seen enough. 
"[Love and fame are] both very complex, layered things, with a lot of emotional depth, and he captured that," Gaga told Vogue. "This is what I think makes the film so successful: that it was so real. And I've lived it, so I can testify to that."
Apparently the line where Jackson calls Ally ugly while she's in the bathtub was not in the script, but instead basically came from each other's emotional wells, which they had mutually tapped into over the course of their journey.
"We left a space for there to be both love and hurt at the same time," Gaga told The New York Times. Added Cooper, "The world had to match her, because if the world's not authentic, and then you have this authentic person in it, it's going to, like, destroy the whole film. So, I just knew that I had to literally become the real guy, and the movie had to be, had to look like the real thing."
Kirsty Wigglesworth/Invision/AP/REX/Shutterstock
When it came time to promote the film, which premiered at the Venice Film Festival on Aug. 31 and opened in theaters Oct. 5, the pair had not tired of each other.
"The truth is, I made this film with Bradley because I believe in him as a filmmaker, an actor, as a screenwriter, as a musician," Gaga told reporters at the Toronto International Film Festival in September. "He has it all in spades, and I just feel very privileged to be here onstage with you tonight."
"I wanted to tell a story about people needing each other and how hard that is no matter your background," Cooper said in introducing the film at TIFF. "The whole thing is that these two people found each other and it is a pure love. And it is easier when you have somebody with you going down the road. And I had that with Stefani going down this road. I can't imagine having the courage to do it without her."
"I am so glad you are going to see the movie," said Gaga. "But in a way, I wish I could give you what we all got to experience working for him, because it really was an honor and a privilege to witness."
Eric Charbonneau/REX/Shutterstock
With eight Oscar nominations, a Golden Globes win, four Grammy nominations, four Screen Actors Guild Award nominations, dozens of best-of-2018 lists and almost $400 million at the worldwide box office later, Cooper and Gaga can call what started as a labor of love a resounding success.
"It was a crazy idea to do a fourth remake, I know it wasn't very smart," Cooper told E! News at the L.A. premiere, reflecting on some of the earliest feedback he got on his plan to make A Star Is Born his directorial debut. "There were things I wanted to talk about in a movie and I wanted to have a point of view about trauma as a child, family, what It means to find your voice in this world and a place to say it. And also at the end of the day, what I hope the major message, if there is one, is that we all need each other."
Added Gaga, "The most challenging part of this process for me was being as vulnerable as the character needed. Taking off all my makeup, taking off wigs, being naked in a way that I've never felt before. But he made me feel so comfortable, and my performance in this film is because of him. He is just tremendous in this film. His acting, his directing, his songwriting—everything across the board. I've never witnessed anything like it in my life. I'm just overwhelmed with joy and gratitude."
It's a good thing Bradley Cooper and Lady Gaga adore each other so much. Awards season is just getting started.
(This story was originally published January 5, 2019 at 3:00 AM PST).
For a recap of the 2019 Oscars, watch E! News tonight at 7 p.m.!