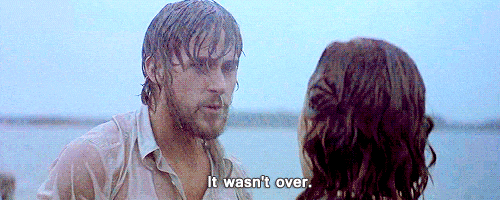 New Line Cinema
The Notebook wasn't over and it still isn't over...because it's heading to Broadway!
More than a decade since Ryan Gosling and Rachel McAdams stole hearts all over the world bringing Nicholas Sparks' characters to life, the beloved story is reaching yet another new generation by way of the stage. 
Ingrid Michaelson, who has been writing the music for the upcoming show, announced the news on Today alongside Hoda Kotb on Thursday morning. 
"I'm writing a musical and the musical is The Notebook," she enthusiastically revealed. 
The "Girls Chase Boys" songstress also revealed This Is Us writer Bekah Brunstetter is writing the book for the show. According to the musician, she's been working on the music for about a year and a half and now could finally share the big news. 
While the star is no stranger to music, this type of project is unique. "It's so different when you're writing for a character," she told Kotb. "It's been really different and really interesting for me to write from these perspectives and just the idea of this undying love and of loss and memory—I can't stop writing them. I'm gonna have too many."
Hey, the more songs, the merrier! However, when we'll get to hear the remains to be confirmed. 
In the meantime, we'll practice our "If you're a bird, I'm a bird" speech. 
(E! and NBC are both part of the NBCUniversal family.)