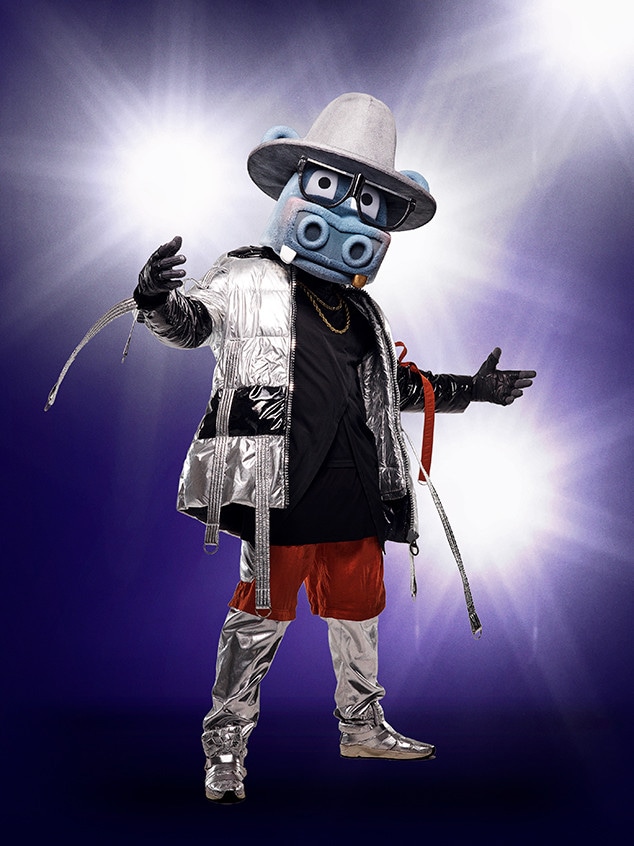 Fox
Spoilers Ahoy! 
Well that was everything we hoped it would be, sorta. 
We've been pretty excited for The Masked Singer, the bonkers new Fox show about secret celebrities performing in elaborate costumes, ever since it was announced, and tonight we finally got to find out who one of those secret celebrities was. We literally had to wait until tonight, despite having screeners for weeks, because the screeners cruelly blurred out the reveal, leaving us to wonder endlessly. Who was that hip hop hippo? 
After he lost his battle with the Peacock, the Hippo ended up landing in the bottom three, and was beat by the Monster and the Deer. He was then unmasked and revealed to be...Antonio Brown of the Pittsburgh Steelers! And also of Dancing with the Stars! 
Tonight's premiere also introduced us to the Peacock, the Unicorn, the Monster, the Deer, and the Lion, and gave panelists Robin Thicke, Jenny McCarthy, Ken Jeong, and Nicole Scherzinger a chance to guess each of them. 90% of the guesses were, quite honestly, terrible, but we suddenly forgot the names of all celebrities when we were trying to guess, so we would not have done all that much better. (Though we will swear we guessed Antonio right, even if we told no one and didn't write it down.) 
We'll get to all the other clues we got tonight in a minute (we're gonna try to keep track each week), but first we'll just say we are fully invested in this insanity already and desperate to find out who each and every singer is, and just how wrong that panel is. If Lady Gaga ends up being the gold lion who sang a Fergie song, we may just have to up and quit. 
For now, check out our gallery of the full cast of singers, including every clue we've been given so far, and come back next week to do this once again! 
The Masked Singer airs Wednesdays at 9 p.m. on Fox.