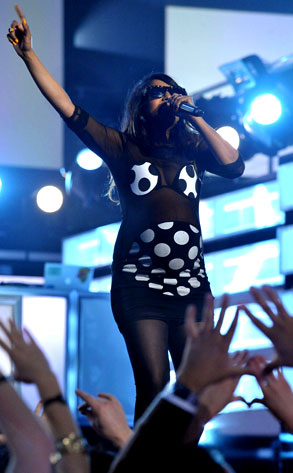 Lester Cohen/Getty Images
MIA capped her preggo Grammy show by popping out a boy. We can't wait to see how she'll top that come Oscars time.
When last we saw the British-born Sri Lankan singer, she and her belly were gyrating onstage during Sunday's Grammy performance of "Swagga Like Us" with Jay-Z, Kanye West, T.I. and Lil Wayne. Because it was her due date, producers had a golf cart ready to whisk her away.
To hear her tell it, she almost needed it.
In an all-caps, grammar-eschewing announcement on her MySpace blog Saturday, M.I.A. recounted an eventful past few days.
"I CAME HOME FROM THE GRAMMY'S STILL IN THE MOOD TO PARTY...BUT I WENT HOME INSEAD, LUCKY I DID!! COZ MY EARLY STAGE LABOUR KICKED IN AROUND 2 AM
"MY BABY WAS BORN WEDNESDAY, HE IS HEALTHY, FINE, BEAUTIFUL AND THE MOST AMZING THING EVER ON THIS PLANET, OF COURSE IM HIS MUM!!!"