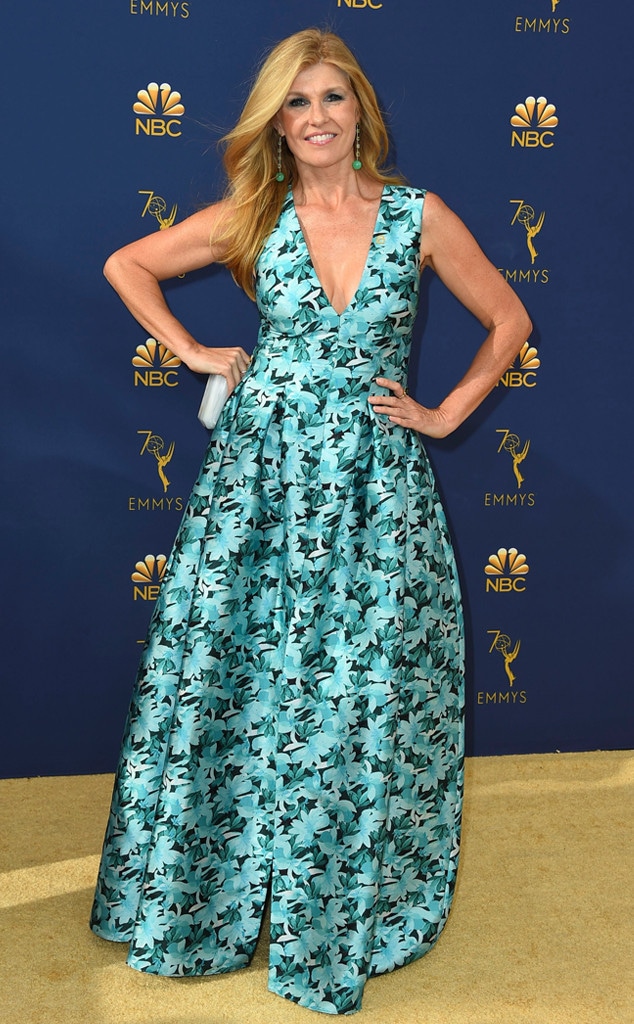 Jordan Strauss/Invision/AP/REX/Shutterstock
Once upon a time, there wasn't any Connie Britton in our lives. Then all of a sudden, there she was, like a long lost member of the family.
And at the head of the table is where she has remained.
The level of fandom devoted to Britton varies, with perhaps the most enduring bunch being those who will never stop worshiping her as Tami Taylor on the late, great Friday Night Lights, her partnership with TV husband Kyle Chandler anchoring the drama when all the other characters' lives were flying off the rails. Then it was on to playing Dylan McDermott's long-suffering and about-to-be-suffering-more wife on the premiere season of American Horror Story, and then she was super-star country singer Rayna Jaymes on Nashville.
As part of the Ryan Murphy family, she played Faye Resnick on American Crime Story: The People v. O.J. Simpson, starred as the voice of calm reason on 911 and briefly reappeared as Vivien Harmon in AHS: Apocalypse.
Most recently she has hooked a new audience with Bravo's Dirty John, based on the Los Angeles Times investigative report and podcast about successful Newport Beach interior designer Debra Newell, who fell prey to a charming (and so obviously dangerous, come on...right?) con man. Eric Bana plays the master manipulator, and Britton earned her second Golden Globe nomination, best performance by an actress in a limited series or TV movie, for her efforts.
"If you look at her on paper, there's no reason that this should have happened to her and to her family, and yet it did," Britton told E! News last fall in describing the pull of the role for her and the mass fascination the story caused, going from a piece of journalism to a cable series within a year.
"The content that we're having access to is shifting," she acknowledged. "I'm pretty old-school so I'm still like, 'I'm going to read a book!'" Britton smiled. "But I also really understand that people are able to use these new types of media to do great storytelling. So it's great to be able to cross over and really utilize that."
Jordin Althaus/Bravo/NBCU Photo Bank via Getty Images
Incidentally, it's Britton's "old school" appeal that has turned her into one of the most enjoyable, appreciated actresses of right now.
Onscreen she has embodied the ideal wife and mom without being matronly, a strong supporting player without being a second fiddle type and the scene-stealing charmer without that sucking-up-all-the-oxygen quality that some characters can't help but evince.
And when she's not acting...seriously, who has watched Connie Britton give an interview and then not wanted to meet her in person? She comes off as the woman you like to think you could be at your warmest, cleverest, most vibrant and most charming. (And yes, that's all her own hair.)
"It's important to me to play women who are empowered and who have a strong sense of self, but who are also connected to their sexuality," the Ivy League graduate told the Dartmouth Alumni Magazine in 2017. "I want to continue on that path."
It isn't as if she actually came out of nowhere when Friday Night Lights premiered in 2006—and not only because she was also in the 2004 movie of the same name with Billy Bob Thornton. She had been acting for a decade, making her big screen debut in 1995's The Brothers McMullen, which was the indie NYC romance of its day, and moving on to star on Spin City during the Michael J. Fox years and have recurring roles on The West Wing and 24.
But it wasn't until 2006—a decade after she lost the female lead in Jerry Maguire to Renée Zellwegger, right when Britton was supposed to be the next hot young thing—when lightning really struck. ("Maybe I was too tall," she cracked to the New York Times in 2013.)
"I was like, 'alright, we'll see,'" Britton reminisced to E! News about being offered her role on the TV version of Friday Night Lights after much of her part was cut out of the 2004 movie by director Peter Berg, who also created the show.
"And it's been really wonderful," she continued. "It's a really great ensemble, and it's really a show about the people in this town," as opposed to just being about football.
That was Britton in the fall of 2006, before the show—which never earned the ratings or the awards it deserved (it won three Emmys over five seasons, for writing, casting, and Best Actor for Chandler; Britton was nominated twice)—became a full-fledged phenomenon among its fan base. And while her based-on-a-real-coach's-wife character of Sharon Gaines got short shrift in the movie, Tami Taylor became one-half of one of the great TV couples, as well as one of the great TV role models.
So when she got busy clearing eyes and filling hearts on NBC's FNL, her meatiest role yet, Britton was already a very familiar actress, but it was over the course of that show that she became a cultural icon. And when she reached that tier of fame, she was ready—appreciative of the "life experience," as she recently described it to the New Yorker, she had acquired on her journey to being offered some truly plum opportunities.
After FNL ended, "I needed to shake things up," she recalled to Vulture, laughing, "but also worried, 'My God, what are people going to think when they see Tami Taylor having sex with a man in a rubber suit?!'"
A haunting scene indeed, but American Horror Story proved to be yet another cultural touchstone, and Britton hasn't stopped working since. She knows that having one's career take off at 40 isn't the common narrative for a woman in Hollywood, but the now 51-year-old star is proud to be representing on behalf of the adults in the room.
"Sometimes I'll get a facial or I'll be at the dermatologist's and they'll say, 'You know, we can do a little of this and a little of that,' and I'll say, 'No, I'm good.' And they look at me like I'm crazy," she recalled to the Dartmouth Alumni Magazine in 2017. "I don't think I'm going to be able to change Rome in a day, but to be one representation of a woman being incredibly viable and sexual while aging in a real way is important to me. If I try to make my face look younger, then what story am I telling? Does that mean I believe you can only be viable when you have a younger-looking face?"
No big secret, good genes, meditation, watching her diet and exercising regularly keep her looking pretty fabulous. And her down-to-earth upbringing, Ivy League education and commitment to humanitarian causes keep her head on straight.
"I stand up for myself much more now," Britton says in the January/February 2019 issue of Health. "I've done a lot of conscious work around my own sense of value."
The Boston-born and Lynchburg, Va.-bred actress and activist graduated from Dartmouth (during which she was roommates with future New York Sen. Kirsten Gillibrand while studying abroad in China) with a degree in Asian studies in 1989 and moved to New York. She paid the bills as an aerobics instructor, did theater and married college sweetheart John Britton (that's right, Britton is Constance Elaine Womack's once-married name) in 1991.
In 1995, Britton got divorced but also made a splash in The Brothers McMullen, after which she moved to Los Angeles, where her struggling-actress memories include sharing a house with Lauren Graham and subsisting on Rice Krispies Treats.
"Parents and families, I feel ya," the actress quipped last May in giving the commencement speech for the USC School of Dramatic Arts class of 2018. "Your kid went to USC and ended up studying theater. Oh...yeah. I would like to say to you, congratulations. Thank you for getting through the anxiety and the stress of all that--and now it's just smooth sailing.
"Hold on, that may not be accurate."
"I didn't major in any arts," she added. "I majored in Chinese. Yeah, that's right. Parents, imagine when my folks felt when I was going to take my education in Chinese and Asian studies straight to New York to be an actor!"
She was summoned back to NYC again for Spin City and later more than five years in Nashville while starring in the show of the same name. She has since settled back in L.A., buying a 1920s-era Spanish-style villa in the Los Feliz area in 2017.
In the meantime, she adopted her now 7-year-old son Yoby from Ethiopia in 2011, a process that took two years before she was finally matched with a baby. Facing a lengthy waiting period before she could even bring him into the United States, Britton called in a favor from her old college roommate.
"I went all mama bear to get things moving along, and I knew Kirsten was one of the three people in Congress who actually gives a s--t about international orphans," Britton told their alumni magazine. "It was the only time in the whole process that I pulled some strings."
Britton knew, in her heart, that it was meant to be.
"I do very strongly believe that he and I did choose each other," Britton said in 2012 on The Conversation With Amanda de Cadenet. "I think that's really true with adopted children. I know that he is my son.
She admittedly envisioned having children one day with a significant other, but after losing both of her parents in the mid-'00s, she didn't want to wait any longer to have a family.
"There was a lot of grief about having not started this journey with the man who was going to be my partner," Britton shared. "I anticipate finishing it with a man who's going to be my partner. I definitely had to grieve that, but I also didn't want to wait anymore. I absolutely know that this was something that I want for my life, and I'm really fortunate... and I feel like I can do it."
Some sacrifices were required. "I have no sex life right now," Britton laughed. "I keep thinking about how I could do it, how I could pull it off."
Thinking about the unexpected turns she took over the years, she told Health last year, "I never could have dreamed it. Every day I'm bursting with gratitude. At the same time, if you had asked me what my life would look like, there is so much that I couldn't have imagined. I probably thought I'd have biological children, which I haven't. I also thought I'd adopt a girl, and I got a boy! My family is very girl-dominated, so I was like, 'What am I going to do with a boy?' He's such a great teacher for me.'" 
Dating hasn't gotten any easier, but she's hardly alone there.
These days, watching Dirty John, let alone playing the part of the optimistic romantic who ends up deceived beyond belief after meeting a guy online, could make anyone wary of dating.
"I'm not ever going to go on a Web site," Britton told the New Yorker. "I'd rather meet people through friends, and that can go just as badly." Being famous hasn't exactly helped matters, either—at least not on the dating front.
"It's so delightful to meet someone who hasn't seen anything I've done," she told the Dartmouth Alumni Magazine. "In my lifetime I've seen things go from mystery being of value to exposure being of value, and I can't jump on board with that. At the same time I want the work I do to be impactful, so it's a tricky balance."
And while Dirty John fits right into the true-crime renaissance that's all the rage right now, Britton approached the project—like all her other projects—with purpose, hoping to convey a certain message in addition to entertaining audiences.
"There are lots of lessons to be learned," she told E! News recently. "To me there are two sides to it: One of the things that is so impactful about the show is the idea of a con man, and how easy it is to be conned by a con man.
"[W]e're a little bit in a crisis of honesty in the culture right now," Britton continued, "and our values are a little shaken up because it seems that there's a lot of conversation about 'the truth' and what the truth is, and in my lifetime I've never known that the truth could be something that was a questionable thing. In that kind of an environment, a conman is in a particularly good position to make his move. That is one element to this that I think feels very relevant and resonant."
While Britton told Stephen Colbert last month that she doesn't remember ever talking politics with Gillibrand back in college ("It was a thing in our family that you don't talk about politics"), that certainly isn't the case now. The actress, who is also a goodwill ambassador for the United Nations Development Programme, wrote a blurb for the back of her friend's 2014 memoir Off the Sidelines and joined the Democratic senator on the 2016 campaign trail for Hillary Clinton. On election day Britton showed off her "Nevertheless, she voted" sweater and watched the returns on Nov. 8 at Sheryl Crow's house in Nashville.
Subsequently, on Nov. 9, 2016, Britton told the Dartmouth magazine in 2017, she felt "so much grief. I cried for a really long time. It's a very alarming time right now."
For her 50th birthday, she started a Crowdrise.org fundraiser for the International Rescue Committee and ended up raising more than $50,000 for refugee education in the U.S. and abroad.
"My career is very important to me; it enlivens me, it's the structure of my life, and I want to continue on that path," Britton said. "But going forward I also want to be involved to a greater degree with humanitarian issues. I believe as citizens of the world and as citizens of the United States that we have a responsibility to take care of each other. If we can, we should."
A year later, not much has changed on that front. 
"On the days when I feel really frustrated with what's happening in the news, I'll reach out to [Gillibrand] and say, 'Tell me the real deal, what do we need to do here, what can the average citizen do?' " Britton told the New Yorker last month. "Speaking to her is very soothing."
As for the other message Britton hoped to convey with Dirty John, "I hope people, and particularly women in this #MeToo movement, will see...a real exploration into how we as women sometimes create our ideas of who we're supposed to be," she told E! News. "Some of it is cultural, some of it is religious, some of it comes from family. And for me, the idea of playing Debra in this story was trying to unpack some of why she made the choices she made, who she thought she was supported to be as a woman, as a woman to this man, and as a woman in the culture.
"I hope maybe other women will be able to look at that within themselves."
Dirty John also, incidentally, just makes for a heck of a binge watch.
Britton says that she doesn't have time to watch anything these days, but she was all for something uplifting after living in the "pretty dark world" of Dirty John for a few months.
Spending time with Yoby usually helps. She also mediates and does yoga, swims and hikes to stay in shape and clear her head. She loves a hot bath, but as a single, working mom doesn't get around to that solitary indulgence as much as she would like.
"Meditation has been a big part of my adult life—meditation, breathing, and connecting to whatever is my own version of my center," Britton told Health. "It can be 10 minutes; it can be in the car while I'm driving or just taking a deep breath before I'm about to shoot a scene. It's about going deeper than the external noise. To me, that's a really important tool. And I really believe it helps with wrinkles. We can change our body chemistry through meditation."
She's on Instagram, but mainly keeps her mother-son time private, and when she and Yoby are out together she'd prefer it if fans—whom she's usually more than happy to meet and take a picture with—would let them be.
"I wish I could hold up a sign that says, 'Please don't be mad,'" she told the Dartmouth magazine. "I'm extremely grateful for fans, and they say the most lovely things about how something I've been a part of has impacted them. But for someone to just come up and say, 'Can I get a picture with you?' If I'm with my son, that's my personal space. It's not appropriate."
Talking to Health, Britton said she was considering taking a break ("maybe I'll get back to taking some of those baths!") but she can't help it that she's in demand.
Next up, she's playing Roger Ailes' wife, Beth, in Jay Roach's as-yet untitled movie about the late Fox News mastermind and the sexual harassment allegations that took him down, joining a cast that includes Charlize Theron, Nicole Kidman (their kids got to be friends in Nashville), Margot Robbie and John Lithgow as Ailes.  
She may be more in the mood for a shower after that one.
"I'm right now interested in what it is that makes women refuse to step away from their very, very conventional and traditional ideas of who they are supposed to be in relation to a man," Britton told the Los Angeles Times about what she feels is the connection between her latest projects. "In that way, both the Debra character and Beth character are really fascinating to me. Beth Ailes was true to the end. I'm fascinated by that. What makes those women make those choices?"
In the meantime, we'll have what Connie Britton's having.
(E! and Bravo are both members of the NBCUniversal family.)