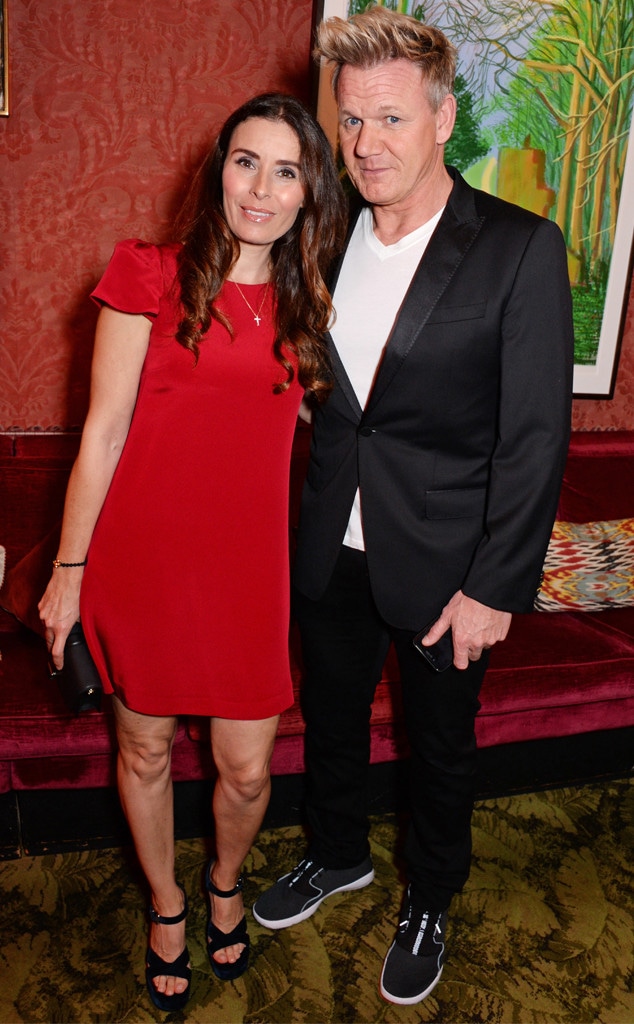 David M. Benett/Dave Benett/Getty Images for Mark's Club
2019 is going to be extra special for this famous family.
On Tuesday morning, Gordon Ramsay kicked off a new year by sharing some big news on Instagram. As it turns out, the famous chef and his wife Tana Ramsay are expecting another baby.
"Exciting news!" he shared on Instagram. "Happy new year from all the Ramsay's."
In the video, the Hell's Kitchen star pans the camera to his wife who shows off her baby bump as their four kids clap with excitement.
"Best news ever mate," close family friend David Beckham wrote in the comments section after watching the clip.
"Hi guys, Tana and I want to thank you so much for your support over the past couple of weeks. We had a devastating weekend as Tana has sadly miscarried our son at five months," he shared on social media back in June 2016. "We're together healing as a family, but we want to thank everyone again for all your amazing support and well wishes. I'd especially like to send a big thank you to the amazing team at Portland Hospital for everything they've done. Gx"
The couple, who has been married since 1996, recently celebrated the 19th birthday of their twins Holly and Jack.
And before you assume their kids are spoiled, you just don't know Gordon and Tana. After confessing to The Telegraph that his kids don't sit in first class with their parents, the chef explained his reasoning on Watch What Happens Live.
"I gotta keep it real with the kids," he told Andy Cohen. "They get entertainment on their iPads. I like to think of what you can do with the money when you land rather than paying out thousands of dollars for 8, 9, 10 years olds to sit in first class. I don't want them sat there with a 10-course f--king menu."
He added, "It is my wife and [my] choice to discipline them and keep them real." And that's why we love you Gordon: Always keeping it real!
Congratulations to the couple on their growing family.