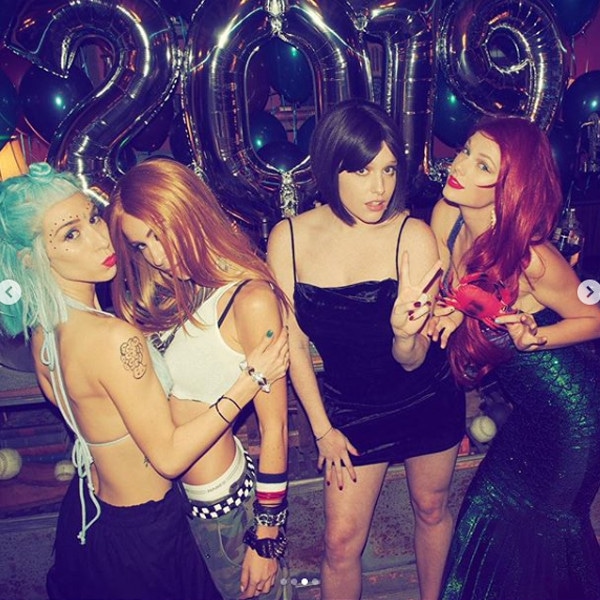 Instagram
Forget about the Fourth of July! Taylor Swift is all about New Year's Eve.
As the clock struck midnight in New York City, the "Gorgeous" singer decided to celebrate with her closest friends at an intimate East Coast celebration.
In pictures posted on the Grammy winner's Instagram, fans quickly realized it was a costume themed party.  And you're right, guests didn't disappoint in the wardrobe department.
"Mary Poppins, Audrey, Ariel, Ms. Frizzle, Cinderella, Gwen, Mr. Toad, Avril, Nancy Drew, Posh Spice, Rizzo, Frida Kahlo, Steve Irwin, Dorothy," Taylor wrote on social media. "This new year we decided to dress up as our childhood heroes. Sending you all love and hope going into 2019."
For Taylor in particular, she chose to dress up as Ariel from The Little Mermaid. As for Blake Lively, she portrayed an excellent Dorothy from The Wizard of Oz while Gigi Hadid dressed as Mary Poppins.
E! News has learned about 200 balloons from Balloon Saloon were ordered. And based on photos, there was plenty of pizza, cheese and desserts as the ball dropped in Times Square.
Monday night's gathering comes as thousands of Swifties headed to Netflix to watch the Taylor Swift reputation Stadium Tour.
Filmed at the Dallas stop of her massive stadium tour, the flick allows fans to experience her biggest hits all over again.
As for what 2019 could include from the music superstar, we know Taylor is nominated at the Grammys.
And how can we forget her sweet tease at the 2018 American Music Awards after winning Favorite Pop/Rock Album thanks to reputation.
"Guys, I always look at albums as chapters in my life. And I'm so—to the fans, I'm so happy that you like this one. I'm so happy that this means that you like this one. But I have to be really honest with you about something," she teased to the crowd. "I'm even more excited about the next chapter."
We can't wait!