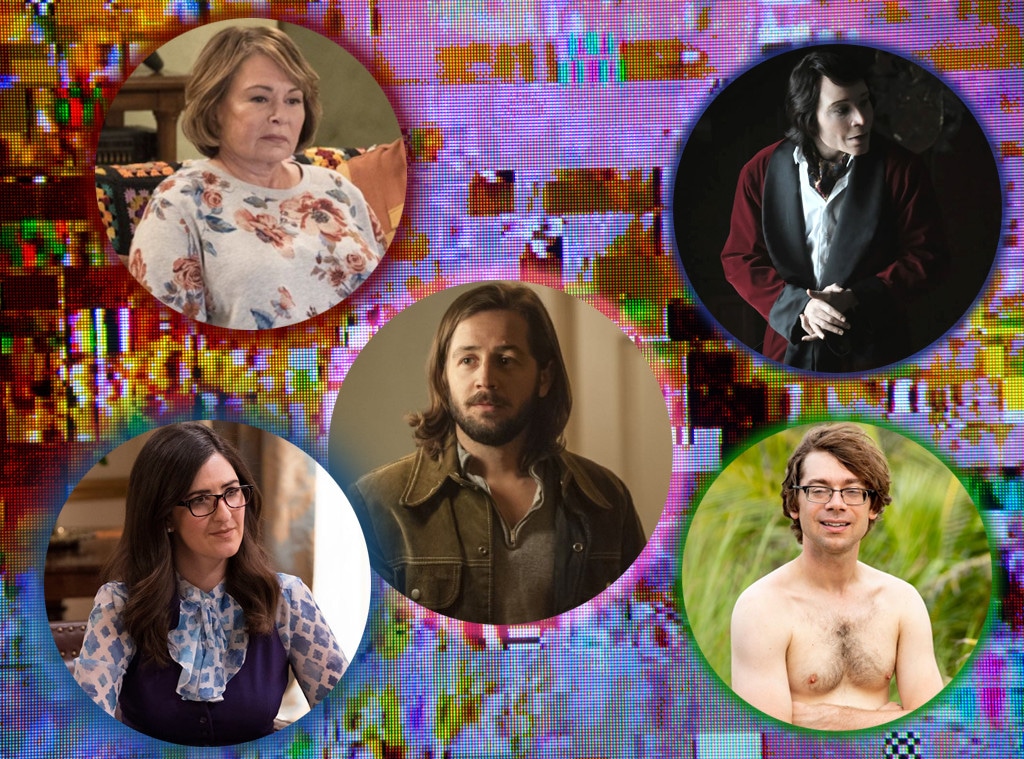 E! Illustration
Au revoir, 2018.
It's time to say goodbye to what has been quite a year for TV. New shows arrived, a few shows departed, a ton of actors left shows, and a whole bunch of weird and amazing things happened both on screen and off. We're here to honor it all, including the good things, the bad things, and just some of the stranger things we found ourselves watching on screen. 
From one of the most spectacular comebacks and then falls from grace we've ever seen to some of the most beautifully emotional moments, here are some of the things we obsessed over (or tried not to obsess over) this past year on TV. 
Worst Thing We've Ever Seen: Arie Luyendyk Jr.'s Breakup with Becca Kufrin
Just thought we'd remind you once again of the horrors of that 40 minute allegedly unedited breakup, when Becca just kept telling her ex-fiance to leave, and he wouldn't stop asking if he was OK. You just broke off your engagement! In front of cameras! She's not OK! 
Best Cry: Queer Eye, episode four
AJ coming out to his stepmom is one of the most emotional things to ever happen to us and we were not even a little bit involved! Bless Netflix for bringing us the new Fab Five and moments like this.
Biggest Flame Out: Roseanne
Remember when Roseanne came back and it was actually good? ABC got big ratings when the show returned and renewed it for a second revival. Then Roseanne Barr created many PR dust-ups, with the final straw being a racist tweet about Barack Obama's former advisor Valerie Jarrett. Just like that, Roseanne was canceled. But the show went on for everyone else, just not Roseanne Barr. The Conners was born and Roseanne Conner was dead.
Best Crossover Moment: Barry is Oliver, Oliver is Barry
The CW's three-part three-show crossover this fall went in a lot of different directions this year, introducing Batwoman and evil Superman and the Kent Farm and Arkham Asylum and next year's Crisis on Infinite Earths, but that first part, with Barry and Oliver learning how to use each other's abilities after reality had been rewritten and their identities switched, was maybe the most entertaining these shows have ever been. Stephen Amell and Grant Gustin looked like they were having an incredible time, and it was almost too good for the rest of the crossover to compare.
Honorable Mention: The Smallville theme playing during an overhead shot of the same Kent Farm used in Smallville was just...*chef's kiss*
Best TV Experiment: The Bachelor Winter Games 
Jacuzzis, skiing, and the addition of international franchise stars made this short-lived spinoff a total joy. More of this, less of Bachelor in Paradise please...even if none of the couples lasted more than a few months. 
Biggest Twist We Saw Coming But Still Gasped About: This Is Us' Nicky Reveal
After several episodes set in Vietnam, we had the feeling This Is Us was going to pull out a reveal of some sorts involving Jack's (Milo Ventimiglia) brother Nicky (Michael Angarano) and they did just that...by revealing he didn't die in Vietnam, he's still very much alive in the present. Griffin Dunne will play the very much alive Nicky Pearson in present day scenes.
Biggest Twist We Didn't See Coming: Michael's Alive on Jane the Virgin
It's sorta the same twist This Is Us later did, but we were NOT expecting it even one little bit. Years after Jane's (Gina Rodriguez) husband had died and she had moved on, Michael (Brett Dier) showed back up again in the final moments of season four, reminding us all once again that the show is a brilliant telenovela and you never quite know what's coming. No twist topped this one for the rest of the year. 
Best Musical Moment: "Home" from Pose, by MJ Rodriguez and Billy Porter
This scene had it all. Great vocals? Yep. Emotion-tugging acting? Yep. This rendition of "Pose" stuck with us. As did the tears we shed while watching over and over again.
Weirdest Episode That Still Haunts Us: Atlanta's "Teddy Perkins" 
Atlanta's surreal trip to the house of an eccentric hermit named Teddy Perkins just for an old piano was, objectively, a very good episode. But it was also one of the creepiest things we've ever seen, and Teddy's face will never leave our brains.
Best Comedy Bit: "Horse in the Hospital," by John Mulaney
Few analogies have summed up the past couple of years better than this genius piece of comedy, from Mulaney's Kid Gorgeous special. Who knows what the horse will do next?! 
Most Life-Changing Comedy Special: Nanette, by Hannah Gadsby
"How could it possibly be that good?" we asked ourselves before we watched it, only to then find ourselves stunned into silence as Gadsby stood on that stage, quit comedy, tore comedy specials apart, and then ended up a household name, all in like an hour. 
Most Unexpected Emotional Moment: Mac's Dance from It's Always Sunny in Philadelphia
Always Sunny has done so much in its 13 seasons, but if you told us a dance performance by series creator and star Rob McElhenney would be one of the most beautiful TV scenes of the year we wouldn't have believed you. Then we watched the scene featuring Mac illustrating the "storm" inside him as he dealt with officially coming out as gay and here we are, loving a dance scene from Always Sunny and not because it made us laugh. 
Best Imitation of Skeet Ulrich: Cole Sprouse on Riverdale
All the kids were pretty good at embodying teen versions of their onscreen parents in the show's season three flashback episode, and KJ Apa dressed as Luke Perry was nothing short of legendary. But Cole Sprouse was downright freaky as teen Skeet Ulrich, who we all know as one of the murderers from Scream, and he deserves an award for it. 
Best Use of Jessica Lange: American Horror Story: Apocalypse
AHS: Apocalypse gave us so much, including Jessica Lange back on TV as Constance Langdon. She hurled insults and shade like no other and got to drop more than one f--k around. Plus, she had a brilliant death scene where she danced, drank, danced some more, took some pills and, yep, danced.
Guiltiest Pleasure TV Show We Don't Feel Guilty About Loving: 90 Day Fiancé
TLC's reality franchise is so bad it's good. It's engrossing and we freely give two hours a week to it. Reality TV itself is basically about voyeurism and this show gives viewers a look at how people live, and they just so happen to be people who meet others from overseas and then decide to get married in 90 days to get a visa.
Most Unexpected Reality Star: Christian from Survivor: David vs. Goliath
Christian started out as the incredibly nerdy and seemingly socially awkward algorithm genius who was likely to fill every nerd stereotype pop culture has ever given us, and then suddenly, he was the best, most lovable, and smartest player on the beach. There is no way he won't be back for another season. 
Reality Show Moment Of Our Dreams: Real Housewives of New York's Boat Trip 
That trip to Colombia was an adventure from start to finish, but that boat ride back from an island over choppy waters had everything. Disgusting bodily functions, cameras going out, women sliding on the floor and screaming, a story that involved the captain having to destroy the anchor with two swords, and it all ended with grown women pooping in their beds. All of season 10 of RHONY was a treasure and we'll never forget it. 
Best Reality Scene Stealer: Jay Cutler on Very Cavallari 
The show may be all about Kristin Cavallari and her clothing business, but her husband Jay often stole the show with traffic cones and coolers full of deer meat. Who knew the former football player was destined to be a reality star? 
Most Mind-blowing Episode: The Good Place, "Janet(s)"
The Good Place continually reinvents itself, so we shouldn't have been shocked when one episode took us to the void of Janets, where everyone then became a Janet, and it resulted in D'Arcy Carden acting against like five other D'Arcy Cardens. It was 
Most Unbelievable Fairytale Come True: Ashley Iaconetti and Jared Haibon's Engagement 
She pined for him for three years and two seasons of Bachelor in Paradise, then she finally left a show with a boyfriend (Canadian Kevin Wendt on Bachelor Winter Games), and Jared realized the mistake he had made. He and Ashley were together weeks later, and engaged not long after that. They now can't stop reenacting scenes from Disney movies and this wedding is going to be wild, for sure. 
Rudest Trick: Rick Grimes' "Exit" 
AMC made a pretty big deal out of Andrew Lincoln's departure from The Walking Dead, only to immediately announce three new movies he'll star in as Rick Grimes as soon as the episode had ended. And Lauren Cohan's actual departure got nothing. 
Most Conflicting Departure: Sarah Drew and Jessica Capshaw from Grey's Anatomy
We miss Arizona and April and we definitely miss the actresses, but story-wise, saying goodbye to those characters made an awful lot of sense, especially now that we've seen where the show has gone since. 
Rudest Second Cancellation: Timeless
After making a huge splash last year by cancelling and then suddenly uncancelling Timeless, NBC then went and actually canceled it in 2018. It got a pretty solid ending with a series finale movie, but still, that stung. 
Best Decision By a Network: NBC Saving Brooklyn Nine-Nine
Brooklyn Nine-Nine was canceled by Fox for about 24 hours before NBC saved it for a sixth season, and those 24 hours brought out a legion of fans and a whole lot of love. NBC picking it up was a no-brainer, and it already feels like the show has always been there. 
Most Confusing Off-Screen Drama: Ruth Wilson's Exit from The Affair
After Ruth Wilson was killed off of Showtime's The Affair, creator Sarah Treem said she wanted to leave. Ruth Wilson said she wasn't allowed to talk about it. Showtime claimed it had been a mutual decision that the character's arc had run its course, and Wilson claimed there was a much bigger story behind the departure that had nothing to do with the rumored pay gap between her and costar Dominic West. 
Then, it was announced that the final season will be at least partially set in the future, with Anna Paquin starring as the daughter of Wilson and Josh Jackson's characters, investigating what happened to her mother. Jackson will also not be returning to the series. 
Whatever's going on here, it's a mess! 
Runner up: Everything that happened with Clayne Crawford and Damon Wayans on Lethal Weapon. 
Most Unconvincing Death: Future Felicity on Arrow
We won't believe it 'til we see the body, Arrow. You've fooled us before and we won't fall for it again!
Worst Fake Wedding In Comparison to Real Wedding: Meghan Markle on Suits
Before she became a duchess by marrying Prince Harry, Meghan Markle first had to leave her USA Network series, Suits. Her final episode of the show involved marrying onscreen boyfriend Patrick J. Adams, and it's a good thing that wedding aired before the actual wedding, because in comparison, it was, you know, not a royal wedding. 
Worst Thing That Finally Happened: Jack's Death on This Is Us
"Finally!" we all said awkwardly after we watched a man not die in a fire, but then die later on from smoke inhalation while Mandy Moore ate a candybar. It was a bit of a trick, but it went right along with how much theorizing we did before it happened. What a weird and morbid thing we were all so obsessed with! 
Best Thing That Finally Happened: Doctor Who Regenerated As a Woman
Jodie Whittaker made her debut as the new Doctor and it felt just absolutely nuts that it had taken this long, but so so right that Whittaker was one to usher in this new era. 
Best 30 Seconds: The End of Sharp Objects 
The whole show was a masterpiece, but that quick reveal of who actually did it...we still get chills. 
Most Inappropriate Look We Wanted to Recreate: Jodie Comer in Killing Eve
That frickin' pink tutu dress is nuts and the signature look of a trained assassin, but we just really wanna wear it and twirl around at our therapy appointment, OK? 
Most Modern Family: Modern Family
First, they killed Grandma, and we weren't that impressed. Then they got Haley (Sarah Hyland) pregnant, and now we're kind of excited. That's gonna be a great big mess and we are here for it. 
Best Series Ending We Straight Up Forgot: Scandal
We do not remember how Scandal ended. We could look it up, but we simply don't have the time or energy. So much has happened since then, both in the world and on TV, and we're weirdly content to just imagine Olivia Pope on a white couch with the biggest glass of red wine it's even possible to have, and that's how Scandal ended. Isn't it weird that Scandal ended this year? 
(We looked it up. RIP David Rosen, Attorney General of the United States.) 
Scariest Show We Still Haven't Finished: Haunting of Hill House 
Ghosts are spooky and we mostly watch TV at night, when it's dark and we're about to go to bed. We just never found enough daylight to finish this show, but if we had, we bet we would have loved it probably maybe. 
Most Impressive/Exhausted Fandom: Shadowhunters
The Freeform fantasy series got canceled, with one final season left to go in 2019. But its fandom never rested, tweeting up a storm and raising money for charity and winning nearly every scripted TV award at the People's Choice Awards without even being originally nominated. That is extremely impressive but please, we hope you are all also getting some rest and drinking plenty of water amidst your efforts. 
Most Tired TV Watcher: Us 
Good night and Happy New Year to one and all. Be sure to check out our list of 19 TV events we already can't wait for next year!