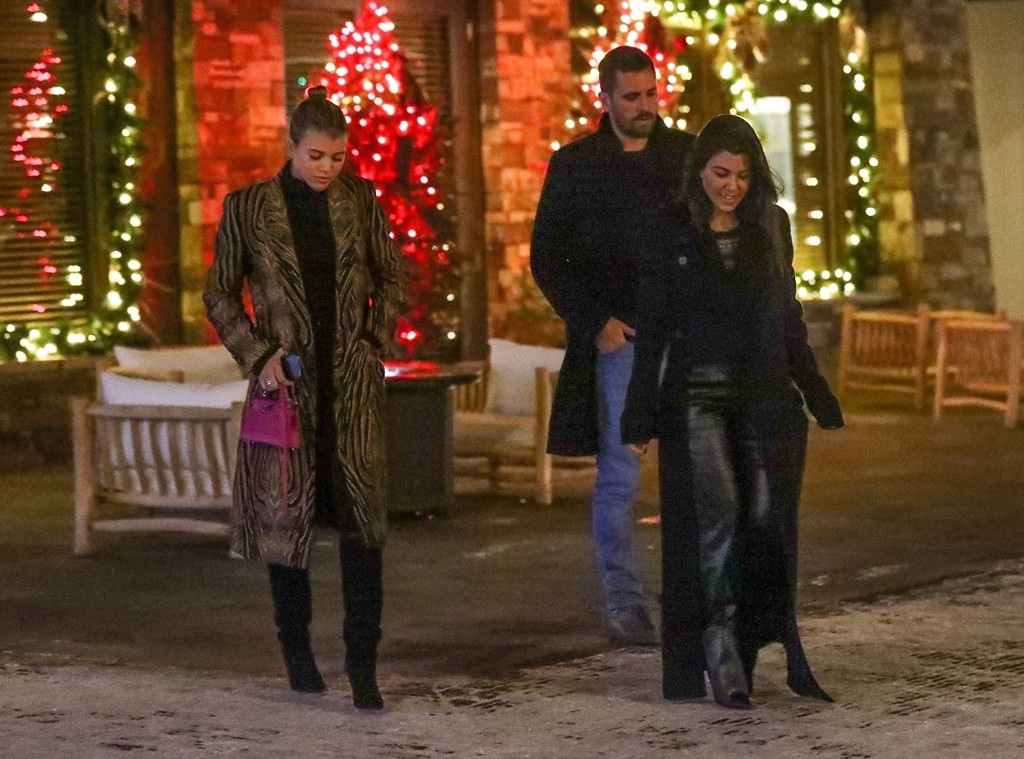 BACKGRID
Three's company!
Kourtney Kardashian enjoyed a night out with her ex, Scott Disick, and his girlfriend, Sofia Richie, on Sunday evening. The trio is currently on a family vacation together in Aspen, where the Keeping Up With the Kardashians star recently posed in a thong bikini.
For their night out in Colorado on Sunday, a braless Kourtney donned a sheer top, a long pea coat, shiny black pants and matching boots. Photos show Kourtney walking alongside Sofia, who wore a black turtleneck, skinny jeans, knee-high boots, a Gold Zegrain Brocade Tuxedo Coat by Dzojchen and pink purse for the dinner.
The trio arrived in Aspen just days ago with Kourtney and Scott's three kids.
"Everyone has accepted Sofia at this point and she has been able to tag along and be a part of the family activities," a source recently told E! News.
Kendall Jenner, Kim Kardashian, Kanye West, as well as Kimye's three kids are also on the family vacation.
This trip to Aspen comes shortly after Kourtney, Scott, Sofia, Mason Disick, Penelope Disick and Reign Disick all went on vacation together to Cabo San Lucas, Mexico.
"What more can a guy ask for," Scott wrote alongside a photo of himself sitting in the middle of Kourtney and Sofia. "THREE'S COMPANY."