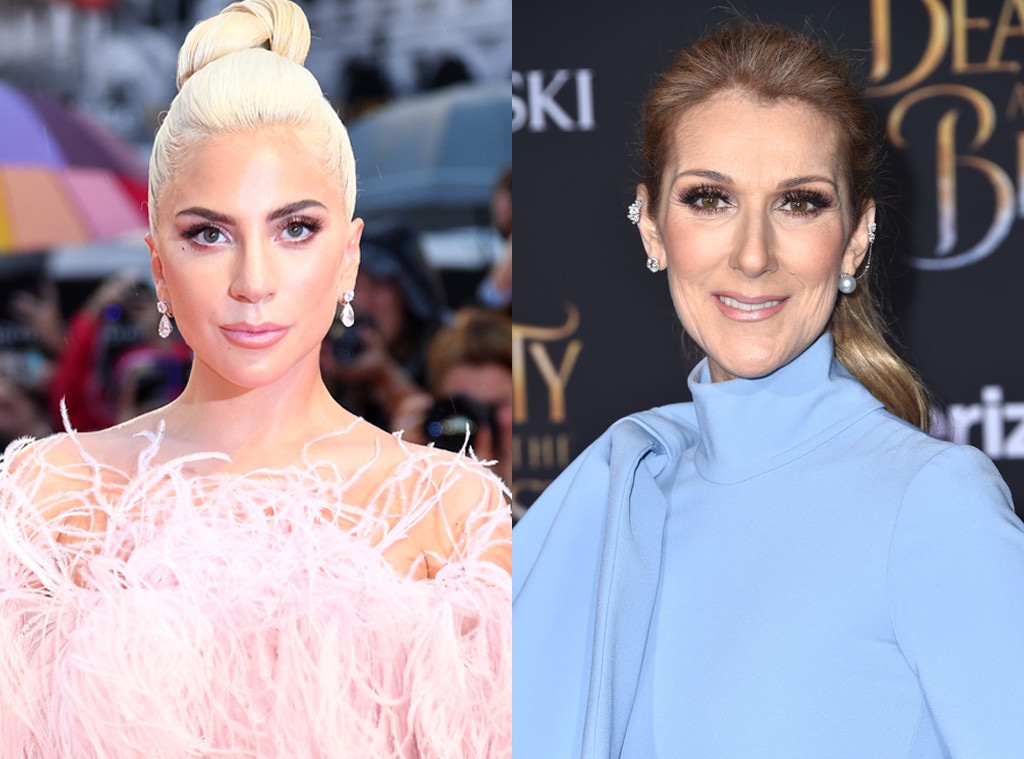 Daniele Venturelli/WireImage, Frazer Harrison/Getty Images
Céline Dion is clearly a Lady Gaga fan.
The 50-year-old singer attended Mother Monster's Las Vegas residency show, Lady Gaga Enigma, this weekend and seemed to have the time of her life. Fans spotted the five-time Grammy winner rocking out to Gaga's hit "The Edge of Glory" and practicing the choreography for "Bad Romance."
However, concertgoers weren't the only ones excited to see the "My Heart Will Go On" singer. Gaga also gave Dion a sweet shout-out on stage.
"Give it up for Céline Dion," she shouted into the microphone. "She prayed with me and my entire crew backstage before this show. That is how amazing she is."
The A Star Is Born actress acknowledged how encouraging Dion has been about the residency.
"And when she was asked if she had any advice for me in Las Vegas, she said that I didn't need it because I was strong and I knew what I was doing," Gaga continued. "And Oh my God—I swear to you, the number of women that I can count on one hand that are supportive in this industry, it's like, I would lose fingers, OK? You are amazing."
Gaga then continued to sing Dion's praises. 
"You're supportive. You're talented. You're legendary and you're kind," Gaga said. "And I sang your songs over and over again as a child. I told you backstage 'The Prayer' with Andrea Bocelli is one of the most beautiful songs of all time."
Turning back to the music, Gaga then dedicated her song "Yoü and I" both to the audience members and to Dion.
"This one is for you and I," she yelled.
Dion also posted footage from the evening, including a photo of her resting on a stretcher after all that dancing.
"I had so much fun last night @ladygaga!" she wrote. "Your energy on stage is contagious and you literally took my breath away! I wish you all the best with your #Vegas residency! - Céline xx… ."
It shouldn't surprise fans that Dion would want to support Gaga during the opening weekend of her residency. After all, Dion has had her own Las Vegas residencies at The Colosseum in Caesars Palace. Her first residency, A New Day, ran from 2003 to 2007. Her second and current residency, Céline, premiered in 2011. However, she will end her residency in June 2019.
"I definitely have mixed emotions about this final run," Dion said in a statement. "Las Vegas has become my home and performing at  The Colosseum at Caesars Palace has been a big part of my life for the past two decades. "It's been an amazing experience, and I'm so grateful to all the fans who have come to see us throughout the years. Every show we do at The Colosseum throughout this fall, and right up until the final one, will feel very special."
Meanwhile, Gaga is just getting started. Lady Gaga Enigma launched Dec. 28 at the Park Theater and runs until Nov. 9.