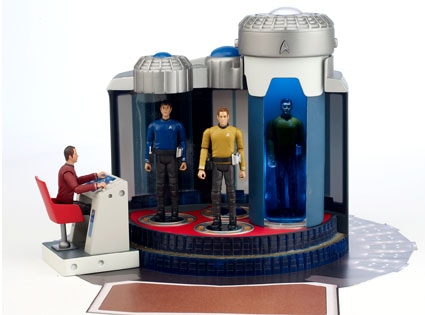 Playmate Toys Inc.
The revival of Star Trek on the big screen wouldn't be complete without a new toy line.
Now that Mission: Impossible III helmer J.J. Abrams has reimagined the franchise with a prequel going back to James T. Kirk and crew's early days at Starfleet Command, toymakers are boldly looking to reinvent their merch with a slew of playthings to coincide with the blockbuster's May 8 release.
With the toy industry's annual confab, Toy Fair, kicking off this week in New York, CBS Consumer Products has partnered with a variety of toy companies to come up with a line of goodies aimed not only at diehard Trekkie collectors, but also casual fans and the  younger generation unfamiliar with the Final Frontier.
"This is really an action-adventure experience," said Bill Burke, VP of Marketing for CBS Consumer Products.
First, Playmates Toys has unveiled a variety of action figures—from 3 ¾-inch to 6-inch and 12-inch models—based on the stars of the new flick, among them Chris Pine as a young Kirk, Zachary Quinto as young Spock, Karl Urban as McCoy and Simon Pegg as Scotty. There's even one of Leonard Nimoy reprising his role of the original Spock, who meets his younger self through a glitch in time.
Of course, what good are action figures if you don't have playsets like the bridge and the transporter room? There are also six different vehicles, including the Enterprise sporting lights and sounds and the Klingon's Bird of Prey; radio-controlled spaceships; role-playing phaser gun and communicator; and a Scene It? DVD game.
For the uninitiated, the publishing folks at IDW Comics have a four-part prequel comic book series developed in conjunction with Star Trek scribes Roberto Corsi and Alex Kurtzman. There's also a novelization as well as Trek-themed board games such as Scrabble and Monopoly and even Trek Barbie Dolls, courtesy of Mattel.
Unique gifts include bobbleheads, cookie jars, mugs, posters and peel-and-stick wall art and decor, including a life-size mural, as well as Star Trek sleepwear, loungewear and T-shirts featuring not only the likenesses of the William Shatner-led original cast, but also those of the 11th installment.
There are even three different Trek fragrances courtesy of Genki Wear: "Tiberius," in honor of James Kirk's middle name; "Pon Far," touted as the Klingon version of "Passion"; and "Red Shirt," named after the poor, red-shirted souls who never survive the episode. And Trekkies headed to a wedding and donning a tux should check out the new Star Trek-themed silver-plated cuff links and jewelry line.
Netizens can also go to goanimate.com which allows fans to create their own Star Trek animations they can post on their Facebook, Twitter and other social-networking sites.
Playmates' toy line hits stores April 19, while the more branded stuff will be rolled out in the coming months.