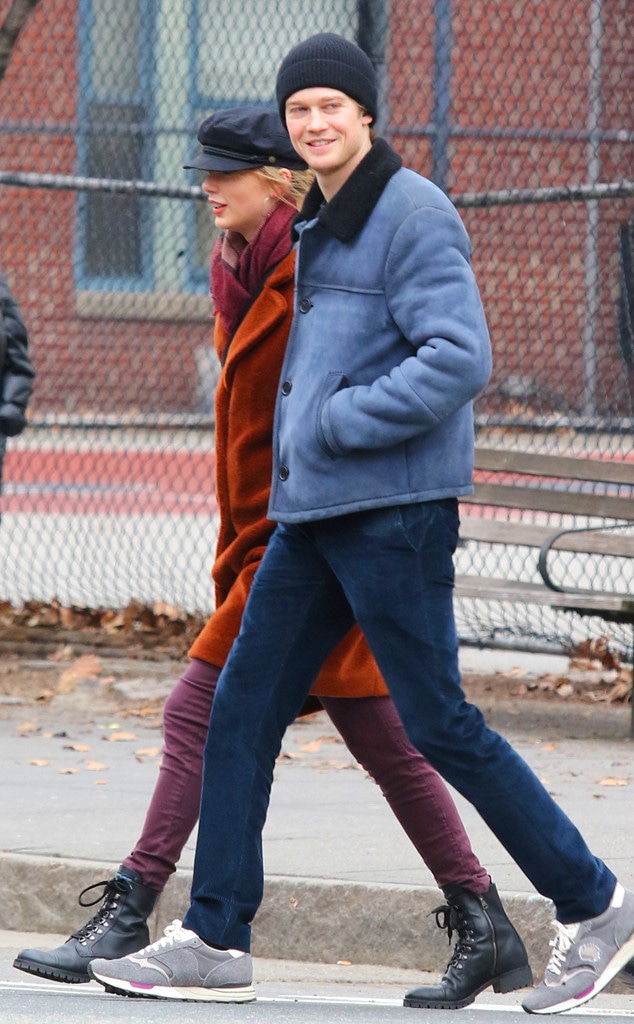 LRNYC / MEGA
Taylor Swift and Joe Alwyn brought some heat to a cold day in New York City.
The couple stepped out together on Sunday and were seen walking in Manhattan's West Village neighborhood. The Favourite actor wore a black beanie, jeans, gray sneakers and a blue coat with a black collar. The "Delicate" singer also donned a black cap with a red scarf, purple jeans and black boots. She also wore a Soia & Kyo's Rubina coat in the color Autumn.
Their company was surely keeping the other warm during a chilly day in the city!
Alwyn and Swift have maintained a relatively low profile during their relationship and rarely show PDA. They have been together for just over a year and a half and prefer to keep their private lives under-the-radar.
In December, the 27-year-old old affirmed to Esquire in their Winter 2019 issue that he prefers not to talk about his love life. "I think there's a very clear line as to what somebody should share, or feel like they have to share, and what they don't want to and shouldn't have to," he said.
Jackson Lee / SplashNews.com
Alwyn said something similar to British Vogue in September. He told the magazine, "I think we have been successfully very private and that has now sunk in for people… but I really prefer to talk about work."
Meanwhile, the record-breaking singer has quietly supported her boyfriend all while traveling around the world on her reputation tour. In September, she was seen attending the premiere for The Favourite in London, although she didn't walk the red carpet. She did, however, endorse the movie in an Instagram post and encouraged her fans to go see the film.
Although the 29-year-old singer has been known to let her past relationships and love life exist in a world of their own in her songs, her lent her influential voice to a different passion lately.
Before the 2018 midterm elections in November, Swift broke her notoriously long political silence and endorsed both senate and congressional candidates in her home state of Tennessee.
"In the past I've been reluctant to publicly voice my political opinions, but due to several events in my life and in the world in the past two years, I feel very differently about that now," she wrote on Oct. 7. "I believe in the fight for LGBTQ rights, and that any form of discrimination based on sexual orientation or gender is WRONG. I believe that the systemic racism we still see in this country towards people of color is terrifying, sickening and prevalent."
Voter registration skyrocketed after her post, once again proving her influential position in social media. Even better for Swift fans, her Netflix special about her concert hits the streaming platform tomorrow.