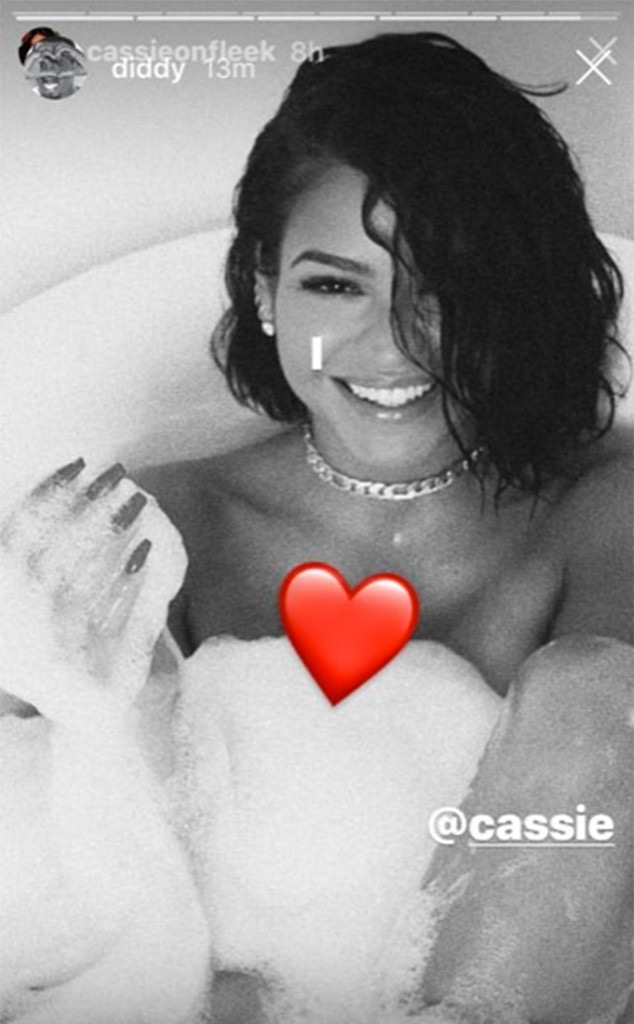 Instagram / Sean "Diddy" Combs
On Friday, Sean "Diddy" Combs took to Instagram Stories to express his love for his ex Cassie, sharing a photo of her in a bath, with a red heart emoji. He also tagged her.
One problem though: She's moved on.
On Saturday, Cassie, 32, posted on her Instagram page photos of her kissing another man, Alex Fine, at a Christmas party.
A source confirmed to E! News that the two are dating and are "very happy."
Fine, 25, is a bull rider and personal trainer who has trained stars such as Jennifer Aniston, Riverdale stars KJ Apa, Charles Melton, Hart Denton and Mark Consuelos, Odell Beckham Jr., and Reggie Bush.
Cassie and Diddy, 49, are believed to have dated on and off for more than a decade. They split again earlier this year, E! News confirmed in October.
Later that month, Diddy posted on his Instagram page a screenshot depicting Michael Jackson and his Thriller song "The Lady in My Life," which includes the lyrics, "And baby through the years Gonna love you more each day" and "Stay with me / I want you to stay with me."
"If anyone sees @cassie this weekend please tell her to listen to this song 100 times! [red heart emoji] LOVE," Diddy wrote.
Watch:
Sean "Diddy" Combs & Cassie Ventura Break Up
Cassie and Diddy reunited briefly in November, one day after Kim Porter, his ex-girlfriend and mother of three of his children, was discovered dead at the age of 47. 
An insider told E! News at the time that after the tragedy, Cassie had texted Diddy to check up on him and express her condolences. He was "pleasantly surprised" to hear from her and "very touched by her thoughtful text," the insider added.