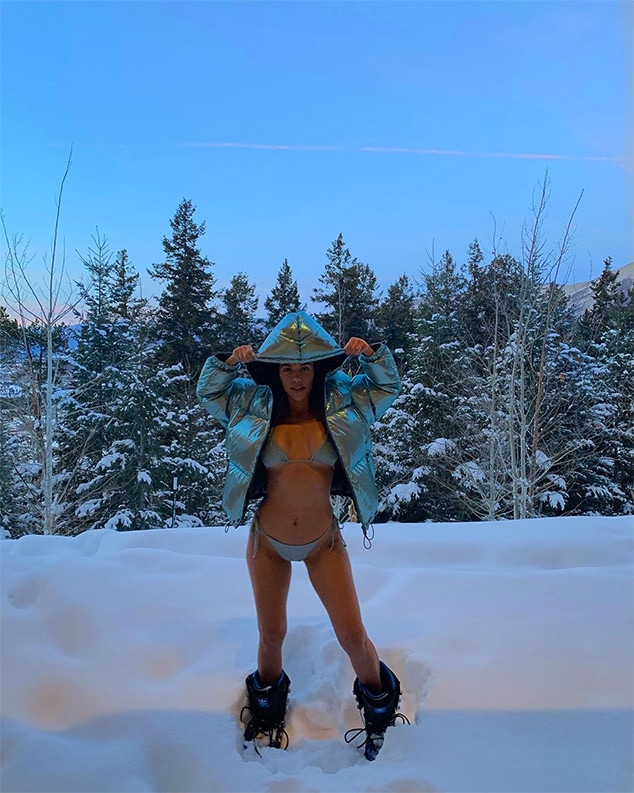 Instagram / Kourtney Kardashian
Imitation is the sincerest form of flattery...
A day after Kendall Jenner, 23, shared on Instagram photos of herself wearing a string bikini and an open jacket and ski boots while standing in deep snow during a New Year's family trip to Aspen, Colorado, her sister Kourtney Kardashian followed her lead, posting pics of herself doing the same, wearing a thong bikini.
"Copied Kendall," the 39-year-old wrote.
Kendall had earlier posted on her Instagram Story a car thermostat showed it was -2 degree Fahrenheit outside.
The sisters, Kourtney's ex Scott Disick, their three children, his 20-year-old girlfriend Sofia Richie, and Kim Kardashian and Kanye West and their three kids flew to Aspen via private jet on Friday.
Instagram / Kourtney Kardashian
Kim and Kendall were photographed hitting the slopes on Saturday, as was Sofia, who was joined by mutual friend Paris Hilton.
Instagram / Kourtney Kardashian
The trip marked the first time Sofia, who has been dating Scott for over a year, has vacationed with the extended Kardashian-Jenner family, and came days after she, Scott, Kourtney and their kids spent time together in Cabo San Lucas, Mexico. On the latter trip, Sofia and Kourtney were photographed together for the first time.