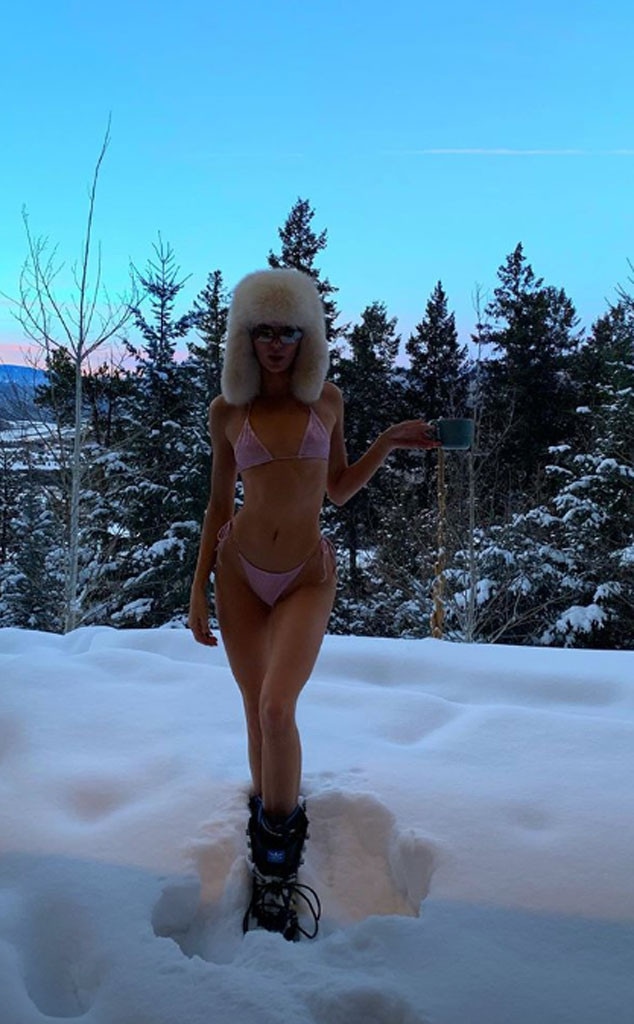 Instagram
We can all agree that Kendall Jenner knows how to tell it like it is. Example A: the Kardashian family Christmas card that she wasn't in. She did it again on Saturday.
The 23-year-old model and her family recently arrived in Aspen, Colo. for a snowy family vacation that includes Kourtney Kardshian, Scott Disick, Sofia Richie and Kim Kardashian. Paris Hilton is there, too. 
During the day, the family hit the slopes. Kendall was seen getting her snowboarding gear together and riding on the ski lift next to sister Kim, who went skiing. 
On Saturday evening, Kendall posted a picture on Instagram standing outside in a pile of snow that reached a little bit over her ankles. She wore snow boots, a big furry snow hat and a purple bikini. "f--k it's cold," she wrote. 
According to her Instagram Story, it was -2 degrees at one point in the day.
The KarJenners have been hopping around from place to place over the holidays. Last weekend, Kourtney, Scott and Sofia traveled to Cabo San Lucas for some sunshine alongside Scott and Kourtney's three kids Mason Disick, Penelope Disick and Reign Disick. That trip was the first time Kourtney and Sofia were photographed together.
Things are seemingly moving in a positive direction for that trio. A source told E! News about the trip to Aspen, "Everyone has accepted Sofia at this point and she has been able to tag along and be a part of the family activities."
The air had been cleared in November when the three of them had dinner together in Malibu and used it as a chance to "interact and bond."
Let's just hope this family trip doesn't end with anyone getting frost bite.